In the areas where more is being done to promote diversity, and there is no doubt that most of the activities are in the Capital City of Podgorica, this has a significant impact. Somewhat more radical attitudes of boys, students of secondary vocational schools and those from those parts of Montenegro in which there are not enough activities that contribute to reducing prejudices and stereotypes are noted, as it can be concluded from the results of the research are the attitudes of high school students in Montenegro towards LGBTIQ people, that Centre for Civic Education (CCE) presented today within the project "LGBTIQ – everyone is some letter!", supported by the Ministry of Human and Minority Rights.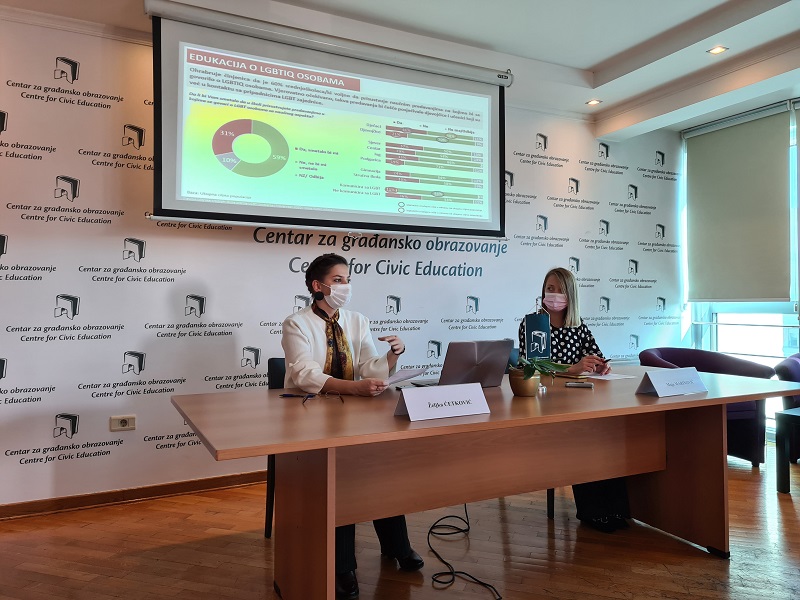 Maja Marinović, CCE programme associate, in reference to the research findings, pointed out that almost three-quarters of high school students in Montenegro believe that the rights of LGBTIQ people are not respected as much as they should be, and only 17% have the opposite opinion. "High school students from Podgorica are more optimistic than others, and a little more than a quarter of them believe that members of the LGBT community have adequate treatment in society," she stated.
Slightly less than half of students believe that people of different sexual orientations in a democratic society have long been fully integrated. This opinion is emphasized among girls and those who have contact with LGBTIQ persons. On the other hand, one-third of students consider homosexuality and related phenomena to be a social scourge that needs to be combated. Boys more often advocate this opinion.
"When it comes to the role of science in understanding LGBTIQ, almost 40% of high school students would like to listen to experts to better understand and accept people of different sexual orientations. However, half do not have such an affirmative view, and one in four respondents would either listen to experts just to fight LGBTIQ more effectively or believe that any scientific explanation is superfluous and that LGBTIQ people remain harmful to society no matter what. In this case, as well, the boys are significantly more supportive for the most radical attitudes, "Marinović elaborated.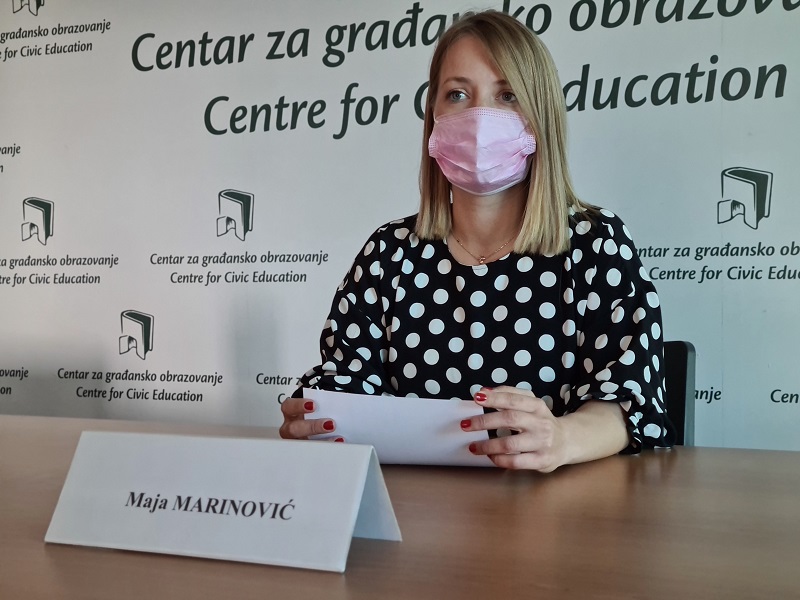 Approximately every fifth high school student knows someone from their school who is homosexual. This number is much higher in Podgorica, as well as amongst students from gymnasiums and those who interact with LGBTIQ people. Most of them state that these people are not best accepted by most or part of their schoolmates.
The majority, or two-thirds of students, assess that in Montenegro there is little public talk about the position of people of different sexual orientations. At the same time, almost there is 70% of those who believe that they did not receive enough adequate knowledge during school to form an opinion about LGBTIQ persons. "When it comes to the scientific explanation of LGBTIQ persons in school, it is encouraging that 60% of high school students are willing to attend such lectures. Probably, as expected, such lectures would be more often attended by girls and students who are already in contact with members of the LGBT community," said Zeljka Cetkovic, coordinator of the Active Citizenship programme, elaborating in detail the findings of the research.
A quarter of students have already had the opportunity to hear about LGBTIQ rights or meet an LGBTIQ person through non-formal education programmes.
"If one day they found out that their brother/sister/close relative is of homosexual orientation or transgender identity, most students would come to terms with it, and a little more than a fifth would fully support that person in the process of coming out. However, a third have more exclusive views, and as a reason they most often state that they do not want any contact with LGBTIQ people, and then also the shame of the family. Attitudes are somewhat more flexible when it comes to friends of a different sexual orientation, and most would not change their attitude towards a favorite public figure who would be a homosexual person," said Ćetković.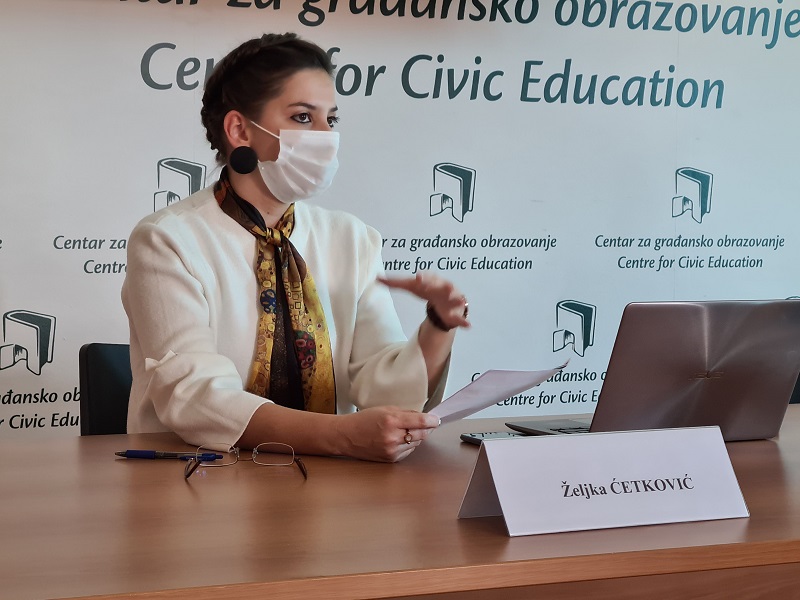 Ćetković points out that "half of the students do not recognize the right of LGBTIQ persons to behave in public and express their feelings in the same way as heterosexual couples, i.e. to kiss, hold hands and hug in public. On the contrary, a third or about 30% believe that rights are equal for all. "
Over 80% of high school students do not dispute the existence of homosexuality in Montenegro, nor do they justify physical violence against LGBT people, and more than 3/4 claim the same for verbal violence. Furthermore, most believe that schools should pay more attention to LGBTIQ students, and two-fifths see members of this community as a vulnerable group to be helped to exercise their rights.
When it comes to marital rights, more than half of high school students would not support the legalization of homosexual marriages, while a third has a different opinion. Speaking about the right of LGBTIQ persons to adopt children, young people are even stricter and 2/3 of them state that it would not be right, while a quarter does not see a problem in that.
"Slightly less than a fifth of students are in contact with a person that they know belongs to the LGBTIQ population. This number is significantly higher among girls, students from Podgorica and students from gymnasiums. It is encouraging that almost 60% of high school students would try to protect an LGBTIQ person who is being abused. A quarter would not react, because they think that it does not concern them, and every tenth student is of the opinion that such persons deserve it. It seems that LGBTIQ people are safer in Podgorica, in a gymnasium and among students with whom they already have an interaction, " stated Ćetković.
Half of the students see Pride as an act that should indicate discrimination against people of different sexual orientation. Approximately a third think that it is a parade for the sake of parading, and a fifth abstain.
Young people in Montenegro recognize the Ministry of Human and Minority Rights as an institution that plays a major role in the fight against homophobia, followed by international organizations, educational institutions and the non-governmental sector.
"In many aspects, the findings are positive, but there are also some worrying parts. The attitudes of young people can be influenced, they are ready to hear about LGBTIQ issues through public forums and TV shows from a scientific aspect, but in the very formal education there is no learning about the rights of LGBTIQ people. This should be instructive to the education authorities as well. That is why we at the CCE work on educating high school and elementary school students about the position, problems and challenges faced by LGBT people and pay special attention to cities and parts of Montenegro where the highest degree of homophobia and transphobia and general rejection of LGBTIQ people, " concluded Ćetković.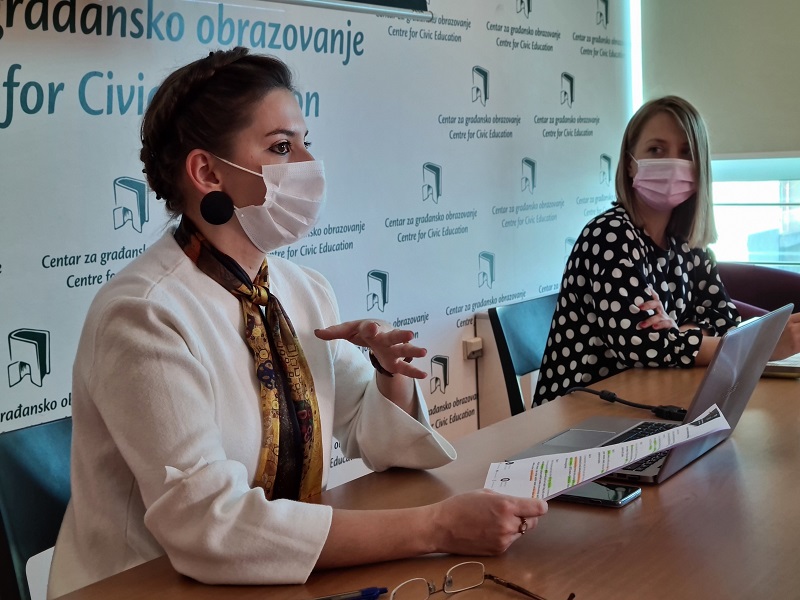 The research was conducted from 4 to 10 November 2020, on a sample of 464 high school students, with the expert support of Ipsos Strategic Marketing Agency.
Vasilije Radulović, Programme associate