A total of 306 public sector bodies spent EUR 5,259,201 on media and production services during 2018 and 2019. From public funds, during those two years, amongst the print media – Pobjeda earned the most, amongst televisions – RTCG, amongst radio stations – Radio Herceg Novi, while the portal Analitika is the first amongst the portals in terms of these revenues, as it was stated today in the Centre for Civic Education (CCE) at the presentation of the findings of the report for 2018 and 2019 "Equal chances for all media in Montenegro".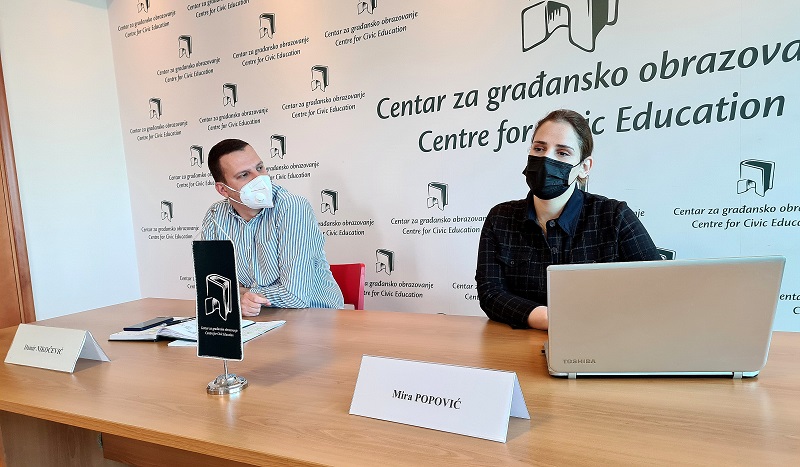 Damir Nikočević, Development Coordinator at the CCE, assessed that "the so-called soft censorship carried out by the previous Government of Montenegro is one of the major problems in the already problematic mosaic of the state of the media in Montenegro." Nikočević reminded that the CCE has been recording the misuse of public funds since 2012 and has been pointing to the distortion of the media market, which is directly related to the manner of media reporting on the activities of those public sector bodies from which they discretionary receive funds. "We have written evidence for these figures from all public sector bodies that responded to us in accordance with the Free Access to Information Law, but these are not final because there are bodies that we noted as consumers in this area but they have not responded to us," he emphasized.
Mira Popović, Democratisation and Europeanisation Programme Coordinator at the CCE, stated that the research was conducted from November 2020 to mid-March 2021 and covered a total of 605 bodies, out of which 520 or 85.96% responded to the CCE's request for free access to information, noting that the data refer to the period from 01/01/2018 to 31/12/2019. On average, getting a response took about 25 days, whereby it took months for some bodies while some were very prompt.
"Amongst those who did not submit the answer, thus violating legal provisions, were the Office of the President of Montenegro and the Ministry of Economic Development, who opted for the administration's silence, which, despite numerous urgencies and even the complaints submitted to the Agency for Personal Data Protection and Free Access to Information did not submit answers by the day the research was ended. This year, the "blacklist" of non-transparent bodies, in addition to the mentioned Ministry of Economic Development and the President, includes the Centre for Training in Judiciary and State Prosecution Service, the University of Montenegro, Public Institution Museums and Galleries of Budva, Mediterranean sports center, Čistoća Podgorica, Montecargo, Coal Mine Pljevlja, numerous public bodies whose budgets are smaller and which have not been identified as significant investors in this area," stated Popović.
"The largest consumers during 2019 are public companies with spending of 972,941.10 euros, followed by the Government with EUR 729,081.7, while the least was spent by the judiciary, i.e. EUR 5,178.48. In 2018, according to the collected data, the largest consumers were local self-governments, with spending of as much as EUR 936,747.27," said Popovic.
"Speaking of print media, in 2019 and 2018, Pobjeda received the most funds from public funds – 274,742.90 euros, followed by Dan – 212 383.60 euros, Dnevne novine – EUR 153 610.90, then Vijesti – EUR 110 681.30 and Komuna – EUR 50,300. When it comes to televisions, the largest beneficiaries of funds were RTCG – EUR 252,125.20, TV Vijesti – EUR 179,759.10, TV Boin – EUR 73,297.85, Prva TV – EUR 43,132.16 , RTV Pljevlja – EUR 23,761.98 and TV Sun – EUR 20,600. Amongst radio broadcasters, the most income had Radio Herceg Novi – EUR 489,996.10, Radio Bar – EUR 336,673.50, Radio Berane – EUR 269,555.90, Radio Antena M – EUR 62,311.20 and Radio Dux – EUR 58,047. The portals also received part of these funds in 2019 and 2018: Portal Analitika – 60,707.68 euros, CdM – EUR 29,910.21, Vijesti – EUR 17,424, Standard – EUR 8,139, Boka news – EUR 6,428 and Ul info EUR 4,778. Amongst advertising agencies, production companies and media agencies, the following stand out in terms of revenue: DPC – EUR 197,169.10, Arhimed LLC – EUR 168.942.60, Info Bureau Montenegro – EUR 134.103.70, NS Group – EUR 106.039.10, Infomont-Mina – EUR 62.306.99, Represent communications – EUR 57.379.56, Media Solution EUR 37,945.80, Momentno LLC – EUR 30,915.82, Prisma – EUR 25,859.80 and Mama – EUR 21,744.70", claimed Popović.
"The largest beneficiaries of marketing and advertising funds, who received funds for the provision of other services were: Fleka – EUR 125,950, Billbordi – EUR 99,269.03, Deliart Albania – EUR 37,500, Global Soft Montenegro – EUR 31,489, High market – EUR 14,899.9, Superyachts – EUR 14,294.3 and UFA media – EUR 11, 508.20," emphasized Popović.
She also pointed out that during these two years a smaller amount allocated for international and regional media was recorded.
Damir Nikočević stated that the total amount of state aid to the media sector during 2018 was EUR 609,324.67, and for 2019 EUR 553,028.76, specifying that the data from the annual reports on state aid granted in Montenegro in 2018 and 2019 were taken from the Agency for Protection of Competition.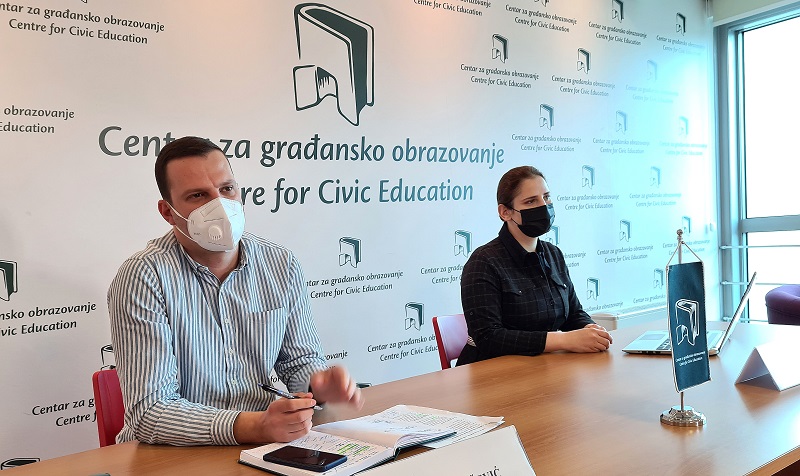 Presenting the results of the research relating to the RTCG, Nikočević stated that according to the Financial statement of RTCG for 2018, the total income was EUR 13,974,080.00. From that amount, EUR 12,577,200.00 was paid from the Budget of Montenegro, which is an increase in comparison with 2017 when EUR 11,511,000.00 was allocated from the Budget. "In 2019, the Public Broadcasting Service RTCG had a Total planned revenue of EUR 21,252,200.00, of which EUR 13,822,200.00 is from the Budget of Montenegro. The total projected expenditures for this year were EUR 21,202,200.00, of which EUR 5,450,000.00 was spent on digitalization," Nikočević pointed out, stating that this is accompanied by EUR 252,125.20 for 2018 and 2019 advertising revenues from various entities, which is based on the data collected by the CCE.
Report "Equal chances for all media in Montenegro" is part of the project "Media for Me!", implemented by the CCE with the support of the Embassy of the Kingdom of the Netherlands, the Embassy of the Kingdom of Norway and the Balkan Trust for Democracy funded by German Marshall Fund of the United States (BTD).
Vasilije Radulović, Programme associate