Today, diplomas for successful attendance were awarded to 22 participants of Civic Activism School, which was organized by the Centre for Civic Education (CCE), with the support of the Ministry of Justice, Human and Minority Rights.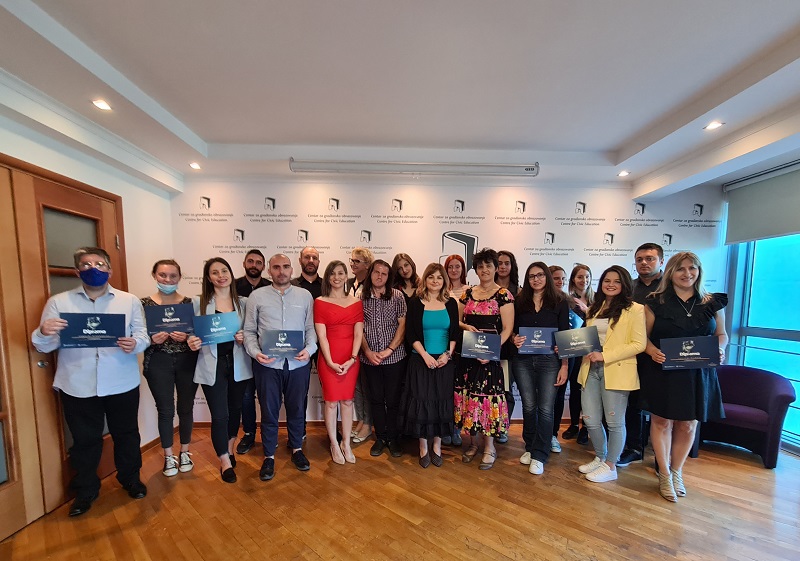 This four-month-long intensive programme, which lasted from 16March until 1June 2021, aimed at increasing of social inclusion of persons with disabilities within Montenegrin society, strengthening the potential of persons with disabilities for political and civic activism in Montenegrin society, but also at raising awareness of persons with disabilities and the general public about the danger of prejudices, stereotypes, discrimination and exclusion of persons with disabilities. When it comes to methodology, issues were addressed through discussions, workshops, practical but also teamwork, film and short video content screenings as an incentive for argumentative discussion. The School gathered 22 participants, 16 of which were from the general population, and 6 persons with disabilities.
Apart from wide theoretical and practical knowledge about the concept of civic and political activism and rights, participants had the opportunity to meet economic, social and cultural rights, democracy and the rule of law, but also the possibility of personal participation in various initiatives.
During the award ceremony, Daliborka Uljarević, Executive director of the CCE, noted that since its establishment of the CCE, the accent of educational programmes was on the inclusion of marginalized groups. "Civic Activism School, whose participants were persons with disabilities and the general population, sought to contribute to the understanding of diversities and learning how to jointly build an open and progressive society through the interaction during the programme. The CCE team believes that citizens should be constantly strengthened for activism, which is particularly important when it comes to the persons from vulnerable categories, all in order to be as much ready to fight for their rights".
"I am very glad for being the part of this programme from which I carry positive impressions and belief that not everything is dark when we have people like this, who want to cooperate and be actively involved in the work of the community and the society", stated Olivera Krivokapić, participant of the Civic Activism School from  Herceg Novi.
"Civic Activism School met my expectations. Having in mind that focus was on persons with disabilities, the population to which I belong, I can say that the choice of the issues that we discussed indicated the need for people with disabilities to be "icebreakers" in the presentation, advocacy and exercise of human rights", claimed Nebojša Miranović, president of the Assembly of Paraplegic Association of Podgorica and participant of the School.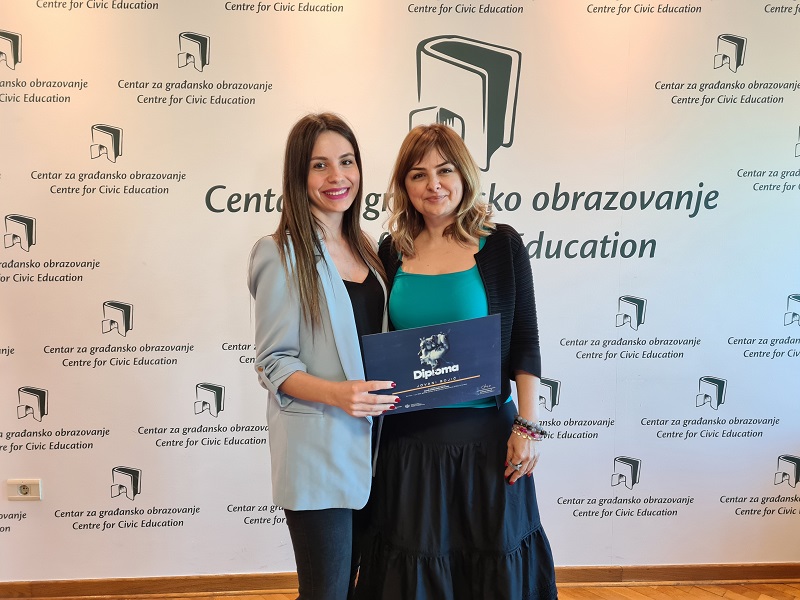 Similar attitude also has Jovana Tomović, participant of the School from Kolašin: "For me, Civic Activism School represents the opening of new horizons and considerable experience, having in mind that I am still a student. I am particularly happy because the accent is put on the persons with disabilities and the fact that prejudices and discrimination have been broken".
Lecturers of the Civic Activism School were from civic society, including activists and fighters for improvement of the position of persons with disabilities in Montenegro, while participants were from Bar, Herceg Novi, Danilovgrad, Podgorica, Nikšić, Kolašin and Petinjica.
Civic Activism School was successfully attended by: Borislav Đurišić, Dragan Blečić, Dragan Pejović, Emil Hodžić, Elma Zaganjor, Irena Vukčević, Iva Lalić, Ivan Saveljić, Jovana Bojić, Jovana Tomović, Katarina Jočić, Ljiljana Milović, Martina Labović, Milena Čavić, Milena Radonjić, Miloš Knežević, Miloš Spaić, Mina Kapidžić, Nebojša Miranović, Olivera Krivokapić, Romana Jeknić and Teodora Senić.
Nikola Osekovac, Project assistant