On the occasion of 21 September – International Day of Peace, the Centre for Civic Education (CCE) uses the opportunity to call on all socio-political actors and decision-makers to contribute to building a society based on tolerance and mutual respect for the sake of sustainable peace by their actions, and especially by responsible public appearances.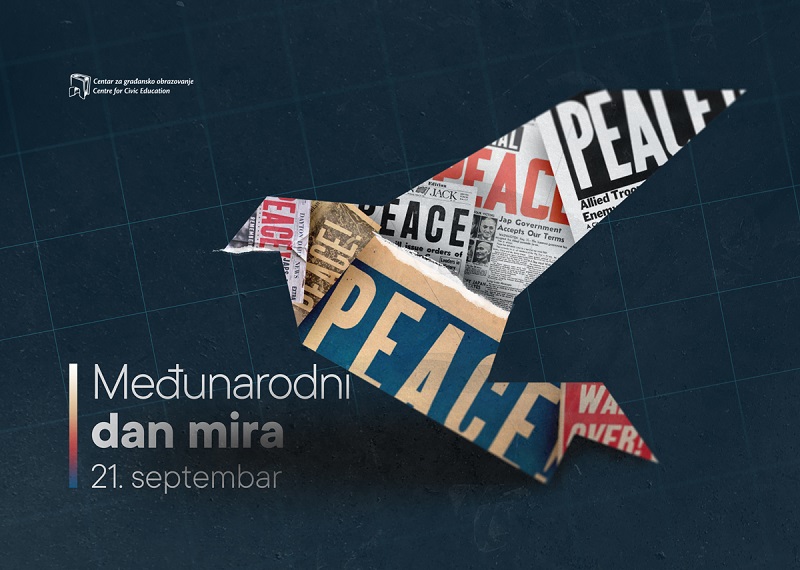 CCE considers that Montenegro is facing accelerated radicalization and extremization of society, accompanied by unprecedented tensions in recent times. Undoubtedly, those who have political power are most responsible for that, primarily the representatives of the government but also the opposition. The tendency for representatives of political parties to incite or not condemn violence or hatred towards a group or a member of a group that is different from the one to which they belong, whether it is a difference based on religious, national, political or other affiliation or orientation, is also worrying.
CCE warns that the omnipresent hate speech, through the matrix of public decision-makers act, is already transmitted to many citizens. Instead of argument-based and constructive dialogue, a radical approach and actions that cannot contribute to quality change are represented.
In all this, a significant role is played by the media that have competed in recent months in the fan approach to reporting, often without any effort in verifying sensitive information, and thus only further contributed to the deepening of the complex social crisis. The sudden increase in publications characterized by labelling, but also false information, is additionally worrying, because they have the potential to negatively affect the already alarming situation.
In this regard, it is extremely important to insist on the responsible action of those who have the most power, but also on effective and professional work, both those entities that have repressive powers, and those whose preventive action can contribute to overcoming the social crisis. More specifically, the CCE expects the Government and the ruling parties to take an objective approach to all members of society, regardless of whether they share ideological or religious beliefs, etc. but also prompt reactions of the police, prosecutors, courts and other executive and legislative bodies in cases where they have the competence to act. Also, we expect a more frequent and effective reaction of the academic community, the Protector of Human Rights and Freedoms, the civil sector, the media, and others who can contribute to overcoming spiritual and social corrosion, which is spreading rapidly in Montenegro.
The International Day of Peace is marked on 21 September, following Resolution 36/67 passed by the UN General Assembly. On the occasion of this year's international day, the UN has adopted also the proposal to mark the World Day of Cease of Fire and International Day of Non-Violence "so that member states and entire mankind devote to strengthening the ideals of peace and expressing dedication to peace via positive examples ".
Tamara Milaš, Human Rights Programme Coordinator