We need to reduce the abstract concept of tolerance to specific issues and to address it through our work from different aspects. There is some progress, but there is also regression, which warns us that this is a continuous process in which education and the principle of responsibility play an important role, as well as the synergy of all actors, as it was concluded at the last night's a panel discussion "How to achieve synergy of artists, public authorities and civil society to preserve the spaces of tolerance?", organised by the Centre for Civic Education (CCE), FLUX and Museums and Galleries of Podgorica, at the Modern Gallery in Podgorica.
Ana Matić, graphic designer, coordinator of the FLUID design forum and professor at the Faculty of Fine Arts of the University of Montenegro (UoM), reflected upon young people with whom she works every day, at all levels of higher education, emphasizing the importance of their initiative and commitment to the development of tolerance. "Of course, it is our great responsibility to recognize or encourage their idea, and design is one of the fields that should carry that as an obligation. The design has traditionally been perceived as a profession that provides a solution, while art opens the questions… However, design has long been also the initiator of raising new issues," said Matić. She assessed that the synergy between public institutions, civil and private sector, and individuals can make an impact, but that it is also a process that requires continuity.
Dubravka Drakić, actress and professor at the Faculty of Drama Arts of the University of Montenegro, pointed out that the theater is a space that addresses both content that is considered familiar, as well as sensitive issues that require the development of tolerance, empathy and understanding of the other and different. "Theatre implies conflict as a fundamental element, and it is not easy for us to recognize and perform that conflict, while at the same time developing tolerance through our actions. In that process, we often come into conflict with each other and constantly disagree. On the other hand, we are a community with very few theatres, but I do believe that there is a lot of room to offer this process of drama and recognition of tolerance through various projects, primarily for preschool and school-age children", assessed Drakić. "As a society, we have not yet reached a certain level of protection of what is an individual act of a man who has some responsibility, who, for example, manages a theatre – his influence on creating a change, his works, themes, repertoire, in overall his overall influence on society through the theatre stage", Drakić underlined.
Daliborka Uljarević, Executive director of CCE, believes that tolerance is a value and a civilizational category. "As such, it is the basis of our civic code, or what we, at least, have of it. And it's not easy to maintain and develop that code, which is constantly under threat of decomposition. Tolerance is also an indicator of the development level of a democratic political culture," she said. Uljarević reflected on the key postulates of tolerance – self-awareness, responsibility, dialogue and democracy, assessing that these are lacking in Montenegro today. "The perception of tolerance as "suffering" or as "acceptance" depends on the circumstances. I choose to perceive it as an acceptance of diversity, because it is an expression of our personal strength, but also the strength of the society that should characterize humanity. However, I do not think that we should be tolerant of everyone and everything, there are limits determined by principles and values, such as, for example, the concept of human rights, which jeopardy we cannot tolerate. Therefore, we have to point out certain negative phenomena, no matter how unpopular that may be," Uljarević explained. She particularly referred to the discrepancies in the speech, promises and actions of politicians.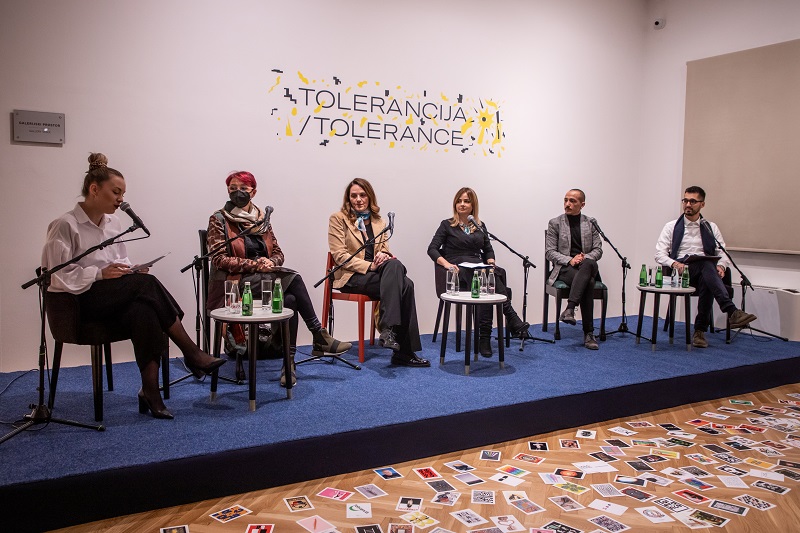 Vučić Ćetković, Director of the Museums and Galleries of Podgorica, emphasized that tolerance is not only a category of morals and values, but also a legal obligation of the state and institutions, i.e. an important precondition for making progress in the field of human rights. "Tolerance authentically bears the symbolism of a new age. It creates an opportunity for wider and more meaningful social communication, starting from the principles of equality, equity and social cohesion. The value of tolerance ​​is a part of every developed system. As the City Museum and a cultural institution of the Capital City, we affirm tolerance in cooperation with all social actors through our priorities and activities, while we keep the focus on multiculturalism and the promotion of the diversity of cultural expressions through our programmes." When asked whether public institutions are committed to tolerance and to what extent, Ćetković pointed out that "from personal experience and the experience of the institution, the social role of culture is the priority, which we demonstrate through programmes whose focus is tolerance. The fact that the competent Ministry, although obliged, has not yet adopted the National Programme for Cultural Development, which is crucial for defining the obligations of institutions and actors in culture for addressing, inter alia, issues of tolerance, is limiting. The adoption of these strategic documents is preceded by public debates, communication with artists and social actors concerned by these programmes, and as this is missing, one gets the impression that there is no planned and systematic action in culture," stated Ćetković.
Jovan Ulićević, Executive Director of the Association Spektra, considers that it is very important to perceive civil society with all its components and communities as part of a larger system. "The struggle for a society where we all function as an ecosystem and have self-awareness of the connection with the whole society represents a concept that strengthens civil society. It is not possible to fight for a better society, and to be disconnected from oneself, to not be empathetic, authentic", said Ulićević. He points out that the problem is often the fact that we see the conflict as a negative phenomenon, and not as a space for growth and development, learning, as something that we need to strengthen within environments in which we are all active actors of the system of synergy of culture and art, civil society and public administration. "When I think of tolerance, I don't think first of acceptance, and a society of equality, but of enduring something different, something we don't like. That is why I am glad that in this manner is brought one perspective of tolerance in terms of openness, empathy and space for development", he said.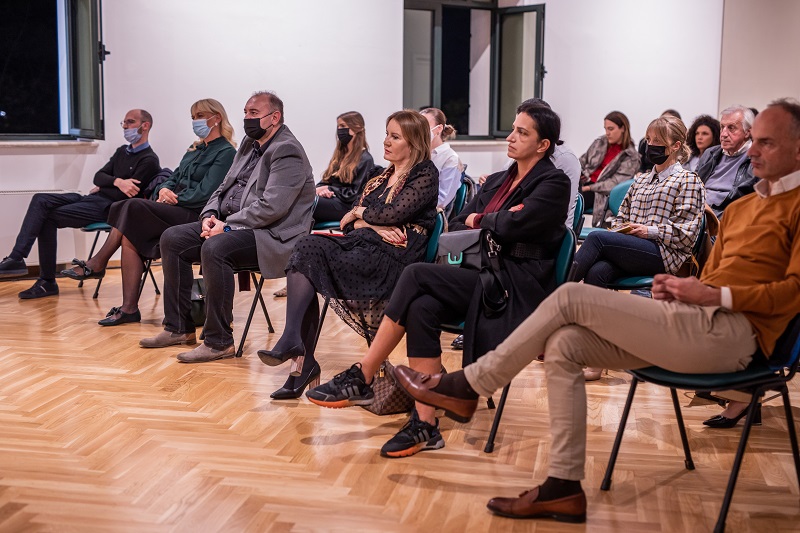 The panel discussion was organized as a contribution to the celebration of the International Day for Tolerance, and with the application of prescribed epidemiological measures, it was attended by numerous representatives of the artistic and academic community, civil sector and local government.
Maja Marinović, Programme Associate