With the slogan "Everlasting battles",  the Centre for Civic Education (CCE) is organizing the XII edition of the Montenegrin FAST FORWARD Human Rights Film Festival 2021 in Podgorica, Berane and Kotor.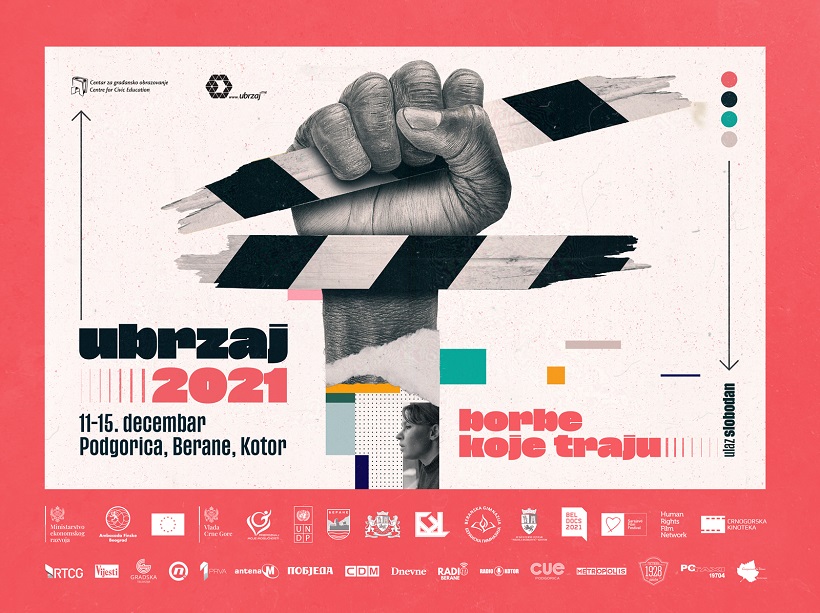 Unlike last year's edition, which was conducted in an online format, FAST FORWARD Festival returns to the halls. The central programme of this year's edition will be held from 11 to 15 December at the Music Center and the Montenegrin Cinematheque in Podgorica, and accompanying editions at Cinema "Boka" in Kotor from 12 to 13 December and at Cultural Center in Berane from 14 to 15 December 2021.
The XII edition of the Montenegrin Film Festival on Human Rights FAST FORWARD traditionally brings exclusively premiere editions of the latest productions, which have already managed to present themselves and receive awards at prestigious regional, European and international festivals.
In addition to film screenings, an accompanying programme is planned to reflect on certain films and put on agenda some of the burning issues of human rights.
The FAST FORWARD Festival, affirming the universality of human rights, attracts a wide and heterogeneous audience, which provides additional value within Montenegrin polarized context. The focus on the modern concept of human rights through art makes the Festival a meeting point for a wide variety of social actors, thus contributing to the establishment of a culture of human rights, a tolerant and inclusive society.
This year's edition of the Festival was supported by the Ministry of Economic Development of Montenegro, the Embassy of Finland in Belgrade, UNDP within the project Reform of the National Disability Assessment System, the Municipality of Berane and the Municipality of Kotor. Partners are BELDOCS, Sarajevo Film Festival and Montenegrin Cinematheque. Also, the promotion of a socially responsible approach is visible in the business sector, and hence we emphasize the sponsorships of the Hotel Cue, PG Taxi, Gostiona 1928, as well as the company De Vinos Montenegro.
Recognizing the public importance of the FAST FORWARD Festival, support is again provided this year by the public service Radio-Television of Montenegro (RTCG), with the portal RTCG.me, then the independent daily, Portal and Television Vijesti, Radio Berane and Radio Kotor, as well as the portal CdM. The growing importance of the FAST FORWARD Festival was also recognized by our new media partners – television Gradska TV, Nova M and Prva, radio stations Antena M and Gradski radio, dailies Pobjeda and Dnevne novine, as well as the portal Dnevne novine and Antena M.
Milica ZINDOVIĆ, PR of the FAST FORWARD Human Rights Film Festival Montenegro 2021