On the occasion of the 30 August – International Day of the Disappeared – Centre for Civic Education (CCE) calls on the competent institutions to finally start acting in the direction of establishing justice for families whose relatives are missing, especially when it comes to forced disappearances during war conflicts.
For years, on the International Day of the Disappeared, the CCE pays special tribute to all victims of enforced disappearance and reminds on the right of families to know the fate of their loved ones who are missing. For years, we have been calling for greater professionalism and to establish the standard in order to respect family unity, identify missing persons and provide information about their fate.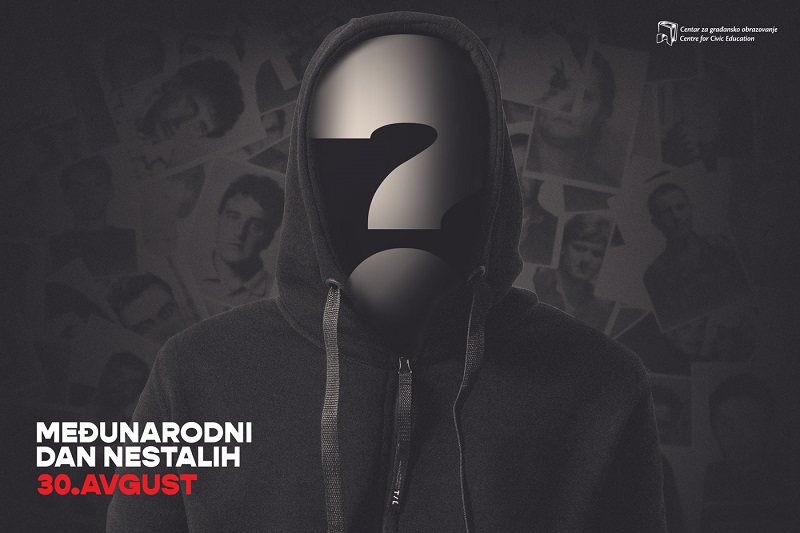 According to the data of the International Committee of the Red Cross, which we presented in the publication "Montenegro – persons missing within armed conflict during the 90s – a review of the situation and recommendations for improving the results of the search for the missing and the position of their families", 34 886 people disappeared in the period between 1991 and 2001, while in Montenegro 51 person is still classified as a missing person, of which 39 persons are being sought in Kosovo, nine persons in Bosnia and Herzegovina and three persons in Croatia. Every one of these missing persons has their life story which must be fully brought to light.
Despite our long-term efforts to pointing out the shortcomings of the legislative framework, there is no improvement, so even today that framework does not recognize the families of persons who are considered missing as civilian victims of war, and the reparations system is inadequate and discriminatory, which cannot be said for surrounding countries. Considering the recorded activities of Montenegro in armed conflicts during the 1990s, as well as judicially determined facts that indicate the role of Montenegrin citizens in these events, a proactive approach by Montenegrin institutions is crucial in determining the fate of missing persons. Unfortunately, even after political changes in Montenegro, a political structure has not yet emerged that would put this issue in focus and adequately resolve it, even though this issue also burdens the Montenegrin path to the European Union.
CCE reminds that the current dynamics of discovering the fate of missing persons is not even in accordance with the humanitarian dimension of this problem. Additionally, over time the chances of finding missing persons decrease, and one of the biggest problems is the lack of information.
CGO once again urges the Government of Montenegro and competent institutions to address the search for missing persons holistically and decisively, engaging all available mechanisms, with constant improvement of regional cooperation in cases of searches, both at the level of the Government and at the level of judicial bodies, as well as civil society organizations.
The International Day of the Disappeared has been established on 30 August 1981 with the aim to resemble on the right of families to know the destiny of their closest who are categorized as missing persons.
Tamara Milaš, Human Rights Programme Coordinator