The Centre for Civic Education (CCE), within the programme "CSOs in Montenegro – from basic services to policy shaping – M'BASE", organized a series of three training sessions during March and April to strengthen the capacities of the organizations whose projects are supported through the fourth Call of this programme.
In total, 63 selected representatives of organizations whose projects are supported had the opportunity to improve their knowledge and achieve high efficiency in the implementation of EU projects.
At the first, two-day training, held on 30 and 31 March 2023 in Ulcinj, participants had the opportunity to learn more about project management from lecturers Milena Brajović and Petar Đukanović, with a focus on project planning and implementation, financial management, monitoring, evaluation, and reporting. During the second segment of the training, held in Podgorica on 12 and 13 April, lecturer Dina Bajramspahić worked with the participants on the concept of public policies, monitoring and assessment of the effects of public policies, as well as on writing public policy proposals. At the final, one-day training held today in Podgorica, lecturers Gordana Despotović Đekić and Svetlana Pešić provided advice on improving communication and increasing the visibility of projects financed by the European Union and conducting public advocacy campaigns.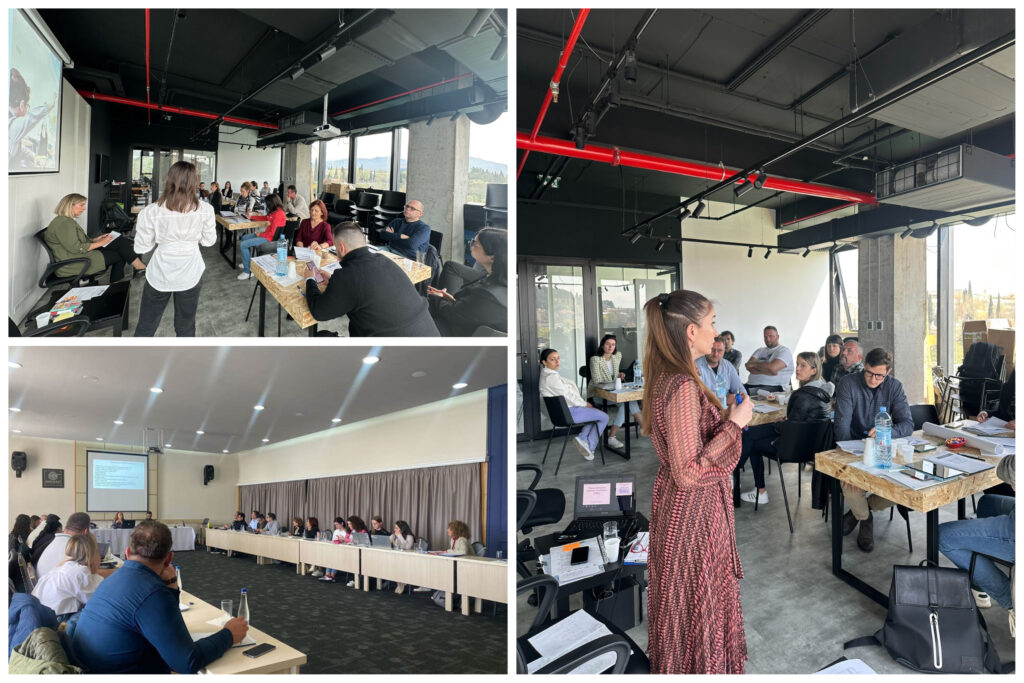 The participant of the training, Iva Vukčević from the Institute for Strategic Studies and Projections (ISSP) from Podgorica, pointed out that this training on the implementation of projects financed from EU funds is extremely useful. "I would especially emphasize the expertise of the lecturers, as well as their efforts to adapt the training content to the specifics of individual projects and create space for open communication and exchange of opinions, which enabled us to learn from each other. The tools we got to know through all three trainings will be useful not only in the realization of the project that is part of the M'BASE support but also in other activities of the organization", said Vukčević.
"The trainings were very informative, practical, and above all adapted to the specific needs of our organizations and our projects. I am convinced that the newly acquired skills will help us achieve the objectives of our project – to encourage the participation of citizens and the inclusion of women in the process of creating and adopting local public policies", said Admir Gjoni from the Punta Institute from Ulcinj.
The programme "CSOs in Montenegro – from basic services to policy shaping – M'BASE" is implemented by the CCE, in partnership with the Friedrich Ebert Stiftung (FES), NGO Center for the Protection and Research of Birds (CZIP) and NGO Politikon Network, in cooperation with the Ministry of Public Administration and Ministry of European Affairs of the Government of Montenegro. The project is financed by the European Union and co-financed by the Ministry of Public Administration.
Maja Marinović, Programme associate