"The progress in the digitization process requires genuine political support that has been lacking so far, as well as a shift towards agile approaches, working on digital literacy, streamlining procedures, involving citizens, and phased development," was emphasized at the conference "E-ducation to PARticipation – Towards an Inclusive and Efficient E-Government" During the conference, the index of the level of e-service development and readiness for the digital transformation process in Montenegro was presented, with the e-government system in Montenegro receiving an average rating of 2.33 on a scale from 1 to 4.
Dušan Polović, Director General of the Directorate for Infrastructure, Information Security, Digitization and e-Services of the Ministry of Public Administration (MPA), emphasized the importance of digitization and the need for digital transformation of the entire society, and above all, public administration in terms of providing quality and functional electronic services. "Most of the services are informative, and the most important services for citizens are the 4th and 5th level services, and that is why we have undertaken activities whose result should be a new e-government portal, improvement of the data exchange system between public administration bodies and the 10 highest level services sophistication," Polović said. He also pointed to the need to improve the overall level of digital information, explaining which deficiencies the Ministry recognizes in this area and how it will respond to speed up the digitization of public administration. "With the Communication strategy, we have foreseen an information campaign that will start soon. Also, our platforms are currently scattered, hence the intention is centralization so that citizens can implement any service in one place. Finally, it is our desire to oblige all state institutions to publish their services on the future portal, which we believe will be functional next year, and that would make overview easier for users," concluded Polović.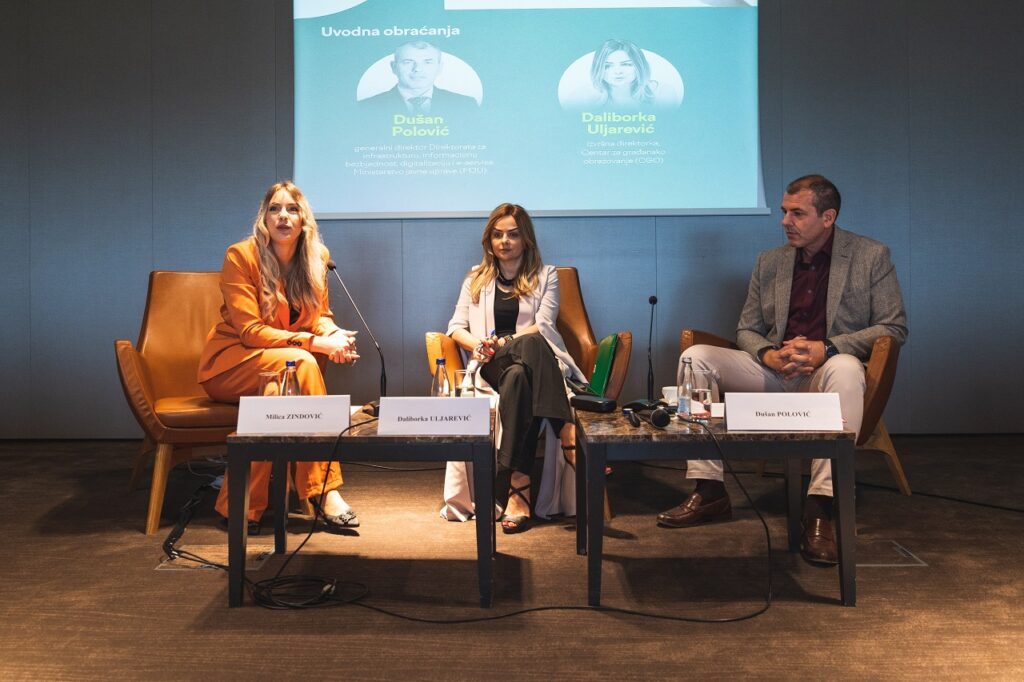 "The primary task of public administration is to serve citizens, and high-quality e-government services that meet the needs of the public are essential for ensuring transparency of government and citizen participation in decision-making processes and shaping public policies. Furthermore, efficient e-government is one of the cornerstones of public administration reform and therefore crucial for Montenegro's accession process to the European Union," stated Daliborka Uljarević, Executive Director of the CCE. She highlighted numerous benefits of inclusive e-government, including broad accessibility, reduced bureaucracy, time and cost savings, and other resources. "Moreover, it strengthens transparency and accountability in public affairs and contributes to reducing corruption, ultimately enhancing the quality of democratic participation and governance," added Uljarević. She emphasized the importance of political support for this process. "Unfortunately, genuine political support for e-government is lacking in Montenegro. Partly because our decision-makers are not familiar with digital skills, but more significantly because they refuse to make the system more transparent," concluded Uljarević.
Milica Janković, an associate at the Faculty of Information Systems and Technologies at University Donja Gorica and Director of Digital Transformation and IT Delivery at Exploring, commented on the process of developing the e-index. "The chosen approach represents a modified and adapted version of the well-known Maturity Model for Digital Services methodology developed by the Harvard Kennedy School. The goal was to assess the current level of development and utilization of digital services, the potential for digitizing services and processes, the attitude towards personnel whose skills are applicable for the use of technologies and data by government authorities, how well data exchange systems between institutions function, and how service designs that meet the needs of citizens are approached," explained Janković. She elaborated that the e-index encompasses six dimensions, for which the following ratings were obtained on a scale of 1 to 4: political environment 2.91, institutional capacity 2.50, service delivery 2.27, digital skills and human resources attraction 2.13, user-oriented design 2.19, and common systems/services 1.95, with an average rating of 2.33. "Three things emerged from our research. Firstly, digitalization needs to become a political issue driven by a new generation of politicians who think 'digitally' and have no problem supporting the 'digital-first' concept. Secondly, the methods for developing digital services need to change – instead of digitizing existing services as they are, processes need to be simplified, citizens need to be involved, and development should proceed in phases. Lastly, it is necessary to improve the system of common systems, which should enable data exchange at the government level from all aspects, digital identification of transaction participants, as well as electronic payment of services and delivery," concluded Janković.
Lana Vukmirović Mišić, a lawyer at the Vukmirović Mišić – JPM Partners Law Office, highlighted the existence of a solid legal framework in Montenegro in this area. "By analyzing the legal framework and our current position in relation to the EU, a change in methodology has been suggested, which should be based on identifying the service needs of ministries regarding the digitization of specific segments. The analysis resulted in a roadmap document outlining the necessary changes in regulations to eliminate legal barriers, and a total of 21 services for digitization were identified," said Vukmirović Mišić. While certain services face legal obstacles in bylaws, there are also systems, such as the system for payment of administrative fees, for which there is a law and bylaw, but the corresponding service or website is not functional, indicating implementation obstacles. As an important part of the digitization process, she emphasized the importance of feedback, i.e. obtaining confirmation of completed tasks. "I believe that confirmation would increase the level of trust and usage. Additionally, when it comes to the economy, it seems important for services to be fully electronic to achieve an adequate level of utilization," stated Vukmirović Mišić.
Nada Rakočević, the Secretary of the Committee for Information and Communication Technology of the Montenegrin Chamber of Commerce, emphasized the necessity of improving electronic services that have gained momentum during COVID-19 pandemic. Reflecting to the economy, she stated that about 93% of companies are small businesses with five employees. "These companies have limited capacities, and utilizing e-services would be very beneficial for them. However, despite all the benefits of digital transformation, there is a lack of digital skills, and it seems that society does not recognize this as a reality, as 98% of respondents believed they possess these skills," said Rakočević. She assessed that e-government services for businesses have been improved. "We measure satisfaction with services through communication with companies. We often organize training sessions, but there is still some reluctance, possibly due to lack of interest, time constraints, human resources, and competencies," Rakočević said. She believes that one of the key issues that need to be addressed is the increased distrust caused by cyber-attacks and a lack of digital literacy. "The suggestions coming from the business sector primarily concern the foundation for service development, which includes interconnecting registries," concluded Rakočević.
Olivera Damjanović, the Programme Manager of the Regional School of Public Administration (ReSPA), believes that through this research, the public administration of Montenegro has received exceptional instructions. "Digitalization plays a crucial role in the reform of public administration, which aims to achieve a modern administration that is effective, delivers citizen-centric and community-oriented services, utilizes resources and human capacities rationally, and coordinates within the internal institutional framework," said Damjanović. She underlined the need to work on the reform of public administration, which is a requirement for EU accession for all Western Balkan countries. "This is a structured process defined by the EC, which has set the areas for reforms, the criteria defining the desired reformed administration, and the corresponding indicators. SIGMA conducts periodic assessments of each country's progress, enabling stakeholders to assess the situation and the level of progress. Digitalization has become a horizontal theme that encompasses all other areas of public administration – from policy planning to human resources, regulatory policies, accessibility, and the accountability of public administration. This highlights the necessity of ubiquitous digitalization of services that should be centered around the tailored needs of citizens," stressed Damjanović.
Milica Zindović, Programme associate at the CCE, referred to a public opinion survey conducted by the CCE. She also outlined several recommendations arising from the analysis of public administration, emphasizing that institutions need to do much more and communicate adequately to strengthen awareness, information level, and digital literacy about existing services on various portals, promote them in the media and focus on the end user – citizens and their needs. "eParticipation and ePetition must be especially promoted, because citizens are not familiar with it or motivated to use these very important mechanisms, which enable them to participate in the decision-making process important for them and society as a whole," stated Zindović. In her opinion, in addition to work on the processes of electronic payment, electronic identification, data exchange between key registers and information systems, electronic delivery and use of electronic documents, which are key to the development of e-services, the emphasis must also be on strengthening trust in electronic services, especially in the field of personal data protection.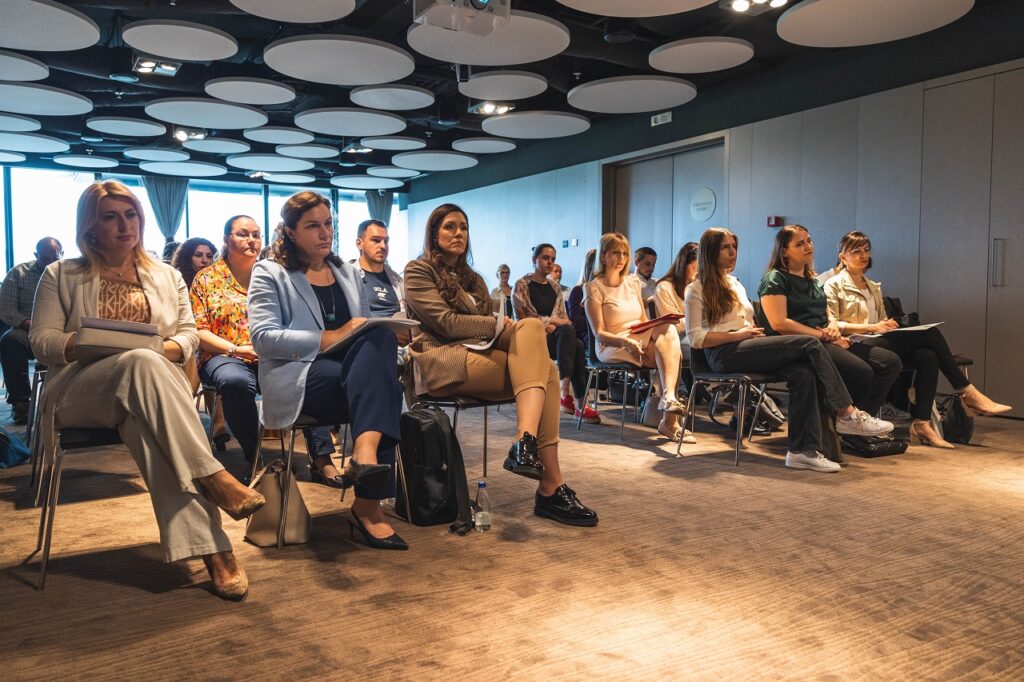 The conference was attended by app. 40 participants from institutions, non-governmental organizations, media, political parties, academic and student associations, and was held within the project "E-education to PARTicipation", implemented by the CCE with the support of the Ministry of Public Administration (MPA).
Maja Marinović, Program associate