Young people want to be involved in solving social issues, this is the central conclusion of the Youth Activism School for high school students from the central region of Montenegro, organized by the Centre for Civic Education (CCE) with the support of the United States Embassy in Podgorica through the Democracy Commission Small Grants Program.
Through an intensive two-day programme, young people learned about the characteristics of youth activism, the basics of human rights and their protection, examples of activist struggles, rhetorical skills, but also creating and advocating for youth initiatives. The work was mostly interactive, including brief introductory lectures followed by workshops, group work, film screenings, simulations, and open discussions.
The goal of the Youth Activism School is to build the capacities of young people to position themselves as active citizens who contribute to social changes and the promotion of human rights in Montenegro.
Young people recognize key social issues and are interested in participating in solving them, but they believe that decision-makers must be open to their ideas and give them space to express their views.
"Young people need encouragement and to be given a chance and hope to achieve their goals. I would love to see my peers fighting in this country, not leaving it like the majority do," points out Arijana Emini, a student at the High School of Economics "Mirko Vešović" in Podgorica.
Her peer from Nikšić shares similar thoughts. "The position of young people in Montenegro is very poor and demotivating, so it's not surprising that many leave the country in search of other opportunities. I believe that young people should be more involved in events that concern them, and it is expected from the state to provide more of such opportunities and support for the youth," assesses Isidora Đukanović, a student at the First Vocational High School in Nikšić.
"Young people should be actively involved in social processes because our voice is important for making decisions that shape the future. Involving young people brings new ideas, perspectives, and energy that can contribute to positive changes in society," emphasizes Anja Odalović, a student at the Economic and Catering High School in Nikšić.
Azra Vuković, Executive Director of the NGO Green Home and a lecturer at the Youth Activism School, reminded us of the importance of youth activism in specific areas as well. "Strengthening youth activism in the field of environmental protection is important in terms of the impact each individual has on the environment, as well as in terms of opportunities to initiate various social actions that contribute to the improvement of the environment. Here, young people have a significant role. By timely empowering the youth in this field, we contribute to creating generations that are ready to contribute to preserving nature but also to react in situations when it is damaged," stated Vuković.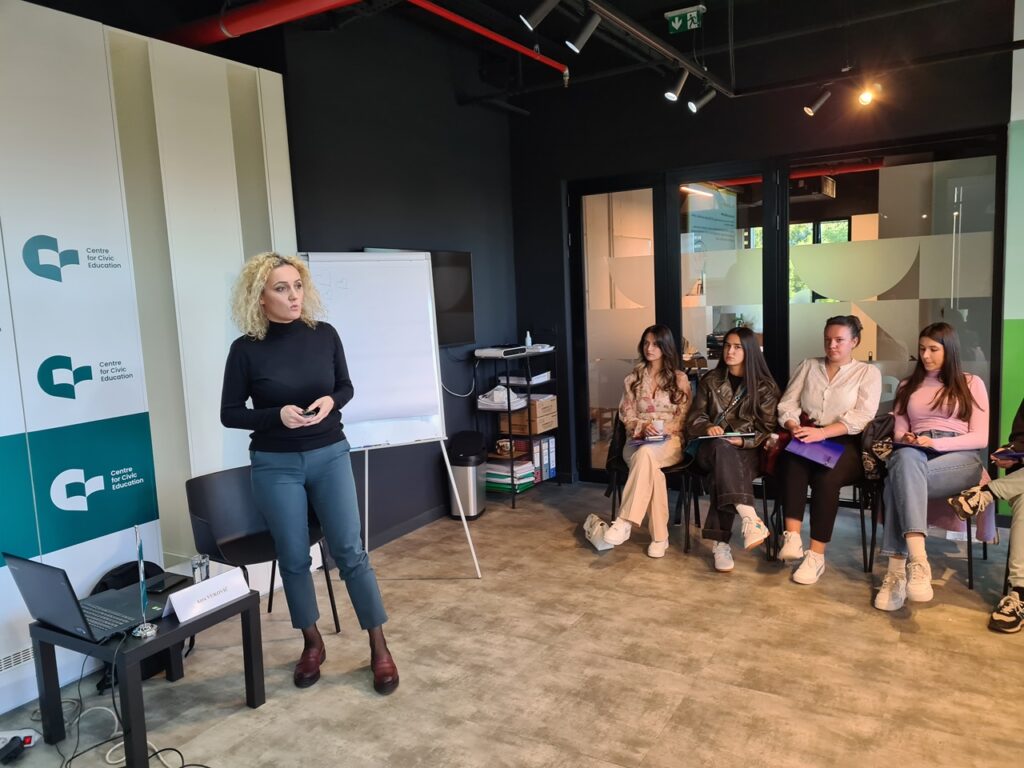 Milos Knežević, Executive Director of the LGBTIQ association Queer Montenegro, worked within the framework of the Youth Activism School to help participants in shaping their initiatives. "Youth initiatives are crucial because they enable young people to express their ideas, actively participate in social changes, and develop a sense of being equal members of society. Additionally, this fosters a sense of responsibility towards the community and an understanding among young people that they are the present of this society, and that with their active participation they build a better future for all of us. Allowing young people's voices to be heard empowers them, builds self-confidence, and encourages active citizenship, thus forming a healthy society that values the contribution of each individual," he emphasized.
Lecturers and workshop facilitators at the Youth Activism School were experts in the fields of human rights and activism from the academic sphere, civil society and the legal profession. Participants were young individuals of different ages from 12 high schools and five municipalities in the central region of Montenegro – Podgorica, Zeta, Tuzi, Nikšić and Cetinje.
The Youth Activism School was successfully completed by 26 high school students: Arijana Emini, Katarina Šipčić, Ksenija Ašanin, Ksenija Martinović, Mara Rakčević, Sava Radović, Uroš Petrović, Andrea Maraš, Ksenija Kumburović, Leonora Cacević, Linda Gojçaj, Andrea Mijović, Anja Mićanović, Andrea Mišković, Sara Mirković, Anja Odalović, Isidora Đukanović, Itana Pavlović, Jelena Milović, Milica Bogetić, Tamara Adžić, Tijana Matijašević, Helena Jovanović, Nađa Stanojević, Zorana Zečević and Andrija Stijepović.
Željka Ćetković, Active Citizenship Programme Coordinator