Montenegro has been making good progress in aligning with the EU Acquis Communautaire, but its track record in implementation remains challenging, as indicated by the European Commission's reports as well. This also refers to the functionality of antidiscrimination mechanisms, which affects building of human rights culture characterized by various forms of discrimination, social and ethnic distances. Furthermore, a broader state of civic consciousness is limiting for development of human rights culture, since Montenegrin society is still, in many aspects, traditional and based on authority with the presence of certain nationalist elements. Civic Education fails to make the necessary corrections within the educational system, and this subject has further been marginalized by the change of its status from mandatory to an elective subject. This only emphasizes the need to work even harder to build teaching staff capacity in order to encourage students to develop critical thinking, teamwork, communication and civic competences.
On its path toward the EU integration, Montenegro must fulfil numerous benchmarks, especially those related to the implementation of human rights standards, which are defined in Chapter 23 (Judiciary and Fundamental Rights). That is why this action is designed to support the process of establishing sustainable basis for measurable track records in this area. In all aspects of the integration process and reforms of the framework for protection of human rights and antidiscrimination, educated and encouraged citizens, media and CSOs capable of acting as watchdogs and partners are of crucial importance. The action enhances the capacity of these actors to influence anti-discrimination policies and to implement the human rights and antidiscrimination standards that are at the core of the EU integration process.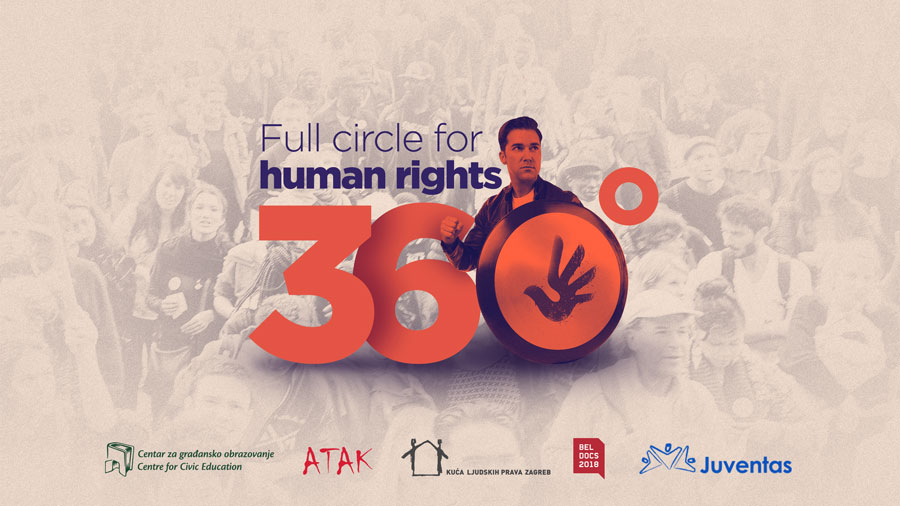 Hence, the overall objective of the project is to contribute to decline of discrimination and promotion of tolerance and respect for human rights in Montenegro, as well as to support strengthening the capacity of civil society organisations active in this field. Specific objectives are to: 1) Promote the role of "education without discrimination" in the formal education system and cultivate anti-discrimination and human rights culture amongst young people; 2) Create "Human Rights Barometer" on current issues in the field of human rights and protection against discrimination as the support for the evaluation and improvement of the performance of institutions, civil society organizations and individuals implementing human rights and antidiscrimination policies and practices; 3) Raise public awareness and encourage civic engagement in promoting respect of human rights and antidiscrimination.
This is a multi-layered action that involves series of interconnected activities – from forming an expert team in charge of the manuals on discrimination in education for educational staff and students, organization of theatre forums on discrimination for the high school students across Montenegro, trainings for the educational staff in schools in the use of the manual, providing hotline for students to report cases of human rights violations and discrimination within educational system as well as creating and managing the youth campaign against discrimination, training for CSOs in the methodology of monitoring, evaluation and drafting of reports on the implementation of the legislative framework in the field of human rights and antidiscrimination, public opinion research on citizens' perception of discrimination in Montenegro, drafting the report on the state of human rights in Montenegro, organization of the Fast Forward Human Rights Film Festival in Podgorica, Kotor and Berane, production of a film on human rights defenders in MNE, annual award for human rights defenders and promoters of civic activism as well as award for the best research journalistic text on human rights and discrimination in Montenegro.
Within this framework, manuals for the identification, prevention and prosecution of cases of discrimination and other forms of HR violations and violence were drafted for students, parents and professionals working in the area of education, through existing solutions within the school, but also institution outside the educational system. These manuals are also available in Albanian (for teaching staff and students).
Findings of the public opinion research on discrimination conducted throughout project indicated, among other things, that citizens consider that the poor people, Roma, homeless, persons with disabilities, political dissidents are to the largest extent exposed to discrimination.
Theater forums were organized in 23 Montenegrin high schools and some of them were recorded in the short – form video (Tuzi, Ulcinj, Žabljak, Podgorica, Pljevlja, Plužine, Plav i Gusinje, Nikšić, Herceg Novi, Kotor, Cetinje, Berane) as part of youth campaigns for social media. Also, a film that gives an overview of the theater forums was produced.
'Human Rights Barometer' report was presented by the authors themselves, which emphasized his inclusive approach in its drafting, and key accents are in the STV.
The ninth edition of the FAST FORWARD Human Rights Film Festival was marked by excellent film selection and great interest of the audience.
The project is financially supported by the European Union and co-financed by the Australian Embassy.