Coronavirus pandemic caused the reduction of the scope of work of Montenegrin schools. The efforts of the Ministry of Education and teaching staff enabled the continuation of the learning process. However, many challenges emerged.
Educational process is focused to the priority issues, and the possibility of skills development is extremely limited. This challenge is most visible within lessons that deal with controversial and sensitive issues, first of all, from contemporary regional and national history. Thus, these issues, usually lectured by the teaching staff in limited form (due to the lack of available curriculum and time at the end of the school year of final grades), were additionally neglected through online teaching.
Creating supporting teaching and methodological material enables overcoming those online teaching limits, but it also provides educators with produced and appealing teaching tools.
The objective of this project is to create adequate methodologies and teaching tools to Montenegrin history teachers, as well as training, which will enable them to meet the learning objectives set out in the national curriculum. Therefore, the accent is on encouragement of lecturing sensitive and controversial issues from Montenegrin past, but also enabling plurality of opinions and providing responds to local educational needs.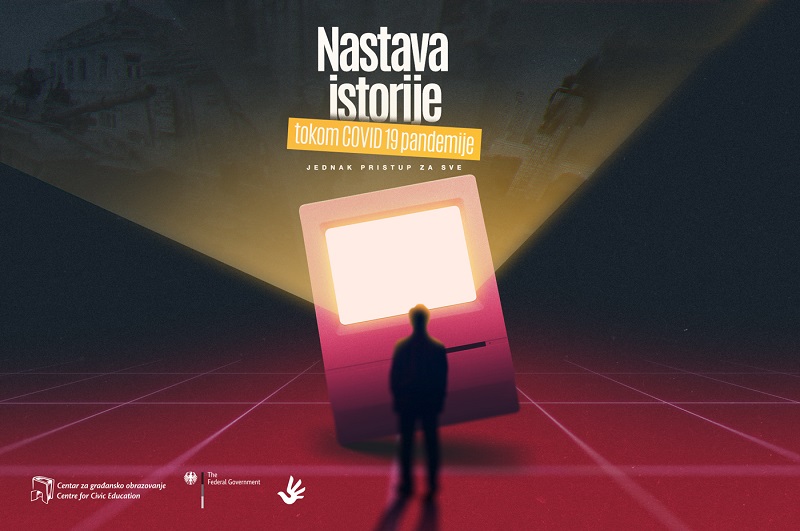 Through modern methodological methods and multi-perspectival approach to complex historical issues that even today cause disagreements and emotions in Montenegrin society, the project tends to the development of analytical and critical skills within the pupils. Finally, the objective is that pupils themselves create their opinion about these issues through analysis and self-concluding, and consequently to develop resistance to non-scientific and extracurricular influences.
Within the project framework, total of 25 video lessons were produced, as well as methodologies about teaching and evaluation of knowledge about sensitive and controversial issues during regular and online teaching.
The production of video lessons for primary school was done by a team consisting of Rade Vujović, Valentina Knežević and Žana Savović, while videos for secondary school were done by Lazar Aranitović and Marko Radojević. Editors of lessons are Igor Radulović (History Teachers Association of Montenegro HIPMONT) and Miloš Vukanović (CCE). Although the themes are methodologically adapted to different levels of education, authors and editors have made an effort to make video lessons understandable to all grades of education.
Video lessons address the themes as follows:
Methodologies about teaching and evaluation of knowledge about sensitive and controversial issues during regular and online teaching was created by Igor Radulović and Miloš Vukanović.
Video lessons and methodologies are available in Montenegrin and Albanian language.
The project also includes four online seminars for history teachers, teachers of social science subjects, history educators and students of the final year of pedagogical course of social group of subjects, as well as eight individual sessions of experienced history methodologists with history teachers.
The project is supported by the German Federal Foreign Office through the German Embassy in Montenegro.