Centre for Civic Education (CCE) has today, within the project >"Intergenerational Learning for European Active Citizenship" which is implementing in cooperation with five more partner organizations from Italy, Bulgaria, France, Sweden and Slovenia, organized a workshop of the same name in the EU Info Centre in Podgorica. This project is financed by the European Union through its programme "Europe for Citizens".
Daliborka Uljarević, executive director of CCE, opened the workshop and emphasized that besides the technical part that we need to achieve on our path of European integrations, we also need to work on "integration of Montenegrin society and establishing connections that have not been built so far and which refer to exchange of experiences, views, assessments, among people of different generations"."The process of European integration brings essential changes which are especially needed to societies of underdeveloped political culture. That process should also empower us as citizens in order to know how to fight for our rights, and then within it, the decision-makers will very carefully pay attention to what citizens are thinking and not impose their opinion to them", concluded Uljarević.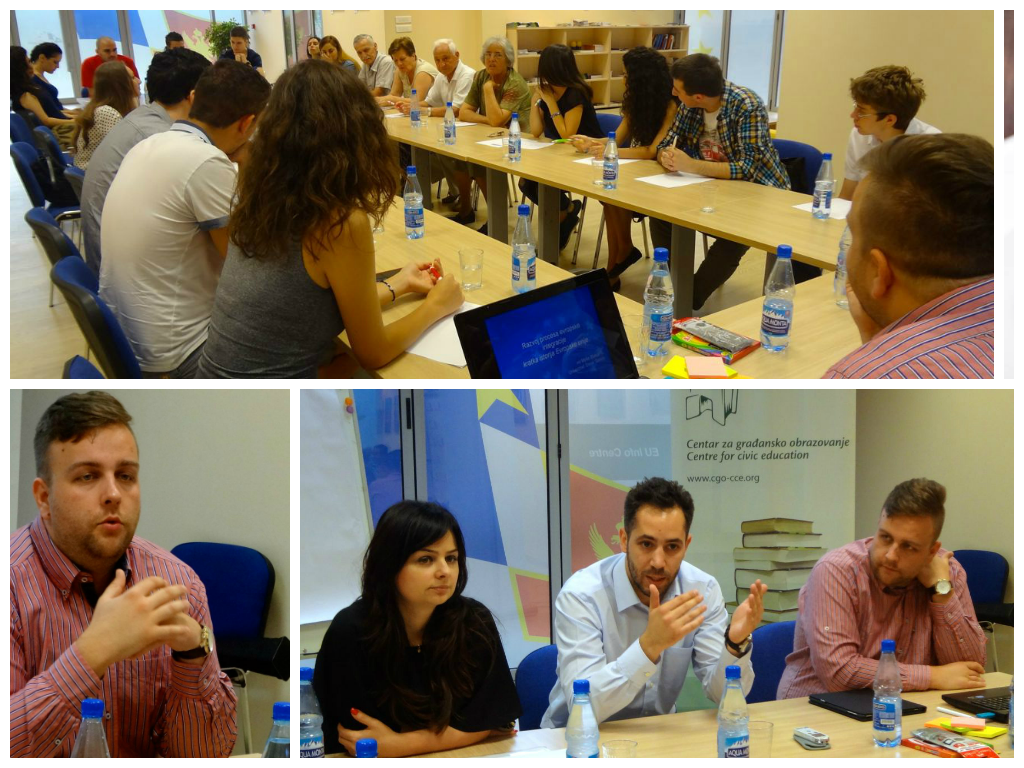 The workshop was led by Mirko Đuković, assistant at the Department for European and International Law at the University of Donja Gorica. He presented to the participants history of the law of the European Union and its institutional structure, emphasizing that in the Union "there is a system of punishing states that do not fulfill the undertaken obligations from the law of the European integrations". He has also explained that "what is really important for citizens is that those rights can be achieved in national courts as well." Đuković presented to the participants the tools of the European Union – the European Initiative, the European Ombudsman, parliamentary questions, elections for the European Parliament and the European law. Through interactive work, participants had the opportunity to learn how to act in order to solve specific national and local problems.
The objective of the project within which the workshop was held is contributing to establishing of intergenerational dialogue between those who were witnesses of the birth of the European Union and those who did not have this experience. More specifically, the project provides an opportunity to the youngest and the eldest citizens to consider reasons that stand behind the process of the European integration, encourage the debate on significance of the EU policies for everyday life of citizens, begin intergenerational dialogue on influence of European values, at the same time empowering target groups with a knowledge necessary for active participation in democratic processes of the European Union.
The project is conducted within the partnership of six countries that are diversified themselves: founder states (Italy, France), states advocating for previous and new enlargement (Sweden, Slovenia), newer member state (Bulgaria) and a state that has officially started negotiations on accession to the European Union (Montenegro). The workshop gathered 20 participants, taking into consideration intergenerational representation.
Svetlana Pešić, Programme Associate