Centre for Civic Education (CCE), within the project "Fast forward human rights!", held the first module of the seminar with representatives of civil society organizations whose projects are supported through the Open call for proposal for the suport of civil society organisations (CSO) projects in Montenegro in the field of human rights, from 18 to 20 July. The objective of the seminar was to strengthen the capacity of these organizations for management of projects financed through the funds of the European Union.
The seminar was attended by 22 representatives of 11 organizations, out of which nine project implementing entities and two partner organisations for the projects that CCE granted with a total of 54 210€ with the support of the Delegation of the European Union in Montenegro. Daliborka Uljarević, executive director at CCE, Vučić Ćetković, financial manager at CCE and Nikola Đonović, programme coordinator at CCE familiarized participants with procedures of management of projects financed by the EU.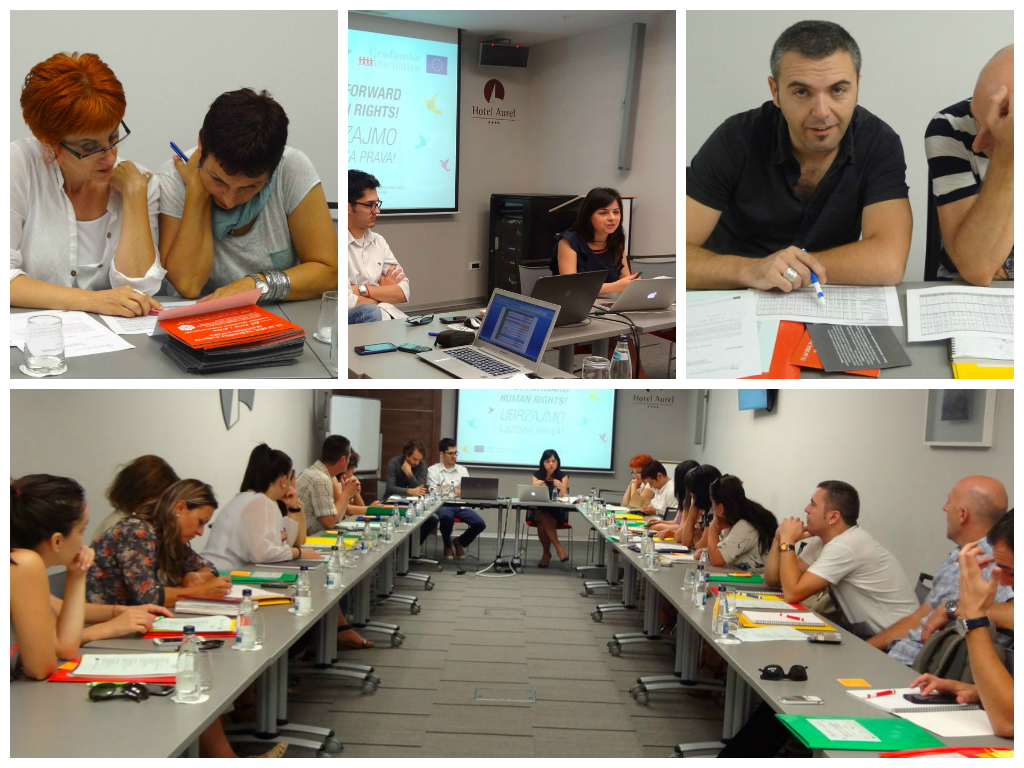 Three-days long seminar was held in Podgorica, in the hotel Aurel, and participants were representatives of CSO as follows: Anima, Shelter, NGO Atak, Coalition ,,Our initiative", Institute for Legal Studies, SOS for Women and Children Victims of Violence Berane, Monitor's Centre for Media and Democracy, Paraplegic Association Cetinje, SOS for Women and Children Victims of Violence Ulcinj, as well as partner organizations Association of Persons with Disabilities of Montenegro and SOS Podgorica. The second module is planned for September 2014 and will include media representatives also.
The project FAST FORWARD HUMAN RIGHTS is implemented by the CCE in cooperation with Civic Initiative from Belgrade, from November 2013 to January 2015, and it is financed by the European Union within the European Instrument for Democracy and Human Rights 2013 (EIDHR). The objective of the project is to strengthen the role of civil society in promotion of human rights and democratic reforms in Montenegro, as well as in consolidation of participation and representation of citizens in political life.
Svetlana Pešić, Programme associate