Participants of XXI generation of Human Rights School, organised by the Centre for Civic Education (CCE), paid a visit to PI "Komanski most", Police department and afterwards they visited British Embassy in Podgorica. Human Rights School is one of the activities within the Youth build Montenegro project, supported by British Embassy.
Thus, within the practical part of the curriculum, participants had the opportunity to gain knowledge on the functioning, competencies and activities of institution for children and youth with moderate, heavy and severe difficulties in mental development, as well as on the work of Police department, more precisely, the work of the Security Centre Podgorica and Detention unit. Finally, participants of XXI generation of Human Rights School were hosted by charge d'affairs in British Embassy, Lyndon Radnedge, who, along with Daliborka Uljarević, CCE Executive Director, and Petar Đukanović, CCE Programme Coordinator, awarded the diplomas for successful participation at the School.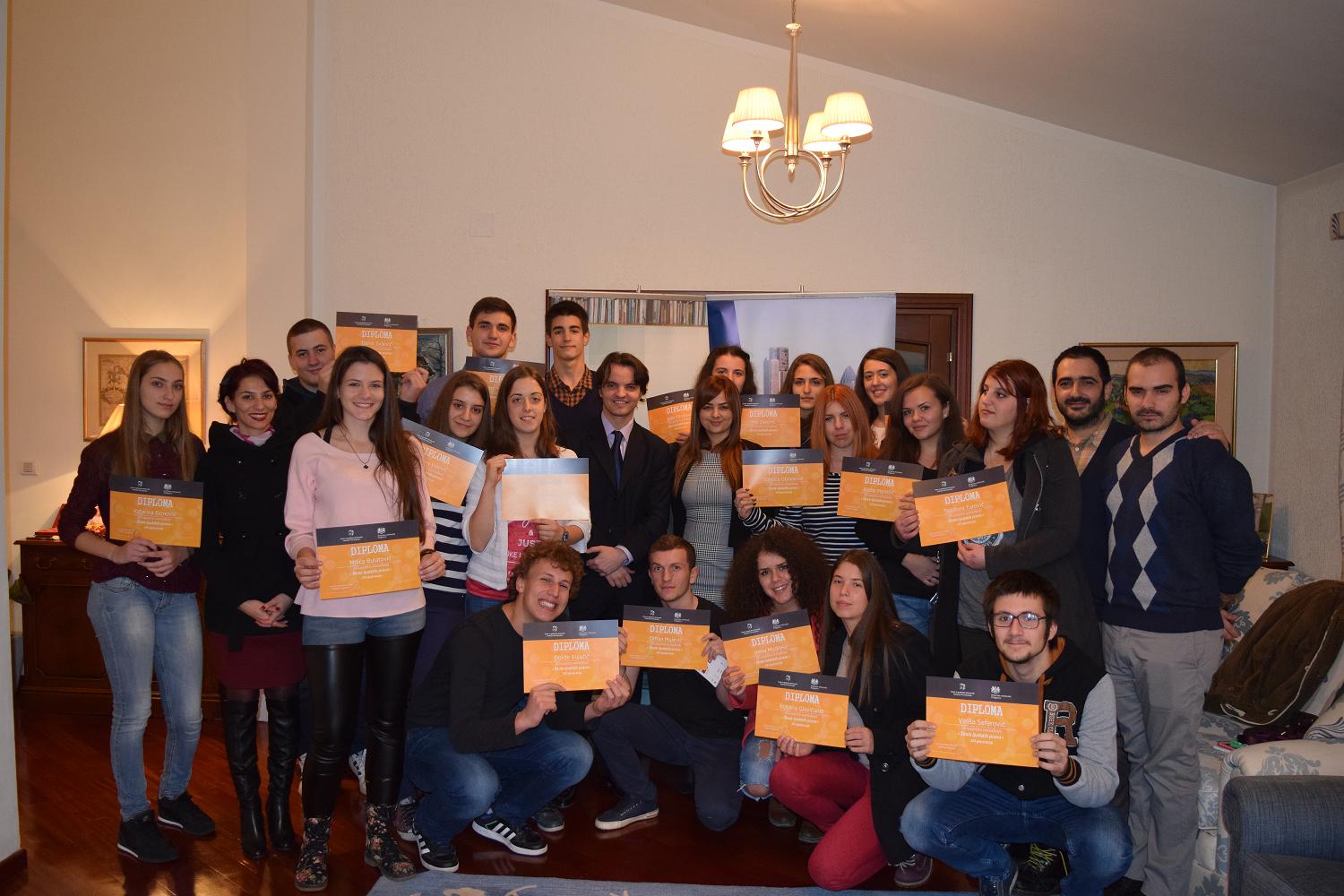 Furthermore, as a result of practical work during the course of the School, participants developed several actions, out of which one was focused on the promotion of volunteerism and humanitarian work through the visit to PI "Komanski most", which provides care, education, working-occupational engagement and health protection to its protégées. Vaselj Dušaj, Director of this institution, described to participants of Human Rights School the work of this institution and the activities they perform in order to support their protégés, and after the visit they gave the presents they brought for protégés.
Within the visit to Police Department, participants of XXI generation of Human Rights School were hosted by Sveto Čović, representative of Security Centre Podgorica, Mladen Marković, Head of Operational and Communication Centre and Svetozar Tošković, Head of Crime Lab at Security Centre Podgorica, who were at the participants' disposal to provide answers on numerous questions regarding the manner of functioning of Police department and its organisational units.
Diplomas for successful participation of Human Rights School were given to 23 (twenty three) high school students from all over Montenegro: Abid Šabanović, Amer Hadžimušović, Amra Kalač, Bobana Glavičanin, Damir Suljević, Danilo Banović, Đorđe Vujačić, Erdan Kujević, Irena Mudresa, Isidora Vlaović, Jana Obradović, Jelka Vilotijević, Katarina Đonović, Mia Zeković, Milena Nenezić, Milica Bulatović, Miloš Danilović, Nikoleta Lazarević, Orhan Mujević, Rialda Markišić, Sunčica Obradović, Teodora Turović and Veliša Seferović.
Human Rights School provides broad theoretical and practical knowledge on the concept of human rights, affirms culture of human rights by inspiring and motivating young people to advocate their rights, as well as the rights of those who are unable to do so themselves, and empowers them to have a more direct impact on society in future. Its objective is to establish a continued alternative human rights education.
Throughout the course of previous twenty generations, School was completed by 600 citizens, activists of political parties, non-governmental organisations, state service employees from local and national level, journalists, students and others who shoved interest to relate their activities to public scene and contribute in the realisation of human and minority rights in Montenegro.
Svetlana Pešić, programme associate