Centre for Civic Education (CCE) organised a public debate titled "Reconciliation in region from the angle of different actors in country and region", in cooperation with the Humanitarian Law Fund (FHP).
Daliborka Uljarević, CCE Executive Director, opened the debate by emphasising that "we should insist on substantive facing with the past, primarily because of the justice – justice for victims, justice for future generations, justice as a guarantee that these crimes won't happen again". She marked political structures as key actors that hinder the adequate processing of war crimes in states that were created after the disintegration of Yugoslavia: "Those political structures were primarily created during war conflicts, many of which were directly involved in the creation or instigation of ethnical and religious conflicts. These conflicts were everywhere described as state, national projects, whereas it was all a cover for big robbery, as the essence of this mass crime. That manipulation was the basis for the creation of not just political, but politically-dependent current tycoon, economic elite", underlined Uljarević. She reflected on proceedings before national courts that, according to her, "had numerous omissions and imperfections, whereby political structures obstructed their work and continue in doing so. They are not in terms with the essential opening of this process, discovering the truth, thereby achieving the justice. Only the individualisation of guilt can truly lead to needed facing with the past, uncover the creators and perpetrators of most heinous crimes committed during civil wars", concluded Uljarević by reflecting on the importance of the Initiative for RECOM.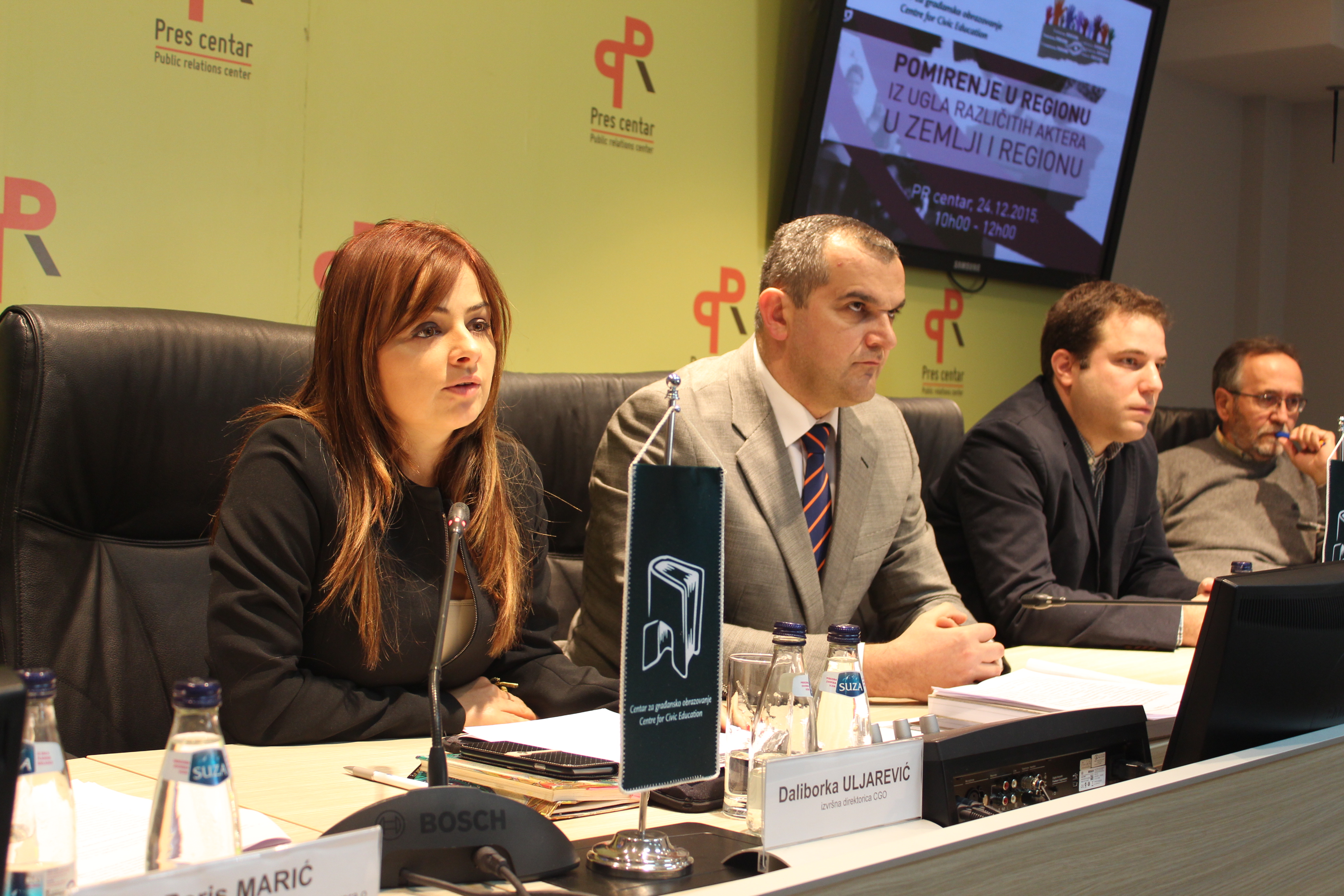 Veljko Rutović, special prosecutor, who addressed the participants on behalf of the Special State Prosecution of Montenegro and State Supreme Prosecutor, pointed out that, in order to achieve post-war reconciliation, we have to "face our violent past, severe violation of human rights and violation of international humanitarian law… Unresolved crimes and unpunished criminals do not make the path to reconciliation. Namely, judicial institutions contribute to this purpose", he reminded and commended the international cooperation with states from region on all kinds of criminal offenses and war crimes issues. "International exchange of data, information, facts and proofs restores the confidence that all crimes will be identified and their perpetrators sanctioned because war crimes have no statutes of limitations", underlined Rutović, by explaining that Montenegrin prosecution has several cases of war crimes at the stage of screening, but that he cannot discuss on the content of those investigations at this point in time.
Miloš Vukanović, historian, reflected on the culture of remembrance by underlining the fact that there are only two memorial centres in region that have their research teams – Potočari and Memorial centre on Homeland war, also by highlighting the importance of manner in which the history and education elaborate and further present everything that happened on territory of former Yugoslavia in its modern history. By focusing on Montenegro, Vukanović told: "Where are we in that state of affairs in Montenegro? Montenegro is a society which knows what happened, but doesn't want to talk about it. We know where it took place, but we do not commemorate those locations. More than anything, Montenegro wants to confess those crimes to everybody else, except itself. There are still no thorough historical researches in Montenegro regarding the period of nineties, which is not surprising given that we do not even have a comprehensive record of history for the twentieth century, apart from the work of professor Šerbo Rastoder. He concluded that "it is not enough that we speak about these crimes in schools, we also need to develop critical awareness that these processes were not all black and white, on the contrary, that war was very much grey".
Boris Marić, member of Working group for the preparation of negotiations for Chapter 23 and CCE senior legal advisor, underlined that in this part negotiating process "did not move forward that much". He reminded of one of the benchmarks which absence would hinder any further progress in negotiations with the EU: "Montenegro effectively demonstrates the capacity of bodies in the implementation of laws and courts to take an independent approach in the resolution of cases of war crimes in line with international humanitarian law and case law of International crime tribunal for former Yugoslavia, and assumes effective measures when dealing with the issue of impunity, especially through the acceleration of progress and investigation and prosecution of these cases, by ensuring the access to justice and reparation for all civil victims". Marić accentuated poor performance in the prosecution of war crimes in Montenegro.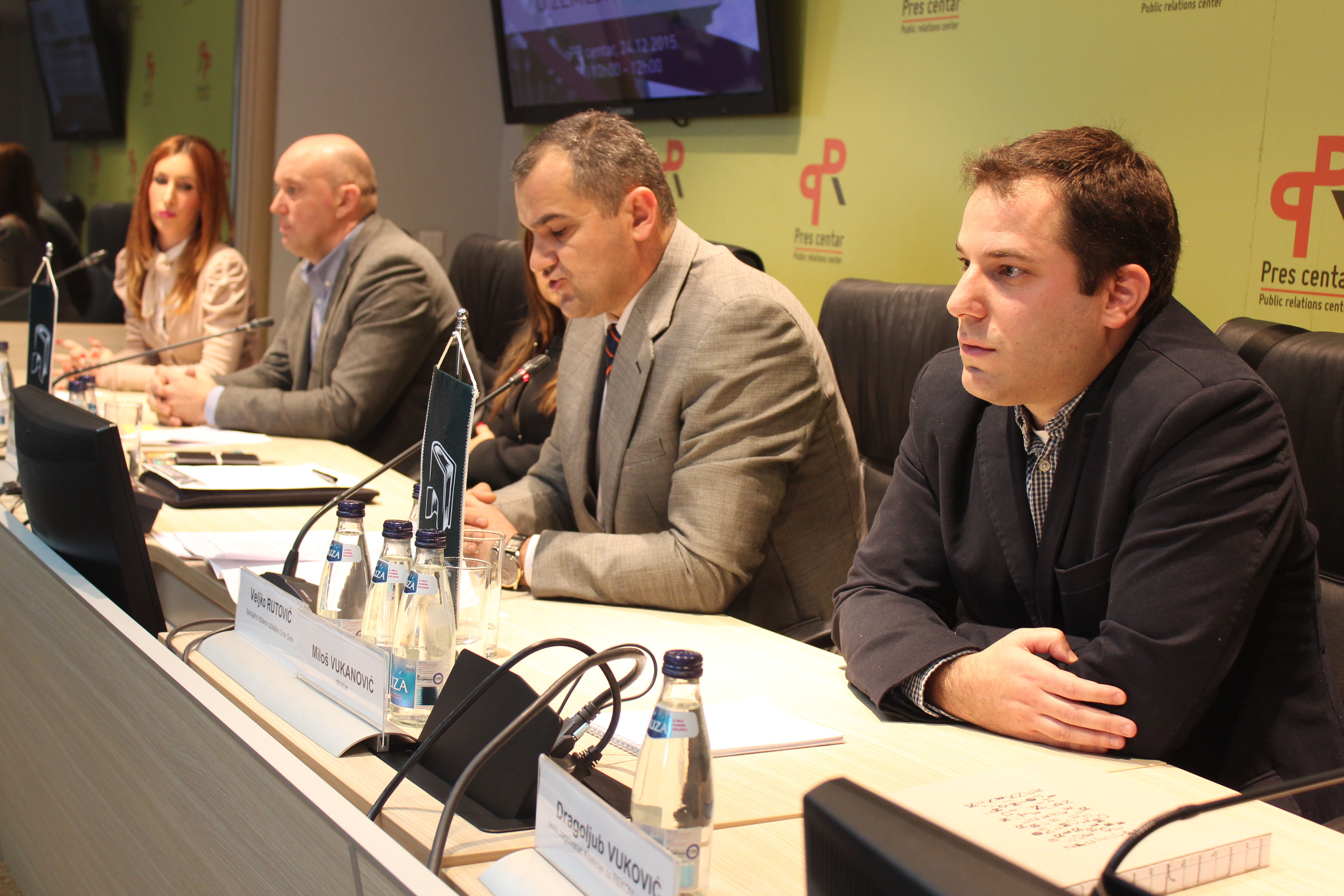 Dragoljub Vuković, journalist and public advocate of Coalition for RECOM in Montenegro, believes that "oblivion can only be provisional". He reflected on interconnectivity of reconciliation and trust by emphasising that process of reconciliation in region is marking minimal progress in all areas. He also proposed: "If people from Montenegro truly wish to re-evaluate their nineties, they should first make a symbolic act – raise a monument to commemorate the deserters, those who did not want to be a part of the war and suffered the consequences due to such decision. Someone lost his/her job, somebody did this, somebody did that… And someone was making a career then and creating capital", concluded Vuković.
Aleksandar Saša Zeković, president of the Council for Civic Control over the work of the Police, pointed out that it is of concern that Montenegro still avoids to institute an adequate remembrance of victims, and highlighted the lack of will from state institutions to process this issue systematically. "Police Directorate has been avoiding to accept the recommendation of Council for Civic Control over the work of the Police since May 2012, formed on the CCE initiative, to make the apology to deported refugees, victims, their families, as well as to Montenegrin public", Zeković reminded. He also reminded on NGO initiative which he himself also supported, to establish a Day of remembrance of deportation of citizens from B&H and memorial in Herceg Novi, for which there is also no political will.
Sergej Sekulović, Executive Director of the Centre for Civic Freedoms, reflected on prosecution of war crimes in Montenegro by making a hypothesis: "If Montenegrin judges of Court of Appeal and Supreme Court had been ruling in Nuremberg process, they would have release all of the accused. Montenegrin judges find that there are no customs in international humanitarian law, and claim that crime against the humanity in the moment of execution of offense was not envisaged in Criminal code, and claim that Statute of Rome "briefly" came into force 10 years after the "unfortunate" event, and that in that moment there were no legal basis to sustain the qualifications proposed by the Prosecution".
Omer Šarkić, member of Coalition for RECOM in Montenegro, expressed special concern that some officials in Montenegro still occupy their positions, even though there is a reasonable doubt or even proof of their participation in war crimes, or other forms of violation of provisions of humanitarian law.
Rifat Rastoder, President of committee for political system, judiciary and public administration of Parliament of Montenegro, also underlined the importance of restoring the trust in region and determining the facts by emphasising the significance of establishment of Documentation-Research Centre, but also pointed out on the need to institutionalise RECOM.
Siniša Bjeković, Deputy Ombudsman of Montenegro, emphasised that Montenegro made a step forward in civil litigations through the reparation for victims, but also that due to his position he cannot comment more about the criminal proceedings. He assessed that this topic is of particular interest and importance for the institution of Ombudsman.
Sava Popović, lawyer of victims in the case of Bukovica, expressed his doubt regarding the efficiency of procedures of processing war crimes by reminding that both time and victims are passing away, and there is still no justice for them.
Srđa Perić, member of Parliament on behalf of Positive Montenegro, pointed out that it is unusual that current political line up involves actors from events that took place in nineties, and that they still have not been dismissed.
Duško Stijepović, from Democrats of Montenegro, believes that focus should be on the necessity of further development of good neighbouring relations. "Considering the overall tragedy of 90s, reconciliation and maintenance of long-lasting peace is unimaginable without the completion of goals outlined by the Initiative for RECOM", he underlined.
Zoran Mikić, from Civil movement URA, reminded that Montenegro traditionally fails to deal with the past and that this area requires particular effort in order to free future generations of stereotypes that still imbue the society.
During the public debate, Collection of all texts from the Forum for transitional justice was presented, an event organised once a year by the Initiative for RECOM, whereby Tamara Milaš, CCE programme associate and spokesperson of the Initiative for RECOM in Montenegro, informed the participants on the achievements of Coalition for RECOM and current activities.
Initiative for RECOM gathers numerous civil society organisations and individuals from region to advocate the foundation of Regional commission for the establishment of facts on war crimes and other severe violations of human rights committed on the territory of former SFRY from 1991 till the end of 2001.
This event gathered 35 representatives of judiciary, NGO sector, Government, media, political parties and independent institutions.
Svetlana Pešić, programme associate