Working group for the analysis and improvement of bylaws of State Election Commission (SEC), formed by Centre for Civic Education (CCE), Association of Youth with Disabilities of Montenegro (AYDM) and Network for the Affirmation of Non-governmental sector (MANS), today organised its second session.

Working group aims to review all existing bylaws of State Election Commission, which elaborately prescribe different aspects of electoral actions and provide the solutions for improvement, all with regard to upcoming parliamentary elections, scheduled for October 2016.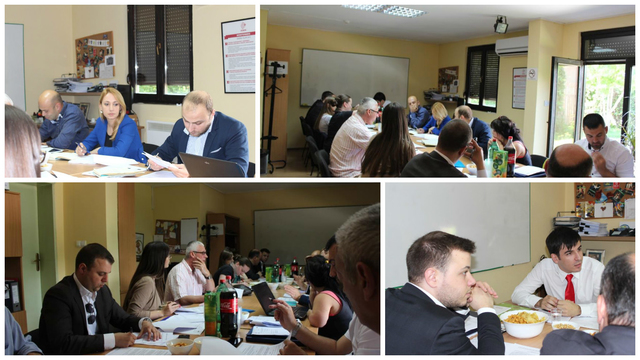 Working group's session was attended by: Srđan Miljanić (Democratic Party of Socialists), Spasoje Kovačević and Slađana Živković (Socialist People's Party), Miodrag Radović (Social-Democratic Party), Aleksandar Jovićević (Social-Democrats of Montenegro), Savo Šofranac (DEMOS), Vladimir Jokić (Democrats of Montenegro), Haris Mekić (Bosniak Party), Luka Rakčević (United Reform Action), Zdravko Šoć (Liberal Party), Milica Kovačević (Centre for Democratic Transition) and Dubravka Popović (Center for Monitoring and Research), Ana Vujošević from CCE, Marina Vujačić from AYDM and Vuk Maraš from MANS.
At today's session of Working group they reviewed problematic solutions from the Rules on the work of poling committees, related to lack of procedures for the repair of glitches on electronic device for the identification of voters and provision of technical support and lack of procedure for the prevention of illegal parallel record keeping at polling stations. Also, they reviewed the decisions which would norm the obligation of municipal election commissions to verify the voting on every polling station where the records have not been signed by the members of election committees, and defined the obligation aimed to ensure a higher level of accessibility of polling stations for persons with disabilities, especially in terms of the access to polling station, the ballot box and voting booth.
Apart from that, members of working group reviewed the flaws of Rules on voting via letter in the part prescribing the obligation of collecting detailed information on persons who filed several requests for voting via letter due to the possibility of misuse of that right, as well as the obligation to make the request for voting via letter available in electronic form on the site of SEC, in format appropriate for persons with disabilities.
Members of working group agreed to address a joint initiative to State Election Commission as soon as possible, and to request that this institution, through municipal election commissions, prior to parliamentary elections, determines how many polling stations on Montenegrin territory are not accessible to persons with disabilities and to define the measures which would improve the accessibility.
Members of working group familiarised with the Rulebook on detailed conditions and manner of adjusting the objects for access and movement of persons with reduced mobility and persons with disabilities, as well as with the Decision on the installation, or the construction and removal of access ramps, elevators and similar objects for access and movement of persons with reduced mobility and persons with disabilities on the territory of Capital City of Podgorica.
They made an agreement that members of Working group submit all comments and suggestions in written form by June 20, in order to gather all comments for SEC by the beginning of July 2016, after which they would conduct broad consultations with the interested part of the public.
Constitution and work of Working group is part of the project "Fair elections free of corruption" financed by the European Union.

CCE, AYDM and MANS