Centre for Civic Education (CCE) today presented the report Through whose views does RTCG present us Montenegrin reality, done within the CCE sub-programme Media and democracy with the aim to raise the level of awareness on the role of public broadcaster and respect of one of the most basic tenets – objective and balanced reporting.
During the presentation, Isidora Radonjić, CCE programme assistant, pointed out: "Focus of this analysis was on the overview of appearances of representatives of political parties, public institutions and state administration bodies, trade unions, business, NGOs and academic community on political and news shows of RTCG". She further clarified: "Data processing included the analysis of daily and weekly news-political shows which were listed as an integral part of news programme of Television of Montenegro within the annual reports of Council of RTCG, or Dnevnik 2, U centar, Okvir, Otvoreno, Replika, Izazov, Robin Hud, Intervju s povodom. During 2013, 2014 and 2015, a total of 596 shows was analysed, where 1392 guests appeared – representatives of political parties, public enterprises, the Government, Parliament, state bodies and institutions, local self-government, trade unions, NGOs, academic community, independent institutions, judiciary, employers/businessmen, then analysts and experts and etc."
By presenting the key findings, Damir Nikočević, CCE Development coordinator and author of the report, assessed that ruling Democratic Party of Socialists (DPS) and representatives of state institutions marked the majority of appearances on the news shows of RTCG throughout the course of previous three years. "The attempt to monopolise public discourse through public broadcaster is dangerous for every society which strives to turn into a democratic one, and certainly does not contribute in the affirmation of public broadcaster which should ensure the pluralism of opinion and be of equal service to citizens, regardless of whether they support or criticise the government. RTCG does not provide equal opportunities when it comes to the availability on political-news shows, in other words, it does not pay attention when it comes to political power of political groups according to their representation in the Parliament of Montenegro and support expressed in public opinion." Nikočević specified: "In three analysed years, with focus on four key shows of such type (U centar, Izazov, Okvir, Replika), Democratic Party of Socialists, (DPS) had 47 appearances, followed by Socialist People's Party (SNP) with 38 appearances, then by Democratic Front (DF) with 31 appearance, Positive Montenegro with 29.5 appearances and SDP with 12.5 appearances."

He added that the situation is even more radical in terms of the possibility of appearance by some of the representatives of developed, critically-oriented NGOs to express their views on public broadcaster, which is why they suffered the consequences in the form of various types of discrimination and assaults. "Thus, collectively for all three years, the majority of appearances on key political-news shows (U centar, Izazov, Okvir, Replika) was marked by Montenegrin Tourism Association (CTU) eight times, followed by Centre for monitoring (CEMI) and Civic Alliance (GA) with six appearances, then Consumers Protection Center Montenegro (CEZAP) with four appearances and NGO Alfa centre with three appearances", Nikočević reminded.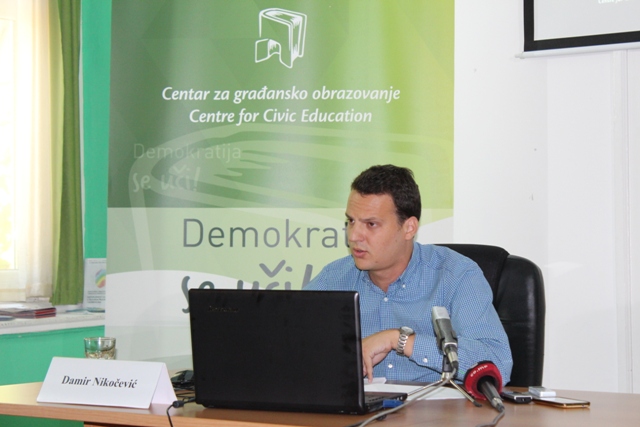 "During the period from 2013 to 2016, editorial staff of RTCG preferred the following persons as interlocutors on analysed shows (U centar, Izazov, Okvir, Replika): Srđan Milić, president of SNP with 10 appearances, then Snežana Jonica, SNP official and Darko Pajović, president of Positive Montenegro with nine appearances each, while Azra Jasavić, vice president of Positive Montenegro, Aleksandar Damjanović, SNP official and Ivan Vuković, lecturer on the Faculty of Political Sciences of University of Montenegro had eight appearances each", summed up CCE Development coordinator.
He further elaborated individually per show: "Most drastic example of unbalanced selection of guests was on the show Izazov, by Isidora Šoć Sekulić, which focuses on (Euro) Atlantic integration. The editorial of this show apparently favours that option which is prone to the accession of Montenegro to NATO, with a subsequent host of pro-NATO interlocutors. More precisely, out of 106 guests during 2014 and 2015, CCE's analysts identified only eight (8) interlocutors who advocated the stance that Montenegro should not join the NATO alliance or 7.55%. Some of interlocutors were repetitive, by appearing four or five times, while there was a ton of others who were not able to express their opinion on this matter even though they represent significant social factors in Montenegro (in terms of diversity, there was a total of 75 interlocutors).
In line with formal division on government/opposition, the selection of interlocutors for the show U centar, by Andrija Nikolić, seems fair with cumulative numbers. However, once analysed the structure of interlocutors, it becames clear that it did not reflect the power expressed in seats in the Parliament of Montenegro or according to available ratings of political parties. Also, this show clearly ignored the representatives of SDP, except for the participation of president of SDP council Jusuf Kalamperović in 2014. Out of 134 guests in total, during the period 2013-2015, CCE's analysts noted the participation of 69, or 51.49%, representatives of government and state institutions, as well as them-related subjects in the assessment of developments in the state, then 47 participants, or 35.07%, from the ranks of oppositional parties or those who are somewhat more critically-oriented towards the authorities (mainly the representatives of Positive Montenegro and SNP with almost half of the appearances), and 18 interlocutors, or 13.43%, who are from region or provided somewhat more neutral opinion. Key interlocutors of Andrija Nikolić in previous three years were: Darko Pajović, president of Positive Montenegro with seven appearances, Srđan Milić, president of SNP, Milo Đukanović, Prime Minister of Montenegro and Andrija Mandić, member of presidency of DF with five appearances. This show collectively had 94 interlocutors in three years, with some of them who were more frequently invited on the show than others.
Concerning the show Okvir, by Zoran Leković, during previous three years, or from 2013 to 2015, it was recorded 346 appearances, while the actual number of interlocutors was 227 because some appeared several times on the show. According to CCE findings, government and ruling parties were represented with 46.53%, and opposition with 13.87%, whereby on this show great number of those (39.60%) who belong to other social spheres and have different relations with government and opposition (unions, economy, analysts, academic community, and etc.) were noted. Even though this show, according to the official RTCG documents, is defined as a show which deals with socioeconomic issues, it is evident that some other issues were in its focus as well, which is why it sometimes interlaced with other shows in terms of topics and guests. Most frequent interlocutors of Zoran Leković were: Aleksandar Damjanović, president of the Committee for Economy and SNP official, Damir Šehović, member of the Committee for Economy and vice president of Social-Democrats (previously an official of SDP), Zoran Vukčević, DPS official and director of Investment-development Fund (IRF) and Snežana Jonica, SNP official with six appearances each. These are followed by Srđa Keković, secretary general of Union of Free Trade Unions and Suzana Radulović, secretary general of Employers Federation with five appearances each. Vasilije Kostić, economy analyst, Vukica Jelić, former director of Employment Agency, Zoran Jelić, DPS official, Srđan Milić, president of SNP, Petar Ivanović, former Minister of Agriculture and Rural Development, Milan Lakićević, former director of Tax Administration, Zorica Kovačević, former Minister of Labour and Social Welfare, Žarko Radulović, president of Montenegrin Tourism Association, and Rade Krivokapić from Union of KAP who appeared four times each. In addition, though previously envisaged as a debate-based show, 15 interviews were noted, with distinct imbalance in the representation of interlocutors, i.e. dominant presence of members of Government, managers of state, public or independent institutions, as well as of local self-governments and them-related persons, with the exception of one guest from the academic community and one from region. In this regard, most frequent interlocutor in the form of interview was Petar Ivanović, former Minister of Agriculture and Rural Development, who was invited for four interviews, or half of those who were with ministers in the Government of Montenegro, or more than a quarter of all the interviews.
During two seasons, in 2014 and 2015, the author of show Replika, Nevenka Ćirović, had 144 guests in the studio, or 124 different interlocutors given that some of them appeared more times on the show. Out of that number, according to CCE findings, there were 22.22% representatives of opposition, 35.42% of government and ruling parties, and 41.36% of those who belong to other social structures and whose positions were closer or farther in relation to government or opposition. In the case of opposition structures, this show was also mainly characterised by the representatives of SNP and Positive Montenegro, but unlike other news-political shows, Replika had better balance in the case of Democratic Front. Most frequent interlocutors in Replika were: Snežana Jonica from SNP, Boris Raonić from Civic Alliance, Slaven Radunović from DF, Ranko Đonović, former president of LSCG and Mili Prelević, journalist from «Daily papers» who appeared three times each. Furthermore, out of the ten appearances of representatives of NGOs, in 2014 and 2015, 50% were by Civic Alliance, while the remaining five appearances were divided on five different NGOs. Also, the same "line-up" which analysed the congress of SDP and DPS, appeared two times on the show. Finally, even though this was originally designed as dialogue-based show, an interview was done once in 2015 with the president of Montenegro Filip Vujanović.
It was not until 2015 that the editorial board decided to open the doors for certain critically-oriented NGOs (for instance, MANS, CCE, IA) whose project activities are recognised in Montenegrin and international public, and which improved that part of the «statistics». Appearances were mainly done within the show Otvoreno, through joint project of OSCE Mission to Montenegro and RTCG, but within one context which was very limited clock-wise and controlled in terms of the majority of non-critically-oriented guests, hence it was hard to see a substantiated debate in which the participants have equal opportunities. Hence, we got the impression that this was more a matter of project task rather than change of editorial policy", Nikočević underlined.
"On the other hand, in the extent in which there is an interest for topics on local level, indicating that it is not sufficiently emphasised, TVCG had a balanced approach in the representation of interlocutors from municipal administrations, regardless of whether the municipalities were ruled by the ruling coalition or opposition, reminding that CCE did not analyse the content of those appearances. Also, the approach is unequal in the case of unions, whereas that was not the case with universities where the interlocutors mainly were from the University of Montenegro. It is important to mention that, even though they are represented as employees on the University of Montenegro, many interlocutors in analysed shows appeared in the capacity of experts in their areas, meaning that higher education essentially stays out of the thematic focus of public broadcaster RTCG" he added.
"Annual reports on the implementation of programme orientation of TVCG for 2013, 2014 and 2015 contain mostly the same content, written according to an established matrix, with the mechanical alteration of data. Often they contain identic paragraphs, without the clarification as to why there was no progress in identified problematic areas, or an indication that they approached to determine the accountability on any ground.
It is a matter of concern that the management of TVCG does not recognise the weaknesses in its news programme despite numerous critics from its citizens, independent institutions, opposition, but also from certain members of Council which continually and substantially indicate on deficiencies. Management of RTCG defines mostly the issues of technical and production nature as its weakness, and avoids the essential analysis of programme content.
CCE analysts noticed that RTCG often deviates from the adopted programme scheme, or that they ad hoc change the thematic focus of the shows or the format, which is why sometimes there is an overlap in short period of time in terms of the topics and guests on RTCG. In that sense, it would be good if there were more clear and binding guidelines for authors so that they could cover greater number of topics and include more diverse interlocutors. Although there is a separate show Intervju s povodom, it is rarely broadcasted. However, it was noticed that certain shows which are not envisaged as such, broadcast interviews mainly with the officials of executive or ruling parties, without a clear cause, which is why it looks like RTCG is favouring these structures.
Centre for Civic Education (CCE) hopes that recent changes, as well as those that are yet to come, in the managing structure and news programme will contribute in further democratisation and enhancement of openness of RTCG, which unfortunately still does not present the media which adequately pays off what tax payers invest in it, regardless of their beliefs or affiliations", Nikočević concluded.
Centre for Civic Education (CCE) underlines that the additional value of this analysis lies within the time framework – after the changes in the editorial structure of RTCG, and with regard to upcoming parliamentary elections in 2016, whereby public broadcaster RTCG has an emphasised responsibility when it comes to professional informing of public.
Svetlana Pešić, Programme associate