Centre for Civic Education (CCE) has today, within the project Think Locally – Act Locally! – Fight against Corruption on Local Level, signed contracts with civil society organizations that received funding through first call in the competition for supporting projects of these organizations in Montenegro in 2016.
Funds, in the total amount of €18 000, were granted to three NGOs – Active Zone, ATAK and Mladiinfo Montenegro – for projects to be implemented in Podgorica, Danilovgrad, Cetinje and Nikšić, which in different and also in a manner of life address issue of corruption and will communicate directly with citizens of these municipalities over the next five months.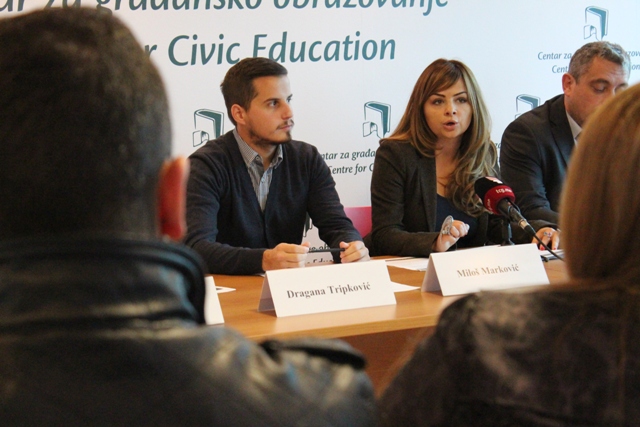 During ceremony of signing contracts, Daliborka Uljarević, CCE executive director, pointed out: "Unfortunately, corruption remains a major ailment of the Montenegrin society with which the institutions are still reluctantly, and consequently insufficiently dealing with. It has also, in some areas, turned into a pattern of behavior. Hence, it is vital that, in addition to empowering the institutional response, to work in parallel to encourage citizens to be proactive and to report more corruption and to be less afraid of those who have deeply steeped in corruption, regardless of whether they are in education, health care, local self-governments, judiciary and other institutions. That will create also a base for preventive actions but also support for severe cuts that will monitor the fight against corruption. " Uljarević reminded: "in order for citizens' initiative to get their full meaning they must take place in a healthy political and democratic environment. This means that we have to the utmost free and fair elections, efficient and effective institutions able to establish clear and transparent relationship with citizens, as well as the system of control and accountability. Institutions working publicly, which encourage cooperation with the citizens are less prone to corruption, and environment for development of democracy and economy is becoming stimulating." She concluded: "Development of civic activism is a hardest strike to systemic corruption, whereas a continuous decentralization is destructive to political and economic monopols, and this project contributes precisely to that."
Miguel Magro Gomez, representative of the EU Delegation to Montenegro, expressed his satisfaction that the Delegation could support this project of the CCE, indicating the importance of continuous raising of public awareness on importance of the fight against corruption. Recalling the damage that corruption produces on society, he said: "Montenegro is still facing a lot of challenges in this area and we are closely following progress in this respect through the European Comission annual reports. We are continuously working with our partners in Montenegro, from various structures, to address issues raised in these reports in the most effective manner and we would like to see the results of the transformative power of EU mainstreamed from the state to the local level". Magro Gomez pointed at the role of civil society as "connective tissue between citizens and authorities". Finally, he expressed the expectation that "this project will strenghten the fight against corruption at the local level through innovative activities of civil society," emphasizing: "The only way to lead an effective fight against corruption is through a culture change that can achieve lasting tranformation only if all relevant stakeholders join forces. That is why we are pleased to see NGOs joining their forces today."
Upon signing of contracts, representatives of organizations whose projects are supported – Miloš Marković, Executive director of NGO Active Zone, Milica Žugić, President of the NGO Mladiinfo Montenegro and Dragana Tripković, President of the Management Board of the NGO ATAK have briefly presented their project ideas and expressed gratitude to the CCE and EU Delegation for recognizing their initiatives as qualitaty ones and relevant to local communities.
More detailed information on projects supported is available at: https://media.cgo-cce.org/2016/05/Podr%C5%BEani-projekti-u-okviru-I-poziva.pdf. Also, a second call for support of civil society organizations is ongoing https://cgo-cce.org/2016/09/29/misli-lokalno-djeluj-lokalno-borba-protiv-korupcije-na-lokalnom-nivou-ii-konkurs/#.V_uDiSN97fY which deadline for applications is 31 October 2016, and additional amount of EUR 38 000 is planned to be allocated on that occasion.
Project "Think Locally – Act Locally! Fight against Corruption on Local Level" aims to contribute to civil society participation in implementation of anti-corruption policies through monitoring, reporting and watchdog activities at the local level in Montenegro. Among other, the project objective is also to increase capacities of small civil societies in Montenegro to monitor anti-corruption strategies and activities at the local level through exchange of information, experience, but also financial support.
Project Think Locally – Act Locally! – Fight against Corruption on Local Level is implemented by CCE, in cooperation with NGO Bonum from Pljevlja, NGO Incubator from Kotor and NGO Centre for Investigative Journalism from podgorica, and is supported by European Union through Delegation of the EU to Montenegro via IPA 2015.
Svetlana Pešić, programme associate