On the occasion of International Day of fight against fascism, antisemitism and xenophobia, commemorated on 9 November across Europe, Centre for Civic Education (CCE) organised the promotion of "Book about love", by Ibrahim Čikić, last night in Cultural Informative Centre "Budo Tomović".
Tamara Milaš, CCE programme associate, reminded during the opening of promotion that: "Not that long ago in our region, fascist ideas caused armed conflicts and severe violations of human rights, thereby taking away thousands of lives. Those who rode the tides of those ideas subjected Ibrahim Čikić to painful torture and torment".
Daliborka Uljarević, CCE executive director, expressed satisfaction that CCE was able to publish Čikić's book, stating that "Book about love presents an original expression and a testimony on suffering which indicates how much our society lacks the love and respect, and how much that same hatred and intolerance for diversity constrains us." She assessed that "Ibrahim Čikić through his columns permeates the historical parallels, ties the individual fates with the fate of Bosniak people, affirms the national, Bosniak, but with a cry for the respect of human rights and freedoms and recognition of their universality." By indicating on several conceptual directions based on which Čikić described the suffering of Bosniaks, she emphasised that "Through the support and the concept of publishing, CCE wanted to provide contribution in the improvement of social dialogue, much needed in order to overcome the differences, improve the democratic mechanisms and sustainability of community." Furthermore, Uljarević noted: "The CCE sees its mission of affirmation of civic society as a need to make the public ever present, familiar with things, to have an opportunity to provide its judgement, especially with regards to topics that admonish, suffer and have their legitimacy". She concluded: "Hence, Book about love is the otherness that we have to acknowledge since it is a part of our society. And Ibrahim Čikić is a man whose endurance in fight for life, for truth and justice, demands not only admiration, but gives hope that evil cannot undo the good and nice in man. He is a living monument to how much a man can survive and remain human."
Milan Popović, PhD, reviewer, reminded that Book about love is Ibrahim Čikić's second book "following the authentic, documentary and unsettling testimony about the (para)police torture and rigged court proceeding, organised by Montenegrin government in 1994 against the top of then strongest Muslim party/Bosniaks in Montenegro, Party of Democratic Action (PDA) and their supporters and sympathisers, including Ibrahim Čikić." By expressing his disappointment with Montenegrin institutions, Popović accentuated: "One thing that we did not expect was that Ibrahim Čikić, victim and witness to most severe crime of Montenegrin government, would continue to witness valiantly about the experience, in spite of the Calvary that he is going through because of that…" He talked about the wealth of personality and thinking of author: "only thanks to this complex pluralistic universalism, it is possible to understand our own views, and rare exceptional, even unique views of Ibrahim Čikić in which he simultaneously strongly condemns the members of his own ethnic and religious group, who have violated the universal human values, same as he admires and thanks the members of other, especially greater ethnic and religious groups, who were prepared to provide an unconditional support to him, and other minority victims of permanent majority and regime repression, on the account of those same universal human values." Professor Popović commended CCE for deciding to publish the book.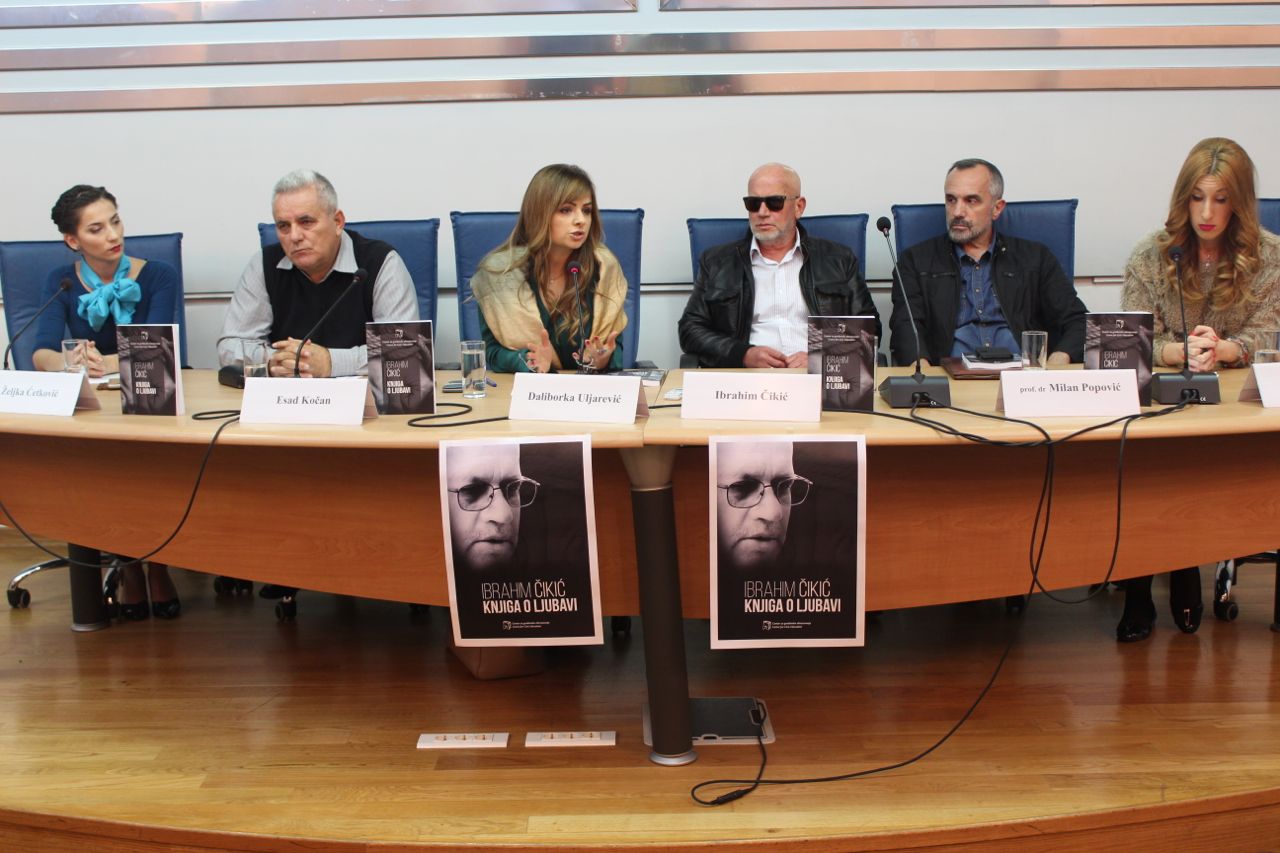 In his review on the character and work of Ibrahim Čikić, Esad Kočan, reviewer, estimated that Čikić "did not settle for being a victim, nor allowed his tormentors to infect him with hatred." Kočan clarified: "All these long years, through thick strands of darkness, focused on light ahead, unbowed Ibrahim Čikić testified about freedom with his word, action, his own name. Of all the occupations in the world – that one is superhuman. We have had the opportunity to read the texts collected in this book for years. Nonetheless, this book is much more than a collection of published texts that were written by a man of vigorous, authentic spirit. Only when gathered as such, they explain why you know that Ibrahim wrote them even before you finish them."
"When Ibrahim writes, his every word reminds you not to fall asleep, to awaken your shame and fear of fear itself, before the force, to stand up. When Ibrahim writes, he calls you to rush as if you were going for a prayer, not to be late, someone is need of your help. When Ibrahim writes, he warns you not to think of anyone else as lesser than you, or that his or her troubles are less important. When Ibrahim writes, he tells you that every man who defends his name and his or your kin, should not be left alone with a bared hatred. When Ibrahim writes, you`ll be able to see a thought, guided by heart. Hence, when Ibrahim writes, he does not leave his signature at the end of the text, but a trail of his soul in every chapter", Kočan stated.

Ibrahim Čikić, author, thanked everyone who came to the promotion, especially to the CCE for the organisation of the event. He reflected on his childhood and events that defined his path, pointing out that: "those who inflict wrongdoings to rectify other wrongdoings are mistaken. Some light fire next to some other fire just to see whether that fire shall extinguish." He also drew a parallel between his fight for freedom with arduous attempts to regain his sight by pointing out that faith was the only thing that led to his salvation: "I asked the doctors to do everything in their power, the material side of it, and left the communication with God to myself", thus alluding on practically zero chances that he was given by the doctors. By discussing his days in detention, as well as the processes before the Montenegrin judiciary, Čikić provoked very emotional reactions of public. He emphasised that he does not see himself as a victim, thereby making a promise: "I will continue my fight in the name of democratisation, catharsis and rule of law as long as I live. I am aware of the fact that through my experience – I experienced what Plato said, namely that "people will never hate anyone as much as they hate those who speak the truth." But I will not be discouraged by that! In the end, he called the attendees to react to injustice because, in his own words, "a man that has no freedom of speech and act, is not a man, but a living dead!" Same as in the beginning, Čikić greeted the attendees with «Death to fascism, freedom to people!».
Book about love was published within CCE's Human rights programme. It is a contribution to CCE's establishment of culture of remembrance and resistance to oblivion, both through the expansion of database on war crimes and materialisation of memories necessary for an adequate process of facing the past, and through the empathy with victims.

Svetlana Pešić, programme associate