On the occasion of 28 January – Data Protection Day – Centre for Civic Education (CCE) urges competent institutions to enforce the application of normative and institutional system in the area of personal data protection, but also to invest more efforts and raise the awareness on the importance of personal data protection, so that the citizens themselves could prevent any potential misuse more effectively.
Law on personal data protection clearly states that personal data of citizens must be processed exclusively for the legally envisaged purposes while taking all necessary measures to ensure the protection of such data from unauthorised access and misuse. Many citizens are not familiar with the fact that their personal data are protected by law, or with the procedures related to data protection, even though this Law was adopted nine years ago, as well as that the Agency for free access to information and personal data protection has been operational for seven years.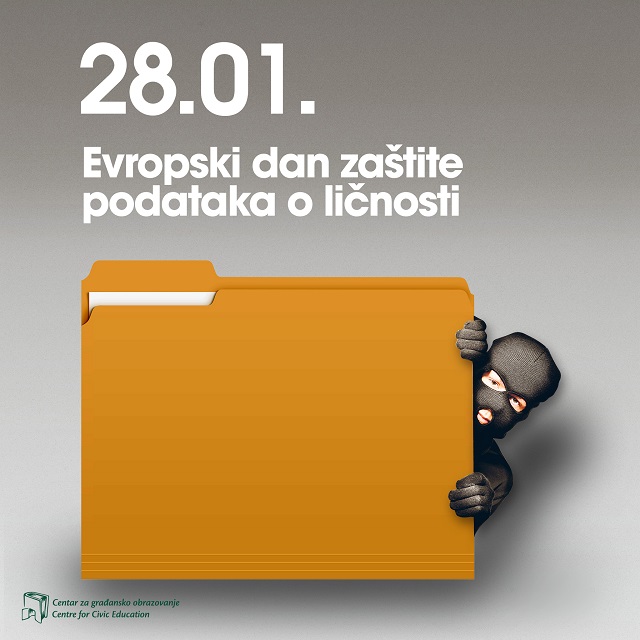 In parallel, development of modern technologies creates window of opportunities for collection and potential misuse of personal data. Hence, it makes it that important to prioritise this issue in public discourse, and in that context, draw special attention to marginalised and vulnerable groups. It has become a commonplace for citizens to disclose their data widely on social networks, the Internet, or that their data become the subject of retention, copying, transfer of identification documents, recording, even though there is no legally binding document for such act. CCE appeals to citizens to keep their private data secure, as well as to strictly take into account the security of information on some person that they may have these on disposal.
Right to personal data protection is one of the fundamental human rights and an inseparable part of the right to privacy. All those who have access to somebody else's data, especially those from the area of state administration, are obliged to treat such data with respect of principle of data protection. Each misuse of personal data should be severely sanctioned.
CCE calls upon the Agency for the personal data protection, as well as other state bodies to commit more in the informing and education of public on the importance of personal data protection.
Convention on the protection of persons with regard to automatic personal data processing, opened for signing on 28 January 1981, presents the initial document which regulates the obligations of states at the European level regarding the personal data protection. This Day is marked in the Council of Europe member states, and Council of Europe and European Commission mark it jointly as the European Data Protection Day.
Tamara Milaš, programme associate at the CCE