Overall of 95 unemployed graduates have submitted complete applications by 1 March 2017, for the purpose of participation in project "Knowledge and skills for jobs!", whereby some of the applications were returned as incomplete and to be amended by deadline.
Greatest level of interest was expressed by young people from central region of Montenegro (with 69.4% of applications), followed by north (24.21% of applications), whereas the lowest level of interest was at the south (6.32%).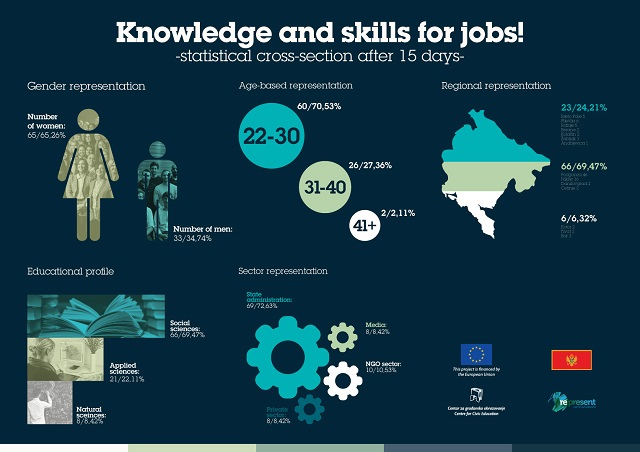 A total of 60 unemployed graduates from Montenegro will have the opportunity to complete the programme of informal training and acquire the necessary skills through project "Knowledge and skills for jobs!", and then apply the that through three-mong long practice. Candidates will also have the opportunity to choose between the sectors where they will perform their practice, namely, in state administration, NGO sector, media or private sector.
"According to cross-section of available information, young unemployed graduates are most interested in state administration, even 72,63% of them, followed by the NVO sector with 10,53% of interested candidates, then the media 8,42%, and private sector with 8.42% of interested, out of the total number of candidates that have applied ", stated Petar Đukanović, programme coordinator at the Centre for Civic Education (CCE).
Supporting data that the majority of unemployed graduates are having social sciences background is 69.47% out of the total number of applicants from that field. Number of applications by graduates from applied sciences is three times lesser – 22.11%, while graduates from natural sciences amount only 8.42% of total share when it comes to educational structure.
"Judging by this cross-section, women are more active in job-seeking and professional training (with 65.26% of applications) compared to men (34.74%). The encouraging data is that 70.53% of young people, age between 22 and 30, are not sitting idly, but see this programme as chance to improve their position on labour market", clarified Đukanović.
Young people from entire Montenegro who graduated but are not employed can apply for this programme. Application deadline is 15 March 2017, and every interested candidate can apply by submitting the application form which can be found on the site of CCE: https://cgo-cce.org.
Project "Knowledge and skills for jobs" is implemented by CCE in cooperation with agency Represent Communications and Human Resources Management Authority, and it is financed by European Union in Montenegro, through the Directorate for the Financing and Contracting of EU Assistance Funds (CFCU) of Ministry of Finances. Project was supported within the donor programme "Young people, women and long-term unemployed in the labour market", through broader framework of Active measure of work for employability (Operational Programme Human Resources Development 2012-2013), with Ministry of Labour and Social Welfare as its main beneficiary.
Svetlana Pešić, programme associate