Miloš Knežević, director of FAST FORWARD Human Rights Film Festival, is participating in a six-day training programme "Cinema without Borders", organised within the Festival Movies that Matter from 24 to 29 March 2017 in Hague, Netherlands. This is the continuation of previous cooperation and support between the prestigious Movies that Matter and FAST FORWARD Festival, organised by Centre for Civic Education (CCE).
Goal of this programme is to provide practical information to participants, who already have experience in human rights activism, organisation of cultural events or film production, as well as to those who are about to enter the adventure of promotion of human rights through cinematic expression, in order to improve their work. In addition, this programme offers a platform for the exchange of experience from the area of cinematography, creation of festival content which target various audiences and manner of their financing. Based on such initiatives, Movies that Matter seeks to inspire and help participants develop festivals in their countries as best as they can. Knežević is the only participant from Western Balkans on this competitive and intense programme, and apart from him, there are numerous other actors on the programme from the world of film industry from Eastern Europe, Asia, Africa and South America.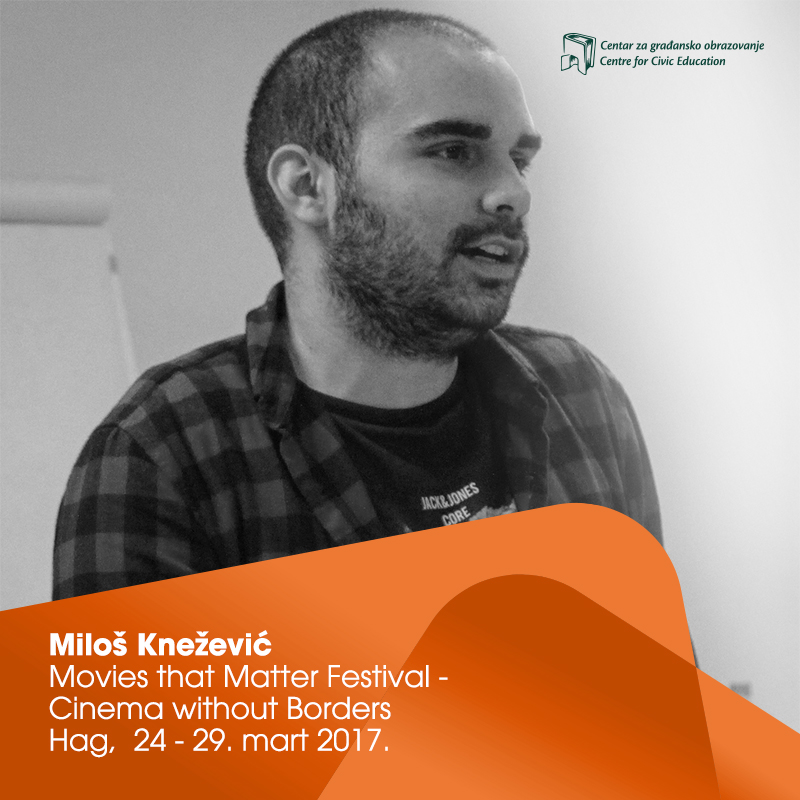 Festival Movies that Matter was founded in March 2006, based on the model of a similar festival which is organised by Amnesty International. In addition to film screenings during the course of nine-days film programme, they organise various discussions in order to further analyse the topics that are elaborated on film screens. Movies that Matter screens nearly 70 feature and documentary films each year, of most recent production, which strongly stimulate the dialogue on human rights, peace and freedom.
The entire programme of Festival will be closed on 30 March, more precisely on 1 April, with the award of "Golden Butterfly" for the category of best film on human rights and "Silver Butterfly" for the best director.
Svetlana Pešić, programme associate