Centre for Civic Education (CCE), within the framework of the project Through Education to Human Rights! supported by the Commission for the allocation of part of the revenue from games of chance, organised a conference titled Road to efficient education for human rights – dilemmas and solutions.
Daliborka Uljarević, CCE Executive Director, opened the conference by reflecting on the importance of education for the development of culture of human rights and active citizenship. She assessed that «there can be no real breakthrough or sustainable democratic development in any society without the active, conscious and politically educated citizen who knows how the society in which s/he lives and creates, functions, what are his/her rights and duties, and how s/he can affect social change. »
Prof. dr Radovan Radonjić, academic, has reminded of Platon who saw the difference between man and state only in volume. "Man defines the state. Hence, we need to ask ourselves individually, what is it that we bring to the state from which we expect protection, and rightfully so when we need the protection and help. I think that we are weak in that regard. We need to think more how to constitute ourselves a state tailored to standards of socieites which we will increasingly have to abide, while the road to such state is quite long and serious", Radonjić emphasised. He also reminded of the issue of insufficient social responsibility: "Each of us would like to have his/her own direction, but none of us is prepared to take up the responsibility and steer in that direction. In the battle for highest and most important goals we can be often unworthy and adulating." Radonjić indicated that the core of many of our challenges lies in the education system as much as in permeating interests, and underlined the importance of education for democratic society.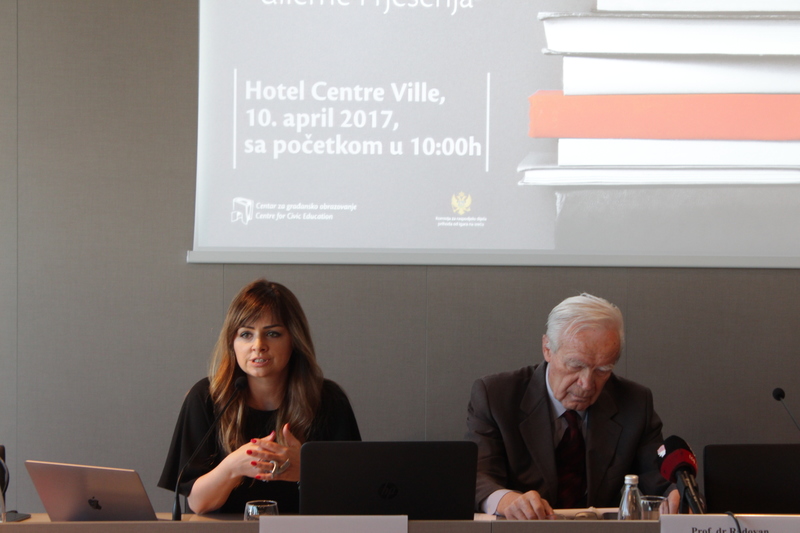 During the first panel Civic education in Montenegro – achievements and limitation of formal curriculum, education for human rigths and active citizenship on universities, needs of students, Vidosava Kašćelan, representative of Bureau for Education of Montenegro, reminded that the Bureau and the CCE have worked much on the introduction of civic education in formal education system: "We paved that road well, thereby aspiring to make civic upbringing and education a principle in teaching, as something which is not only a subject, which concerns all teachers, and thus transform our schools into a form of democratic community".
"Education system is a place where one should seek the solutions, where teachers should make the effort to make their students active. We did not overproduce the teaching staff who would teach these subjects, but followed the quality and sensibility", Kašćelan underlined. Explaining the changes announced relating to the position of subject Civic Education, Kašćelan stated: "Ministry of Education tends to relieve the children of a high number of classes and leave civil education with the status of elective course. Regardless of status of these subjects, this topic must live", Kašćelan concluded.

Prof. Bojka Đukanović PhD, national coordinator for education for human rights and active citizenship of the Council of Europe, estimated that democracy is not a static phenomena and that the education system must not be the only link to education, as there are excellent NGOs which contribute to dissemination of culture of democratic values. She also informed that numerous programmes are taking place on the level of Council of Europe, as well as that Montenegro presents a positive example of state which implements the task of democratisation of education system.

"Education for democratic citizenship should be a subject and programme, but we do not have the support from the top. The University has not provided its support, it does not offer this subject or any specialisation on this subject, hence we come to a situation where you teach a subject for which you do not have the licence. Therefore, education for democratic citizenship lacks the solid foundations, since the teaching staff cannot be the model and epitome of what should be transferred to students", she pointed out.
According to her, there are two related problems in this area, or the relation of theory and practice and grading within the subject civic education: "Method is more important than theory, how to transfer some knowledge focused on education of certain values, rather than just memorising the theory. In addition, the question is how to evaluate whether the student has adopted the role model of citizen, can we assess whether someone is a democrat based on what s/he has memorised or not".
Almina Niković, participant of the CCE Human Rights School and student of UDG, has shared her experience in the study of civic education and highlighted the inadequate manner of study as significant challenge, because during formal schooling there is no discussion on socially important subjects, only the memorisation of large number of facts, which are inapplicable outside of the classroom. "Unlike the experience from Montenegro, the one I gained in the US is full of motivation to discuss, where you are encouraged to express your opinion, where, unlike in Montenegro, there are no limitations", she added. "I believe that the situation, in terms of the study of these subjects, has not much changed compared to three years ago when I was a pupil. There was some change, freedom of expression is greater, but it is still restricted by the person who sets the authority in certain institution in relation to students. Formed curriculum will continue to restrict us until formal education introduces at least some form of informal education", Niković concluded.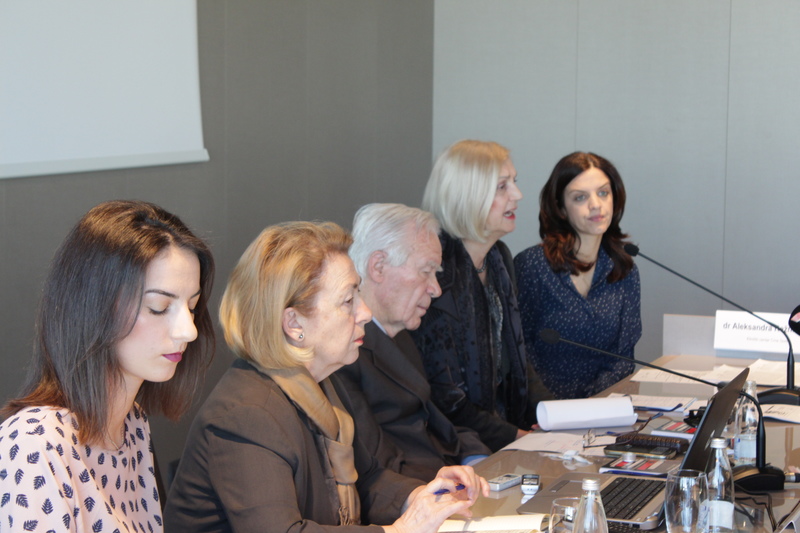 Biljana Maslovarić, Executive director of Pedagogical Centre of Montenegro, opened the panel Role of school in the development of virtue, value and competence of pupils, evaluation of achievements of civic upbringing and education and the importance of informal education for inclusive society. She emphasised that current situation is alarming for the society, and that we cannot discuss on education and human rights without touching on the subject of democracy. "We do not have the right to be indifferent, to avoid tackling important issues. The only cure for this state of affairs is truth. The truth is also an obligation of each person working in education, since the society is a mirror of education", she pointed out. According to her, there must be an obligation to provide young people with knowledge and skills, which will later help them find their place. "Knowledge is not just a quantum and restriction of one term, it must have implementation in its essence. Quality of education depends on the interaction in classroom. We are obliged to live and apply human rights and democracy from the moment we step in classrooms", Maslovarić assessed.
"Attitudes of adults determine the attitudes of young people. Our students are the reflection of level of education of our teachers. School is not the only place which shapes the democratic nature of persons, it is the reflection of general picture. It must create an ambient where each student feels comfourtable. It is necessary to establish the internal control and concept of life-long education", she concluded.
Snježana Bošković, teacher in the elementary school "Olga Golović" from Nikšić, pointed out that most important issue is to question what is a man and what do we want to make out of a pupil. "Civic education was designed as a good subject, and trainings for teachers were amazing. Civic education provided the basis to learn about teamwork, the chance direct young people towards becoming a man, to be educated about the virtues which should be taught by the education system". She estimated that the only goal of education should be to make young people special and for us to be proud of it.
Marina Vujačić, Executive director of Association of Youth with Disabilities of Montenegro, stated that she sees her responsibility in not missing any occasion to speak on behalf of those who are unable to do so. "My responsibility is to seek the right and speak publically about them. I perceive responsibility and obligations as facing the consequences. Perhaps the best answer will be that we have met the objective of panel, when we don't commemorate any special day for some marginalised group. If formal education runs rapid, as life itself, then I find the pace of changes in this area very questionable, based on which we can assume that we are in a big trouble", she emphasised.
Danijel Kalezić, President of Managing Board of Queer Montenegro, reflected on the issue of pupils' pilot dress code in one of the schools in Montenegro, and the unwillingness of state education system to introduce science-based facts about LGBT people in education on human rights, emphasising that cooperation comes down to ocassional permission to perform the education through workshops, with focus on LGBT rights. "90% of violence against LGBT is perpetrated by young people, which is an additional reason for the need of inclusion in this event, in a manner different than the previous", he pointed out.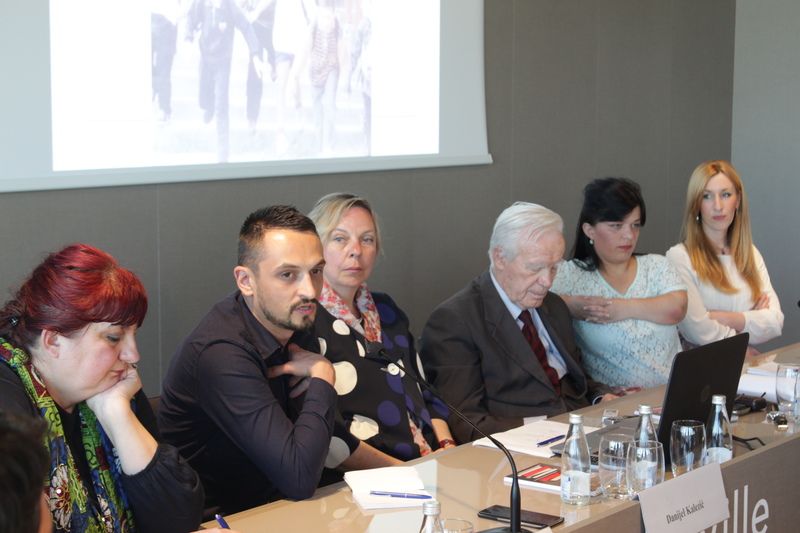 Closing panel Responsibility and role of institutions, media and culture in the affirmation of human rights and stimulation of social activism of young people was opened by Olivera Vukadinović, acting director of RTCG, who reminded of UN data, according to which, highest number of young people lives in developing countries, and that this figure is on the increase, whereby media and dissemination of information play an important role. "Social networks and media must connect and help young people resolve the issues they have. Social network are the new media, but public and local broadcasters should give young people the chance to express their creativity and deal with topics of their interest". She added that young people have to get the media to cover the topics of their interest by their own activism, but that the responsibility is not just on them: "We all carry some level of responsibility. If media provide false advertise on how they succeed, then they cannot educate or advocate, plus if you are a member of party, as a rule of rulling one, we cannot blame them for wanting a piece of it. I think that it is important to educate on genuine values, even activism, from the very birth. The moment we start promoting true values, young people will start adopting them".

Vasko Raičević, coordinator at the NGO ATAK, pointed out that education is still within "ossified structures" and that young people are interested in alternative forms of education in the case of topics of their interest, which do not exist in formal education system. He reminded of theater workshops which were organised with young people in schools, to examine whether there were so called VIP classrooms, which indicated that in fact there were some. "The idea was to use theatre workshop to discuss the topics affecting young people, various justices and injustices they might encounter, and that proved as an efficient mechanism of adopting new things without having to memorise them", he clarified.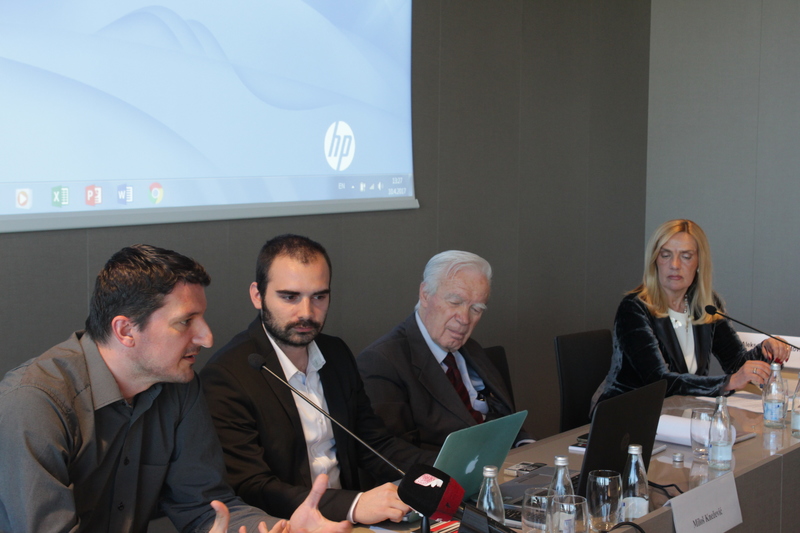 The objective of the conference was to analyse the results of the Civic Education subject which has been taught in our schools for decade, through constructive, professional and substantiated discussion and dialogue between different social actors, representatives of institutions who create and conduct the policies of systematic education of young people, primarily in the field of civic education, and to map the possibilities for the cooperation of informal and formal system and improvement of political literacy and participation, civic responsibility, understanding and respect of human rights and investment in non-violent approach to life and development of society.
Conference gathered around 40 participants, representatives of media, institutions, as well as interested activists of NGOs and students.
Svetlana Pešić, programme associate