Centre for Civic Education (CCE), has, from 4 to 13 October, organized discussions with citizens in eight Montenegrin municipalities on corruption at the local level during which promotional material was distributed that presented what corruption represents, as well as which and what inflictions it has on society itself.
Citizens of Pljevlja, Bijelo Polje, Podgorica, Kotor, Niksic, Ulcinj, Bar and Cetinje had the opportunity during this action to get informed on various forms of corruption in all areas and at all levels of social life – in private, public, academic, civil and political sector. Furthermore, this action sought to indicate that awareness on outspread and effectiveness of corruption has eroded the trust in functionality and justification of most legal, social, economic, political, cultural, religious, scientific and educational institutions of society. What was particularly emphasized during these discussions is that corruption has become a «normalized» part of everyday life in Montenegrin society, as well as a complex and dispersed chain of abuse of all social institutions as a tool for gaining profit and power of the privileged ones. CCE has conducted discussions with citizens in the cooperation with NGO Bonum from Pljevlja, NGO Civic Creative Centre from Cetinje, NGO UL Info from Ulcinj and NGO Mladiinfo Montenegro from Nikšić. Material that has been disseminated to citizens is available in electronic form at: https://cgo-cce.org/izdavastvo/demokratija-izdavastvo/#.WeHN6xOCzOQ.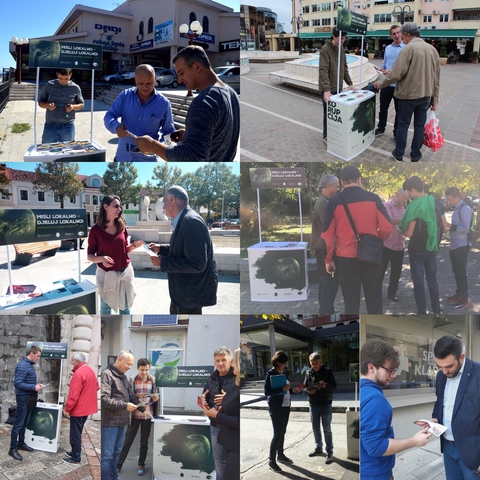 This action is a part of the project Think Locally – Act Locally! – Fight against Corruption at the Local Level, that is being implemented by CCE, in cooperation with NGO Bonum from Pljevlja, NGO Incubator – Space for Independent Cultural Initiatives from Kotor and NGO Centre for Investigative Journalism – CIJ from Podgorica, with financial support from Delegation of the European Union through Instrument for Pre-Accession Assistance (IPA) 2015 and co-financing from funds of the Kingdom of Netherlands.
General objective of the project Think Locally – Act Locally! – Fight against Corruption at the Local Level is contribution to participation of civil society in implementation of anti-corruptive policies via monitoring, reporting and supervising of activities at the local level in Montenegro. Specific objective is strengthening capacities of smaller civil society organizations in Montenegro in monitoring of anti-corruptive strategies and activities at the local level through exchange of information, experiences and financial support.
Miloš Knežević, programme associate