According to data of Monstat, 28.9% of young people in the second quarter of this year were unemployed in Montenegro, which represents a decrease compared to the same period last year, when 35.5% of young people were waiting for employment. Youth unemployment is a systemic and complex problem, which can be resolved only by joint action of state, non-governmental and private sector. One of solutions is introduction of practice in the education system and acquisition of knowledge and skills that can better prepare young people for the labour market. Precisely such solutions were offered by project Knowledge and skills for job, which was implemented by Centre for Civic Education (CCE) in the previous period. Within the framework of this project, new skills and knowledge were acquired by 61 candidates from entire Montenegro, and ten of them got the job, although this was not mandatory component of the project.
"Through this project we have offered an approach that can help resolve the unemployment problem. We believe that success of the project is 61 unemployed young persons who have acquired new knowledge and skills, ten of them who after practice got a job, but also that more than 90% of the project participants have suggested that they would recommend programme to their friends. However, youth unemployment is a demanding process that the state must devote itself much more and more creatively to, but also a process in which we all can and must do more", said Petar Djukanovic, programme coordinator in the CCE.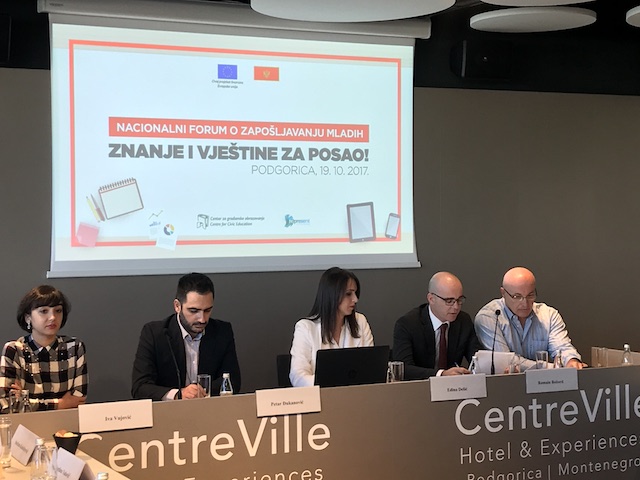 Director General of the Directorate for Labour Market and Employment at the Ministry of Labour and Social Welfare, Edina Desic, agreed to this. "The whole society is responsible and I thank the CCE for taking a responsible approach to this issue. Although youth unemployment has decreased in comparison to last year, which was also contributed by measures of active employment policy, it is necessary to invest additional efforts. In this regard, labour legislation is being amended and dual education is introduced. The Government will continue to support projects aimed at increasing employability of young people, but also continue reforms in order to harmonize supply and demand in the labour market", declared Desic.
Economic losses, brain-drain, social exclusion, as well as discouragement and distrust of an entire generation are the key negative effects of a large number of unemployed young people. The European Union is funding projects through grants in order to encourage employment, and project Knowledge and skills for job is funded exactly in this manner. Romain Boitard, Programme Manager of the Delegation of the European Union to Montenegro, believes that it is necessary to have a lifetime experience for young people to convince the employer to spend money on them, and most educational programmes do not include learning through work. "In order to reduce the gap between wishes of employers and aspirations of young people, the concept of practice has been introduced into various educational programmes in Montenegro, which is good", stated Boitard.
Iva Vujovic, Programme Manager at Directorate for Financing and Contracting EU Assistance with the Ministry of Finance, via which this EU support was implemented, commended results of the project and cooperation of several participants on the same.
After introductory presentations, participants in the first panel spoke about youth employment policies, employer experiences, and whether the education policy is following the labour market.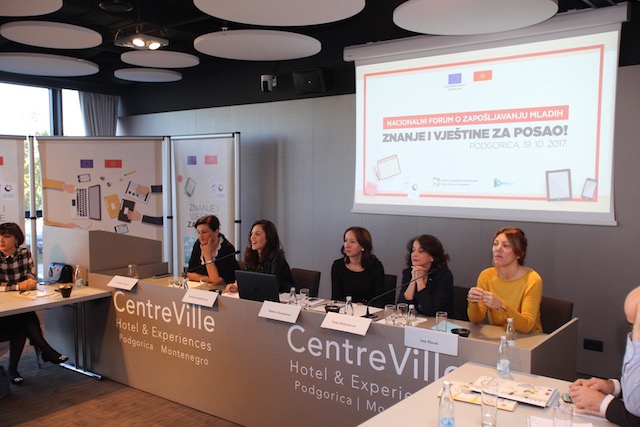 Svetlana Vukovic, Director of the Human Resources Management Authority, said that young people should change their attitude towards job. "Young people often wait, but they are not seeking job. This needs to change", said Vukovic.
Mubera Kurpejovic, Director General of the Directorate for Higher Education at the Ministry of Education, reminded of reforms implemented in the education system. "Through Analysis of labour market needs, employers have determined that our high school students lack communication and project writing skills, as well as practical and IT skills", stated Kurpejovic.
Sanja Rabrenovic, Assistant Director for Employment Sector at the Employment Agency of Montenegro, conveyed: "As a mediator between unemployed and employers, we are pleased with a lot more practice in our education system. I am sure that new generations will be more competitive, and that transition from education system to labour market will be shorter and easier".
Ana Maras, Head of the Sector for Work with Membership, Education and Logistics in the Montenegrin Employers Federation, agrees that there is a qualitative discrepancy on the labour market, but also quantitative one, because our economy is service oriented. "Emphasis should be placed on quality of the system and enrollment policy, having in mind the real needs of economy", Maras concluded.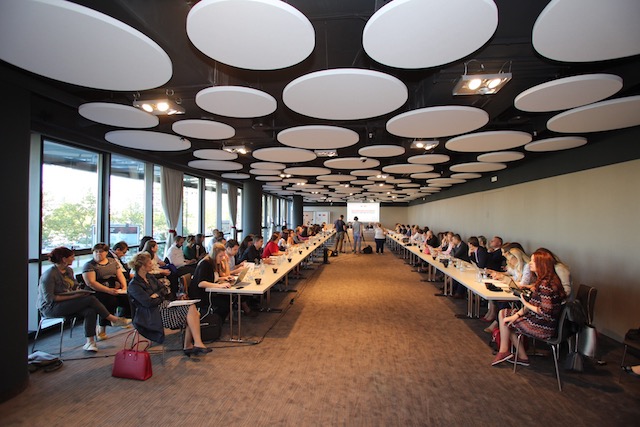 Unemployment of young people is not a challenge that only Montenegro faces. A survey of the Belgrade Open School (BOS) showed that at least one third of young people in all countries in the region are unemployed. Aleksandra Djurovic, researcher at the BOS Programme for Improvement of Employability, stated that there is a group of skills crucial for acquiring a job. "These are transferable, not professional skills – communication skills, digital competencies, teamwork, analytical skills, such as problem solving, entrepreneurial skills, planning, organization, and motivation skills – desire for learning, adaptability, work under pressure and work ethics", Djurovic said.
Participants presented their experience from the project in the second panel, and shared views on problem and solution of unemployment. Perko Mijatovic, who after the programme got a job, advised young people to actively seek job. "From my personal experience, I advise young people to use the period of time they are without work to acquire new skills in order to become more competitive", Mijatovic said.
Participant of the programme, Nina Markovic, who also got a job after programme, stated that proactivity of young people is important, but also the role of employers. "Employers have a role to motivate us by providing the necessary knowledge and opportunity to remain in the workplace", Markovic stated.
Programme participants agreed that practical knowledge is lacking, and that employers often have too high expectations. They suggested that the project Knowledge and skills for job should be continued.
Upon completion of panel, participants were awarded certificates on successful participation in the project Knowledge and skills for job, and the first National Forum on Youth Employment was completed accordingly.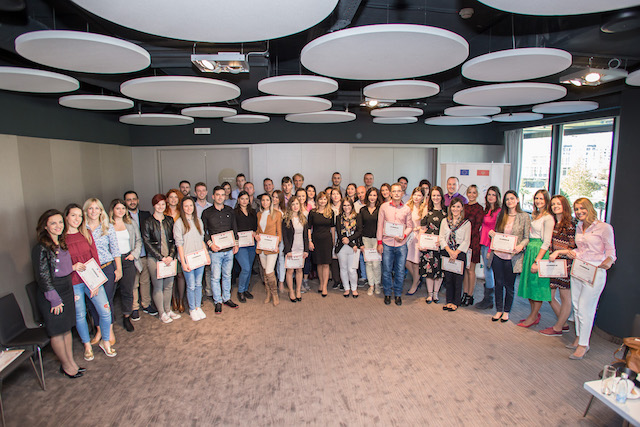 Project Knowledge and skills for job was conducted by CCE in cooperation with Represent Communications, and financed by the European Union in Montenegro, through Directorate for Financing and Contracting EU Assistance in the Ministry of Finance. Project is supported within the donors programme "Youth, Women and Long-term Unemployed in the Labour Market", via wider framework of Active Labour Measures for Employment (Human Resources Development operational programme 2012-2013), which main beneficiary is Ministry of Labour and Social Welfare. Project was co-financed by the Commission for Allocation of Part of Revenues from Games of Chance of the Government of Montenegro.
Milos Knezevic, programme associate