Centre for Civic Education (CCE), has yesterday, in cooperation with regional office of Friedrich Ebert Stiftung (FES), organized a roundtable Will Berlin Plus change enlargement policy of the European Union?.
Daliborka Uljarević, CCE Executive Director, assessed that "Berlin process is a live instrument that aids regional cooperation and consequently also the European perspective of the Western Balkans, and its importance is more profound in regards to efforts of the EU itself to support Europeanization of the region in addition to their internal turmoils". She pointed out that "reforms have lost on their lightly promised speed since there was no internal political will, which in addition to challenges within the Union itself, had led to apparent slowdown of enlargement". Uljarević reminded that there is "large number of preconditions that must be met in order to strengthen dynamics and enthusiasm in the accession process. The greatest challenge is to ensure undisputable political will that would be followed by consistent application of adopted laws and other documents. It must be followed by strenghtening of administrative capacities liberated of party influences, and there is also an additional issue of whether and how can Montenegro financialy adhere to requirements of negotiation in the existent economical situation and manner of managing state resources".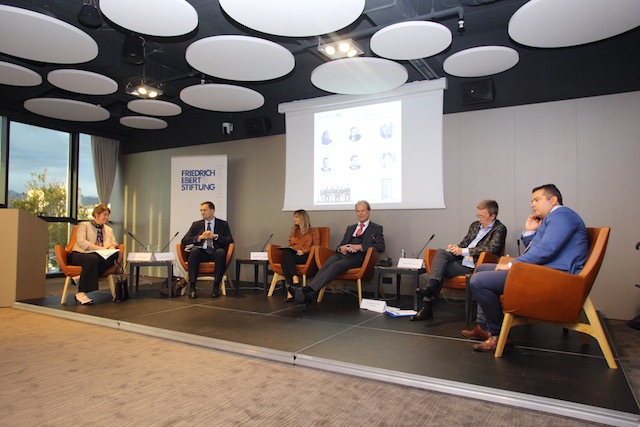 Ursula Koch-Laugwitz, Director of the FES Regional Office, stated that she is pleased that German Minister of Foreign Affairs, Sigmar Gabriel, has initiated the Berlin Plus initiative, emphasizing that "there is no alternative to process of integration in the Western Balkans". She pointed out that there are certain reasons for concern in the process of integration in the EU of countries of the region, but that this process must be continued and completed. "Berlin Plus, in addition to infrastructural development, would need to promote more strongly educational policies, but also policies towards young people, especially in the context of large emigration of youth from the region", emphasized Koch-Laugwitz.
HE Hans Günther Mattern, Ambassador of FR Germany in Montenegro, indicated that "Berlin process is an idea that offers countries of the region, in addition to preparations they are already undertaking on their path to membership to the EU, also an additional activity and incentive in order to make this process as efficient as possible". He reminded that it is in the essence of idea of Berlin Plus process that countries of the Western Balkans cooperate more intensively on regional level in order to become economically but also politically and socially stronger through this cooperation. "Assessment that this process is replacement for European integration process does not stand, since these are complementary efforts, and virtually a supplement in terms of strenghtening prerequisites for these countries to be strong enough and stable as candidates for accession to the European Union. In this respect, Berlin Plus also includes development of infrastructure and education so countries of the region would improve those aspects as well", concluded Günther Mattern.
President of Committee on European Integration in the Parliament of Montenegro, Adrijan Vuksanović, underlined that "countries of the region have common past in terms of membership in one great country in which they were functioning together, and in that regard they also have a chance to continue that cooperation through this process that should be a joint goal of them all". "Berlin process is highly significant in terms of care and attention of the European Union itself towards Western Balkans", stated Vuksanović. He highlighted that Declaration on Bilateral Relations is of particular importance, by the means of which the Western Balkan countries should not be slowed down in the EU integration process due to possible mutual open issues, and that each of these countries should approach the Union on the basis of the regatta principle and all on the basis of their merits.
Dr Ivan LEKOVIĆ, Director General of Directorate General for Bilateral Relations in the Minstry of Foreign Affairs of the Government of Montenegro and former Head of Montenegrin Mission to the EU, thanked Germany for the initiative to launch Berlin Plus process and emphasized on that occasion that he does not agree with placing Montenegro and Serbia in the same context when it comes to accession to the European Union. "Montenegro has no dilemma – its primary objective is membership in the EU, while on the other hand, member states of EU should also remain open for accession of Western Balkans countries", emphasized Leković. He stated that "deadlines should not be overwhelming but Montenegro shall be ready to access the Union as a developed and economically stable country, since only in that manner obligations of membership in this international organization could be fulfilled." "Acquis communautaire is not the only thing Montenegro should fulfill on its path to the EU", concluded Leković.
HE Alison Kemp, Ambassador of the UK to Montenegro, assessed that Berlin process has revitalized the process of accession to the European Union, noting that, despite Great Britain will likely leave the EU, it will retain interest for Western Balkan countries. She announced that focus of the summit in London would be on issues such as digitalisation and development of entrepreneurship, security, reconciliation, but also relationship between civil society and governments of the region. When it comes to process of integration of Montenegro in the Union, she emphasized that "essence is in the path itself and not date of joining, since quality of the process is as important as its goal". Furthermore, "the most important thing in the process is for citizens to see changes that affect improvement of the quality of their lives through perfecting rule of law, fight against corruption and similar", said Kemp. Her view is that countries of the region should join the EU by regatta principle, because it is a fair and competitive framework.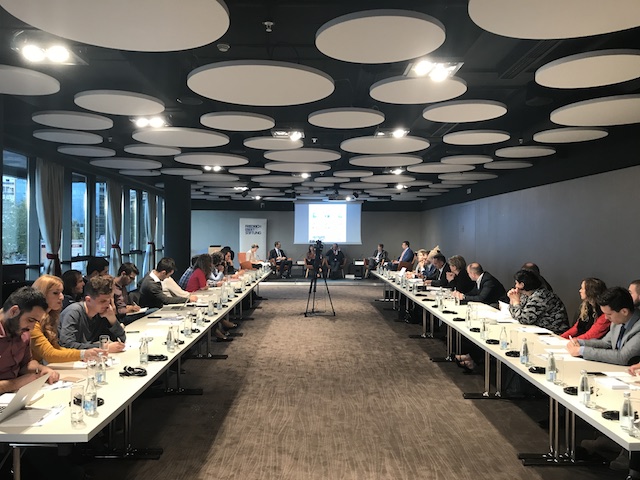 During discussion that followed, former MP Srđan Perić expressed his concern due to increase of number of Eurospectics and weakening of enthusiasm of citizens of region when it comes to this topic. However, he pointed out that it is good that Berlin process exists, as well Berlin Plus, with caution in dealing with similar initiatives and their proper communication, as it is now perceived within range of being "new Marshal's Plan" to being "the second EU League for the Western Balkans" considering also that not even CEFTA agreement has given more noticeable results. "It is far more important to develop the European values in the countries candidates for membership in the Union, and not having focus solely on financial aid of the Union towards them", concluded Perić.
Radoš Mušović, from Centre for Development of Non-Governmental Organizations (CDNGO) posed a question "how much is the integration process understandable to citizens", and expressed concern that process is not being communicated to citizens good enough, which is contributing not only to greater number of Eurosceptics but also to citizens who are entirely disinterested for process itself. He concluded that in the coming period it must be worked more on communicating this process in oder to  improve understanding of citizens, and thus increase support to the process itself.
Aleksandar Damjanović, independent MP in the Parliament of Montenegro, highlighted that it is a fact that no longer strong focus on communication and constant dialogue between EU and institutions exists in the countries that aspire to accession. He emphasized that "there is contradiction and inconsistency betweeneconomical and political objectives both in the country and in relation of EU towards accession of Montenegro, since the greatest economical partners of Montenegro are precisely countries that are not members of the Union, such as Russia, China and certain Arab countries". "Exodus of young people is one of key problems of Montenegro, since young people do not see their perspective in the country and education system itself is affecting it, and it must be worked on these two problems at all levels", pointed out Damjanović.
Gordana Đurović, professor at the Faculty of Economics of the University of Montenegro, stated that "support of citizens is decreasing, but that since the referendum and until this day it ranges around 60% in average, which is still good for Western Balkans and this number represents the greatest support in the region". "Berlin process itself, but also Berlin Plus, need to be supported but, on the other hand, we have to make it comprehensible to citizens and promote it through important projects that contribute to quality of their lives which are supported by process itself, since it represents precisely economic integration",  pointed out Đurović.
Mirela Radić-Ljubisavljević, Vice President of the Socialist Democratic Party (SDP), highlighted concern that "a rather small number of citizens of Montenegro actually know what Berlin process and particularly Berlin Plus represent considering that both of them are established precisely for them". "News that the Juncker Strategy for Serbia and Montenegro will be presented in 2018, and that first probable year of accession is 2025 actually is not good for citizens of these two countries, especially for Montenegro due to public's impression that we should be waiting for Serbia in this process, which is certainly not good", she assessed.
Jovan Dašić, from NGO Juventas, reminded all present to the very significance of the Berlin Plus process and posed a question "how much are we all ready for reforms and do we all have the same interest in the EU accession process itself".
Roundtable has gathered 40 representatives of Government, non-governmental organizations, political parties, media, academic communicty, diplomatic corps and youth.
Berlin process was initiated and officially supported by Chancellor Angela Merkel, in August 2014. It was initiated with objective to revitalize multi-lateral connections between Western Balkans and certain EU countries, as well as to improve regional cooperation of Western Balkans countries in the area of infrastructure and economic development. German Minister of Foreign Affairs, Sigmar Gabriel, has published a new plan for Western Balkans in May, under name of Berlin Plus that envisions for EU to increase funds for connecting projects, with the aim to increase regional cooperation and economical recovery of Western Balkans countries who are waiting on EU accession.
Miloš Knežević, programme associate