Today, the Centre for Civic Education (CCE) signed contracts with civil society organizations (CSOs) that were awarded grants through the first Call for the support of projects of these organizations in Montenegro in 2018 within project "Let's put corruption into museum!" Within this Call, four CSO projects have been supported in total amount of EUR 37,896, and in the forthcoming period they will aim to contribute to the inclusion of civil society in the implementation of anticorruption policies and practices.
The following projects were supported:
Our PLACE (PLAnning the Cementing), implemented by Centre for Investigative Journalism of Montenegro in cooperation with NGO KANA – Who if not architect;
Profession above politics! implemented by Union of Doctors in cooperation with Medical Chamber of Montenegro;
Corruption on zero option, implemented by Centre for Security, Sociology and Criminology Research "Defendology" in cooperation with Centre for Political Education and portal Onogošt;
Responsibly for Ulcinj, implemented by Monitoring group Ulcinj – MogUL.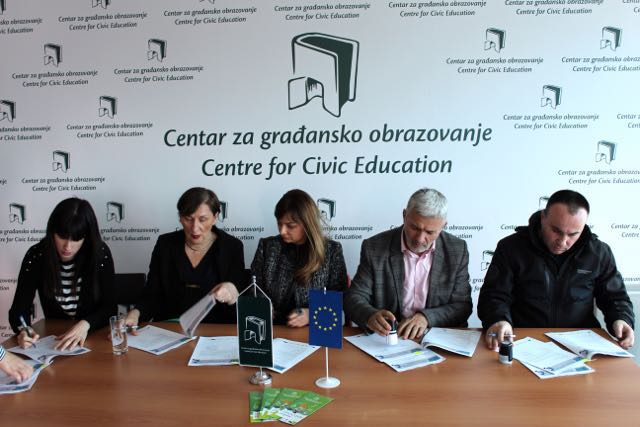 At the occasion of signing contracts, Daliborka Uljarević, CCE Executive Director, stated that "CCE continues to expand the network of organizations that will contribute, through different thematic frameworks and practices, to raising public awareness of the harmful consequences of corruption, but also to encourage local communities and different publics to effectively response to corruption". She stressed that "corruption in Montenegro is systemic problem and as it requires more effective action of institutions, so requires a more organized civil society focus."
Slavko Milić, Executive Director of the Centre for Security, Sociological and Criminal Research "Defendology", said that "this grant will help, through the partnership and support of the CCE, through project activities to make corruption cases as visible as possible and to develop sustainable defense mechanisms against corruption ".
Milena Popovic – Samardzic, Executive director of the Union of Doctors, expressed hope that "we will be able to point to the extent to which anomalies such as systemic corruption, high-level corruption, are detrimental to one society", with the following explanation: "Our objective is to point out all the levels in which corruption is or may be represented not only at the level physician-patient, but also at the level of public procurement, recruitment, awarding of specialization, appointment of directors etc."
Milka Tadic – Mijovic, President of the Centre for Investigative Journalism of Montenegro, pointed out particularly: "our common goal – to put corruption into the museum. Hence, we will, with partners from the KANA group, will deal with problems related to spatial planning in Podgorica and the suspicions that corruption is often behind "improper" planning."
Executive Director of the Monitoring group MogUL Xhemal Peroviq said that "this cooperation is important because the local government in Ulcinj is one of the most closed one in Montenegro, but also because Ulcinj has had no opposition in recent years. There is a lot of dissatisfaction and complaints of citizens on corruption cases, and all this remains without sanction. "
The project "Let's put corruption in the museum!" aims to contribute to the decrease of the corruption at the local level and strengthening citizens' engagement in the fight against corruption at the local level in Montenegro. The project envisages to influence the increase of transparency of the work of municipalities in Montenegro, as well as to the implementation of anti-corruption policies, through direct cooperation of CSOs, state institutions and citizens. The project "Let's put corruption in the museum!", the CCE conducts in cooperation with NGO Center for Monitoring and Research (CeMI), NGO Bonum from Pljevlja, NGO UL-Info from Ulcinj and NGO Za Druga from Petrovac, with associates – the Ministry of Public Administration and The Anti-corruption Agency, and it is funded by the EU Delegation to Montenegro.
Miloš Knežević, Programme associate/PR