Centre for Civic Education (CCE) has today, within the project SPINoFACT 2 – Political advertising between spin and facts', presented first findings of monitoring of media campaign for presidential elections which are to be conducted on 15 April 2018.
CCE project assistant, Bojana Knezevic, emphasized that this is an overview of campaign in media in the observed period from 15 to 26 March when the deadline has expired for submission of candidacies for president of Montenegro. 'Monitoring encompasses qualitative and quantitative research. In this regard, the total number of media releases of candidates as per type of media and as per candidates was monitored, as well as presence of candidates in media, planned and non-planned releases, tone of campaign of candidates, topics which are dominant in campaign, mutual attacks and criticism of presidential candidates', said she. In addition, she clarified that research included 17 printed and electronic media, as follows – televisions – RTCG1, Vijesti, PinkM and Prva; daily newspapers – Vijesti, Dan, Pobjeda, Dnevne novine and Sloboda, as well as portals – Cafe del Montenegro (CdM), Analitika, Vijesti, RTCG, Antena M, Standard, FOS Media and IN4S.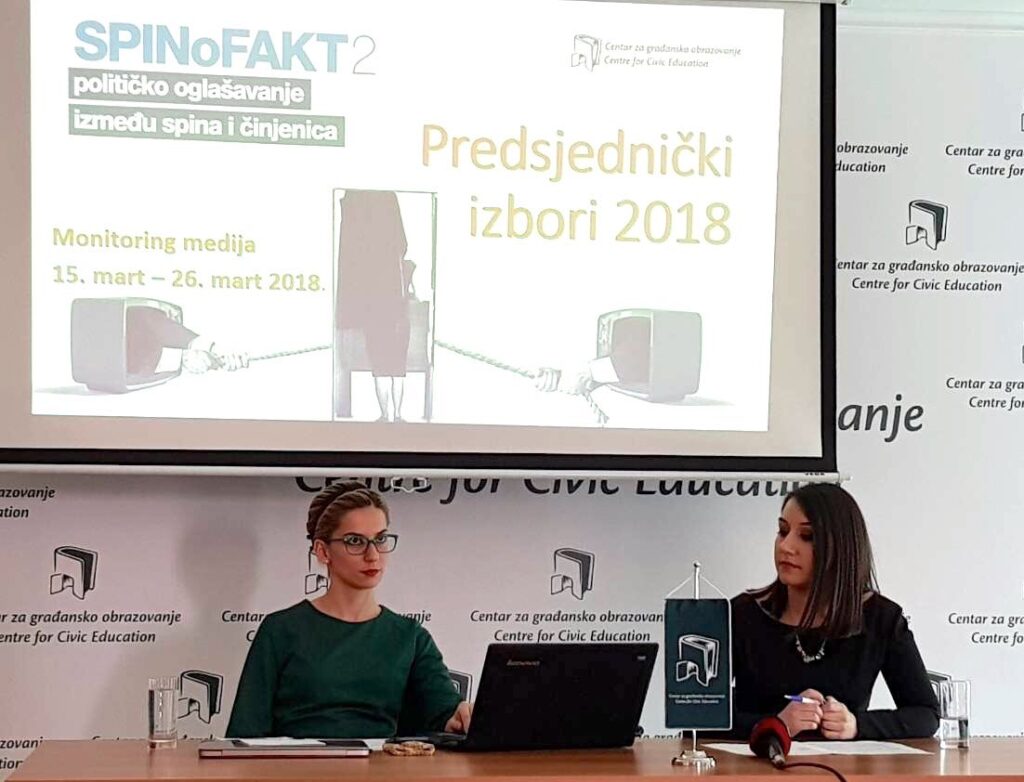 During the presentation of results, Zeljka Cetkovic, CCE programme associate, highlighted that 'total number of releases for the topic «Presidential elections 2018» for all three types of media was 1600, of which the most numerous were releases on portals i.e. 56,94%, followed by printed media with 25,78% and at the end TVs with 17,25%. Thereby, more than half of releases (53,35%) were related to criticism of another presidential candidate, in relation to presentation of their own election offer.' While reflecting upon individual media, Cetkovic stated: 'The most releases on forthcoming elections in regard to printed media were in Dan – 134, followed by Sloboda – 79, ND Vijesti – 72, Dnevne novine – 67 and Pobjeda – 59. On televisions, the most releases were on television Vijesti 109, followed by TVCG 74, Pink M 57 and Prva 38. On portals, portal Vijesti is leading with 162 and CdM with 156, followed by portal Analitika with 128, portal RTCG with 109, Antena M with 96, Standard with 92, FOS Media with 88 and IN4S with 80 releases.' Reflecting on topics, she clarified that as much as 65% releases were related to election procedures, while corruption, prediction of results, economic issues etc. were under 10%. 'These elections are characterised with less presence of identity issues, which is unusual compared to previous ones, however it is not excluded to be more actualised in the coming period', assessed Cetkovic.
In the quantitative part, researchers measured that these topics were dedicated a total of 884 087 mm2 of coverage in printed media, i.e. 23 934 seconds on TV stations.
'Presidential candidates Milo Djukanovic and Mladen Bojanic are equalised with the number of releases, namely, both of them have 715 releases each, whereby measuring for Djukanovic begun on the day of his official candidacy – 20 March. These are followed by Draginja Vuksanovic with 287, Marko Milacic with 281, Hazbija Kalac with 97, Vasilije Milickovic with 169 and Dobrilo Dedeic with 63 releases. Presidential candidate Milo Djukanovic was the most mentioned by other subjects in the same period with 562 times. The most active as per media releases so far was Mladen Bojanic, both in the criticism of the presidential candidate of DPS and in promotions of his own offer'.
When the total picture is analysed, the most negative media releases were about presidential candidate Milo Djukanovic (62%), while the most positive ones got presidential candidate Draginja Vuksanovic (86,52%). 'Media are in significant measure polarising around key presidential candidates. Thus, Djukanovic has had the most negative releases in daily newspaper Dan (50), followed by TV Vijesti (24) and portal Vijesti (46), and most positive on television Pink M – 27, portal CdM – 27 and Dnevne novine – 13. On the other hand, Bojanic has had the most negative releases on Pink M – 21, 15 on portal CdM and in Pobjeda/Dnevne novine with 6 negative releases on both, and the most positive on TV Vijesti (22), portal Vijesti (38) and in daily newspapers (22)', stated Cetkovic.
When it comes to quantitative representation, until 26 March, the most space (mm2) for planned appearances has given daily Sloboda to candidate Mladen Bojanic, namely 468 861 mm2. Draginja Vuksanovic has acquired the most space in Dan – 20 088 mm2, while Milo Djukanovic got it in Dnevne novine i.e. 17 822 mm2. As per seconds for planned media appearances, until 26 March, the most got Mladen Bojanic on TV Vijesti i.e. 2 003 seconds and Milo Djukanovic on TV Prva – 1 815 seconds.
Cetkovic has specially assessed political advertising, explaining that, in the observed period, from 15 to 26 March 2018, it has been identified exclusively on Public Broadcasting Service (TVCG1 and TVCG2), in accordance with the Law on Election of MPs and Councillors. 'In this regard, Marko Milacic on Public Broadcasting Service, from 6 March, has been advertising in total of 79 minutes, Vasilije Milickovic, from 7 March with 154 minutes, Draginja Vuksanovic from 23 March – 22 minutes and Hazbija Kalac, from 23 March, with only 16 minutes', said she.
Project 'SPINoFACT 2 – Political advertising between spin and facts' has an objective to contribute to the promotions of good practices and improvement of legal framework concerning political advertising and representation of election offers in media in Montenegro. Moreover, the project objective is improvement of cooperation between media, relevant institutions, political parties and non-governmental institutions, as well as raising awareness of the public on importance of quality and objective informing of citizens during election campaigns. The expert part of the research for the purpose of the project was done by company Arhimed. CCE has together with Arhimed and with the support of Kingdom of Netherlands already been following the media coverage and representation of election actors through the same-named pilot project and in the example of local elections in Petnjica, Mojkovac and Cetinje, which were conducted at the end of November 2017. After presidential elections, final report will be publicised.  
Milos Knezevic, PR/programme associate