Centre for Civic Education (CCE) will today, in the hall Dodest of the CIC 'Budo Tomovic', within the second day of FAST FORWARD Human Rights Film Festival 2018, screen four film achievements: The Dark Shadow of Green Energy by Dragan Gmizic, who is also Festival guest; A Woman Capturedby Hungarian Director Bernadett Tuza-Ritter; The Waldheim Waltz by Austrian Director Ruth Beckermann and Transit by German director Christian Petzold.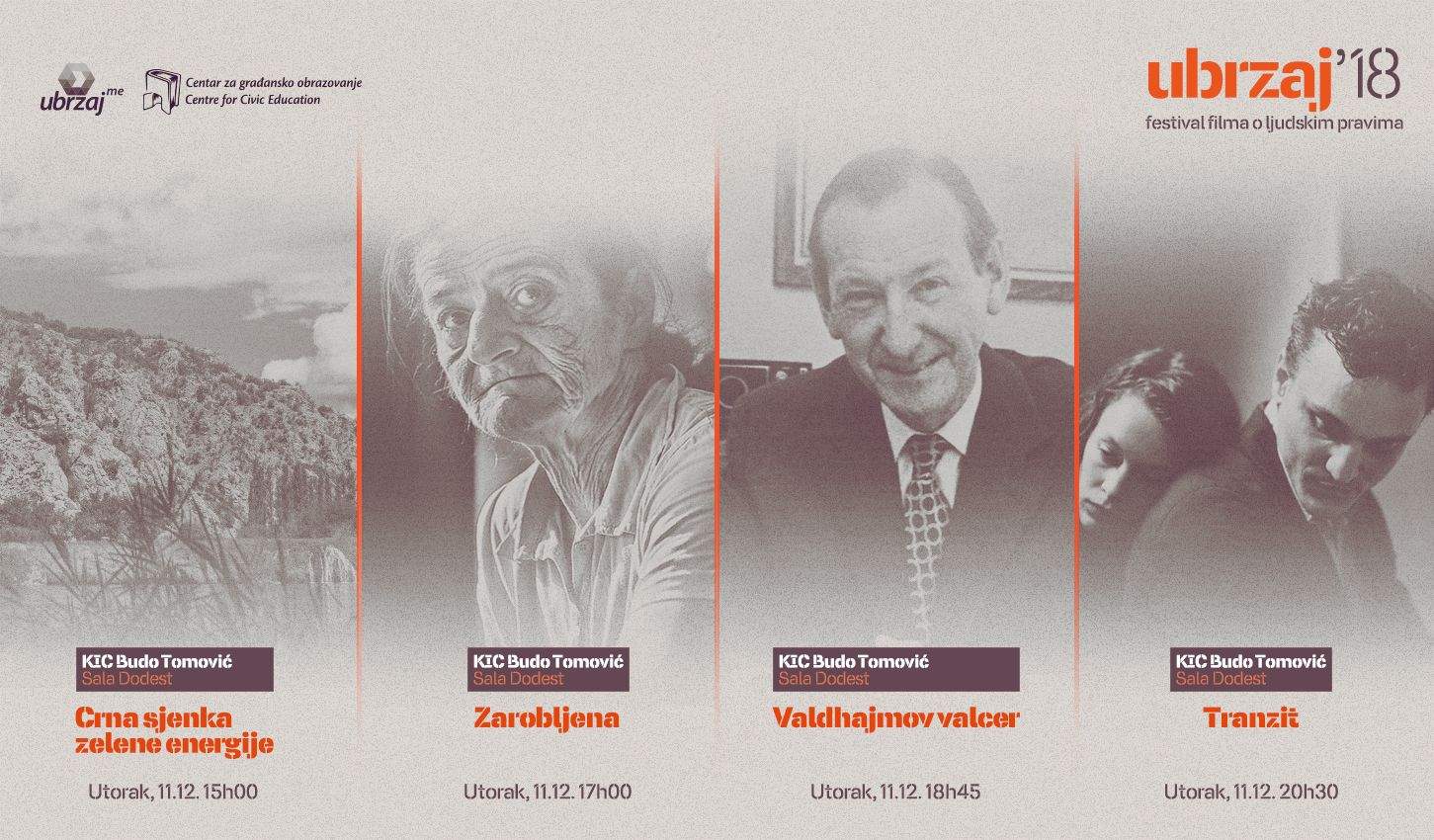 Today's screenings start at 15h00 with the film The Dark Shadow of Green Energy, authored by  Dragan Gmizic, who will after the screening have Q&A session with audience. This session will be moderated by the President of the Centre for Investigative Journalism (CIJ MNE) Milka Tadic Mijovic. Film follows Irma Popovic Dujmovic, activist of World Wide Fund for Nature (WWF Adria), on the road through Croatia, Bosnia, Serbia and Montenegro, discovering how the regional plan for mass construction of small hydropower plants creates multiple new problems instead of solving them. The devastation of nature, the open revolt of people against small hydropower plants as well as the corruption in their construction are just some, but not the darkest, shadows of green energy. Film has on this year's International Green Culture Festival Green Fest – Belgrade received an award for best Serbian film.
At 17h00 programme offers incredible film about a woman-slave in the heart of contemporary Europe –  A Woman Captured. Director of the film has accidentally heard about her when her 'mistress' Eta bragged that she had a slave. She then asked for permission to film her, and Eta allowed her for exchange of 300 euros per month. Marish, a 52-year-old Hungarian woman has been serving one family for a decade, working 20 hours a day, without getting paid. Her personal documents were taken from her by her oppressors, and she is not allowed to leave the house without permission. Treated like an animal, she only gets leftovers to eat and no bed to sleep in. The presence of the camera helps her to realize she isn't completely alone. She begins to relax and to show signs of trust and film itself follows her heroic journey back to freedom.
Film The Waldheim Waltz by Austrian Director Ruth Beckermann is on programme from 18h45. Ruth Beckermann deals with the phenomenon of Kurt Waldheim, the former Secretary General of UN. Using footage from 70ies and 80ies of past century, among which are her own when she protested against his election for President of Austria, Beskermann methodically opens chronology of revelation of his Nazi past and how despite it he received the majority of votes. With this film achievement which received an award for best feature-length documentary film on prestigious Berlinale, Beckermann managed to, by revealing past, actually show the real situation in which Europe is today.
Fourth and the last film of the second Festival day is world hit, film Transit, by the most famous and important contemporary German Director Christian Petzold, which is at 20:30h. German troops are close to Paris. Georg attempts to get to America from Germany via Marseille. In Marseille, he meets Marie, a young woman who is looking for a missing person. It is the wife of the missing writer. While waiting for the permit to leave, Georg and Maria become as thousands of other migrants – people who do not exist.
Also, tonight, Berane's editions of FAST FORWARD Festival is being opened in the Centre for Culture of Berane, from 19h00 when filmThe Eighth Commissioner will be screened by Croatian Director Ivan Salaj who is this year's candidate for prestigious Oscar award.
FAST FORWARD 2018 is being implemented with the support of EU Delegation to Montenegro, Commission for Allocation of Part of Revenues of Games of Chance of Government of Montenegro and Ministry of Culture of Montenegro, as well as companies Metropolis, PG Taxi and Compania de Vinos Montenegro. Partners of Festival are PI CIC 'Budo Tomovic', BELDOCS, Sarajevo Film Festival, CC 'Nikola Djurkovic from Kotor, Municipality of Kotor, Municipality of Berane, Centre for Culture of Berane and PI Gymnasium 'Panto Malisic', and media sponsorsare public service RTCG(TV and portal) andVijesti (newspapers, portal and television).
Detailed programme of the Festival and all additional information can be found at website http://ubrzaj.me/en/, and the entrance to all screenings, in all three cities is free of charge.
Milos Knezevic, Director of FAST FORWARD Human Rights Film Festival 2018