Centre for Civic Education (CCE) brings three new film premieres today in the Dodest hall of CIC 'Budo Tomovic', during the third day of FAST FORWARD Human Rights Film Festival 2018: Bikini Moon by Macedonian Director Milcho Manchevski, Guidance Through the Black Hole, directed by Aleksandar Nikolic and Zlatko Pranjic and The Heiresses by Marcelo Martinessi.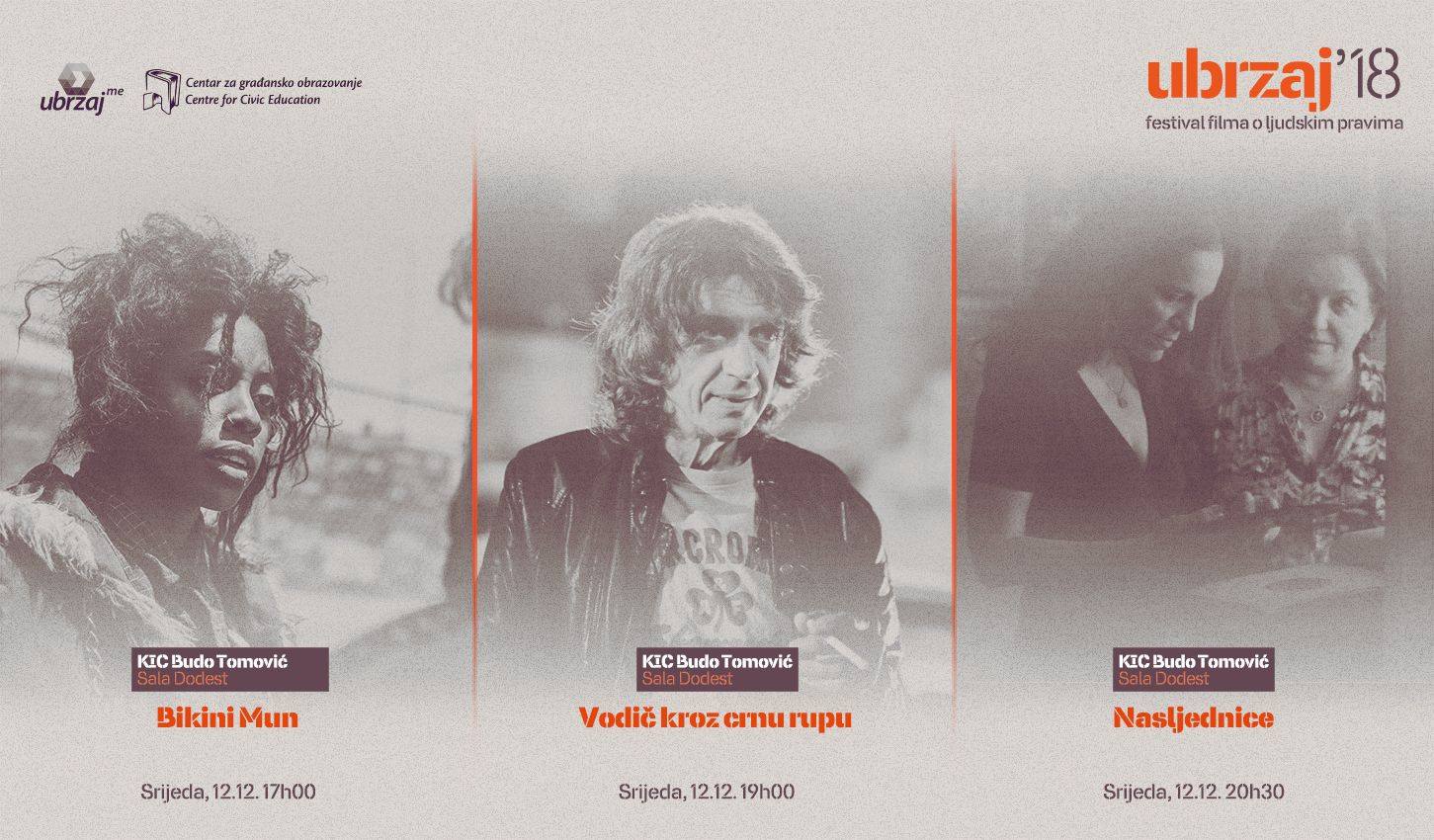 Screenings begin at 17:00h with film Bikini Moon, the newest film achievement of multiple times awarded Director Milcho Manchevski, a false documentary as a game and experiment. At a homeless centre in New York, the documentary filmmakers happen upon Bikini Moon Davis who seeks help and shelter. With big, lively eyes and broad smile, Bikini is provocative, adventurous and dynamic, but obviously in bad mental condition. Claiming that she drove a forklift in the war in Iraq and learned to be a carpenter, she often leaves the streets and tries to stabilize her life in order to take back her daughter from foster family. This is a film in which truth and illusion, documentary and fictitious are intertwined, opening a question of how today's society, and especially media, are influencing the individual.
At 19:00h programme offers film Guidance Through the Black Hole, a story about Bosnian poet and artist who, unsatisfied with his life, projects all his troubles on his immigrant destiny, wallowing in idyllic memories of his beloved Banja Luka. Stuck in a rut, he gets one last chance to turn his life around when the Bosnian embassy in London invites him to exhibit a series of his paintings entitled: 'Guidance Through the Black Hole'. Director Zlatko Pranjic is also a guest of FAST FORWARD Festival 2018 and conversation with him after the screening will be moderated by dramaturg Vasko Raicevic.
Third day is concluded by film The Heiresses, with the beginning at 20:30h, which has so far won over 30 awards on prestigious world festivals, of which four on this year's Berlinale – Berlin International Film Festival, among which also two Silver Bears. Chela and Chiquita are both descended from wealthy families in Asunción, in Paraguay, and have been together for over 30 years. After carefree life at the expense of inherited wealth, their financial situation has worsened, and they begin selling off their inherited possessions. But when their debts lead to Chiquita being imprisoned on fraud charges, Chela is left alone. Forced to face a new reality, she begins to provide a local taxi service to a group of elderly wealthy ladies. As Chela settles into her new life, she encounters the much younger Angy, forging a fresh and invigorating new connection. Chela finally begins to break out of her shell, embarking on her own personal, intimate revolution.
In parallel, within the Berane's edition of FAST FORWARD Festival, three films will be screened, as follows: Enkel, directed by Aleksandar Reljic, in Gymnasium 'Panto Malisic' at 12:00h, The Dark Shadow of Green Energy by Director Dragan Gmizic at 17:00h and A Woman Captured by Director Bernadett Tuza-Ritter, and with which the Berane's edition of FAST FORWARD 2018 will be closed.
FAST FORWARD 2018 is being implemented with the support of the European Union Delegation to Montenegro, Commission for Allocation of Part of Revenues from Games of Chance of Government of Montenegro and Ministry of Culture of Montenegro, as well as companies Metropolis, PG Taxi and Compania de Vinos Montenegro. Partners of the Festival are PI CIC 'Budo Tomovic', BELDOCS, Sarajevo Film Festival, CC 'Nikola Djurkovic' from Kotor, Municipality of Kotor, Municipality of Berane, Centre for Culture of Berane and PI Gymnasium 'Panto Malisic', and media sponsors are public service RTCG (TV and portal) and Vijesti (newspaper, portal and television).
Detailed programme of the Festival and all additional information can be found at website http://ubrzaj.me/en/, and the entrance to all screenings is free of charge.
Milos Knezevic, Director of FAST FORWARD Human Rights Film Festival 2018