On the occasion of 21 September – International Day of Peace, the Centre for Civic Education (CCE) urges all actors of the society to make systematic efforts in order to strengthen individuals and society that strive for non-violent conflict resolution and for building more just society.
The armed conflicts that took place in the 1990s destabilized the territory of the former Yugoslavia. The consequences of these disrupted relationships are still present in societies that have not made much progress in the reconciliation process. Therefore, it is important to reveal the whole truth about wars in the former Yugoslavia during the 1990s, to name all civilian and military victims and to establish the facts of the circumstances in which these people lost their lives. It is also necessary to enlist all the concentration camps that existed in the former Yugoslavia between 1991 and 2001. Only in this way can be reached the full truth, without which there is neither true reconciliation nor lasting peace in this region.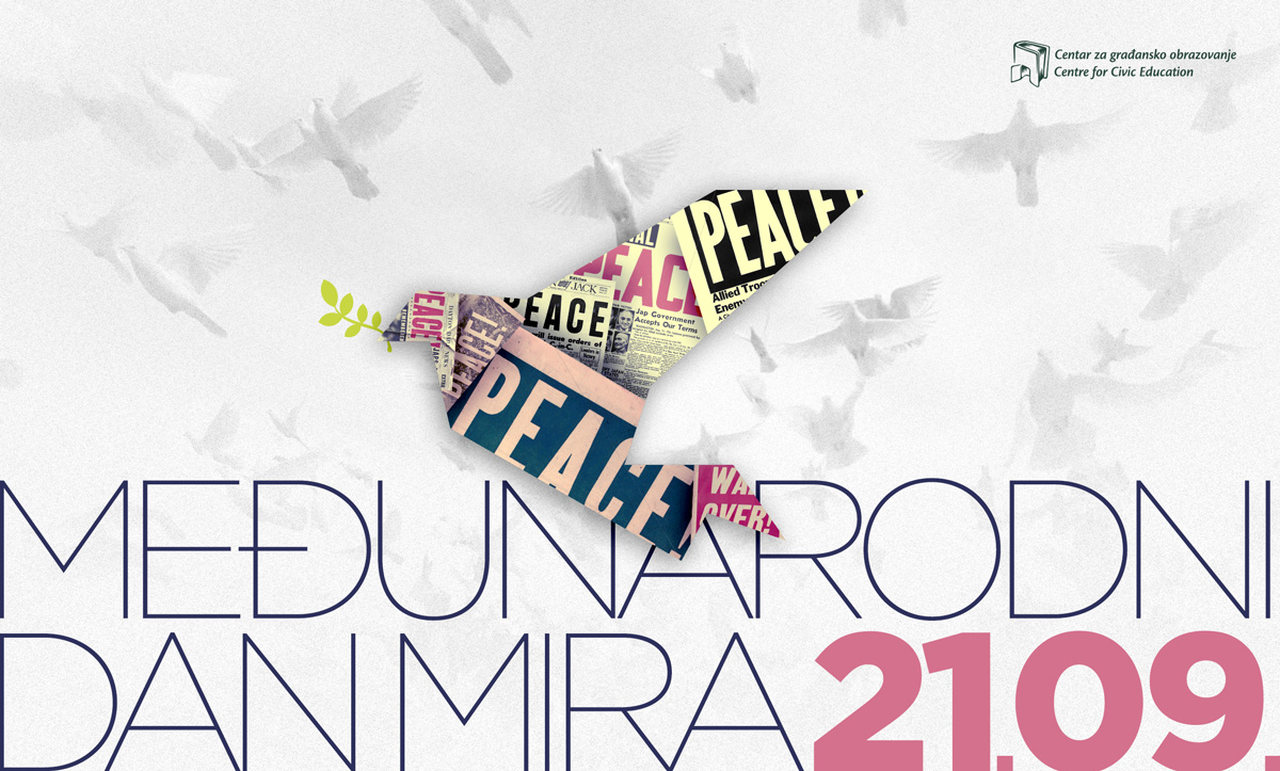 The CCE, as the reference member of the Coalition for RECOM in Montenegro, is continuously working to maintain issues of reconciliation and dealing with the past in the public discourse, as important mechanisms for establishing lasting peace at the territory of the former Yugoslavia. In the framework of the  project Activism of civil society for reconciliation in the region of Former Yugoslavia – in support of RECOM, upon the public call, grants were awarded to 22 civil society organizations in Montenegro, Serbia, Bosnia and Herzegovina, Slovenia and Croatia for the implementation of projects related to strengthening the reconciliation perspective in the region trough establishing war crimes facts, engaging civil society and broader public in reconciliation and remembrance efforts and support to Initiative for RECOM. The Call for Kosovo and Northern Macedonia is in progress. Thus, Coalition for RECOM strengthens the regional reconciliation network and insists on establishing good neighbourly relations and reconciliation as the prerequisite for sustainable regional security and cooperation.
We remind that in order to establish lasting peace, the Coalition for RECOM advocates for the founding of RECOM – Regional commission for the establishment of facts about war crimes and other serious violations of human rights committed in the former Yugoslavia from 1 January 1991 until 31 December 2001. We believe that this is important for the victims and their families on one side and for setting sound ground on the other, on which the society of functional rule of law we strive for will develop.
 The International Day of Peace which was established by the United Nations resolution 36/37 adopted by the United Nations General Assembly is celebrated on 21 September. On the occasion of this International Day, the UN also adopted the proposal to mark the same day as the Day of global ceasefire and non-violence in order to "its Member States, as well as the whole of mankind, promote the ideals of peace and give positive evidence of their commitment to peace in all viable ways."
Tamara Milas, Programme Associate