On the occasion of upcoming International Day of Tolerance, the Centre for Civic Education (CCE) invites all social actors, and above all decision makers, to become more active in fostering and promoting tolerance.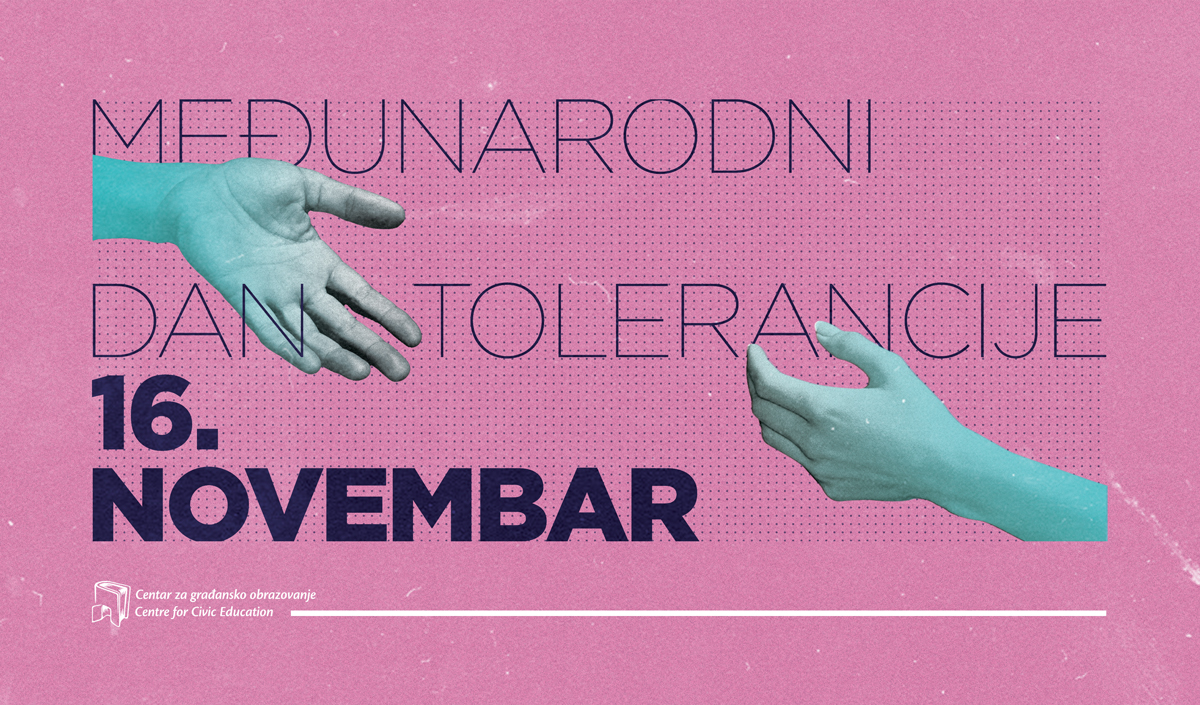 The road to establishing the society of tolerance and equality is a long one and requires a lot of effort and dedication from all parts of society. Tolerance is a value that is constantly built with base in human rights and freedoms but can always be easily compromised. In addition to the laws and institutions that directly ensure the protection of rights, it is also necessary to invest in the development of education of new generations in the spirit of understanding and tolerance.
In this context, we recall that the results of the Youth Attitudes Survey indicate the increasing closeness of this group to differences in society and their acceptance, the increasing social and ethnic distance, and the rootedness of homophobia, traditionalism and authoritarian attitudes within young people. The data are warning also that a third of young people would not socialize with the Roma population, and almost there is same number of those who are not open to the idea of ​​socializing with Albanians. When asked about marriage with some members of the mentioned ethnic groups, the distance "explodes" in relation to the Roma – for two thirds the marriage is unacceptable, and similarly with the Albanians. One third of young people oppose the idea of ​​marrying Croats, Bosnians.
Inadequate education, contaminated public rhetoric, years of economic crisis and poor prospects are the main reasons for increasing intolerance amongst young people. Underlying ignorance and misunderstanding come after the layer of anger and disappointment due to increasing social inequality and the inability to secure a dignified life. The fruits of hatred towards others and different can easily grow into basis for possible extreme behaviour.
Resistance mechanisms, primarily through the education system, have been weakened by new and announced reforms. The CCE assesses that in Montenegro nowadays there is insufficiently thoughtful and principle-based work to promote this important educational concept and its role in the development of the values ​​of freedom and anti-discrimination. The abolition or reduction of social subjects (civic education, history, sociology, etc.) opens the door to the non-institutional education of young people by other social elements. This weakens the resilience of young people to the narrative that threatens tolerance. The CCE also points to the need for more trainings for the teaching staff in order to foster tolerance and to recognize personal and social elements that may threaten it.
Lack of tolerance is a social problem whose consequences are felt in a wide range of socio-political life in Montenegro. A society that actively advocates and invests in tolerance actually invests in its stability and future.
In 1996, the General Assembly of the United Nations (UN) invited Member States to mark International Tolerance Day on 16 November. On 16 November 1995, the UN Member States adopted the Declaration of Principles on Tolerance.
Maja MARINOVIĆ, Programme Assistant