On the occasion of 8 March – International Women's Day, the Centre for Civic Education (CCE) recalls that gender equality is not a 'women's issue', but the one that requires joint engagement of both men and women and partnership of different actors in achievement of universal principles of democracy based on gender equality.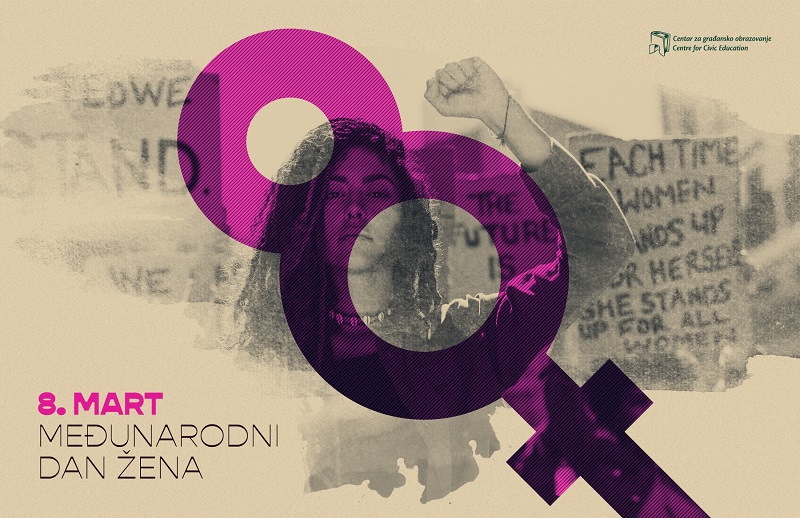 Gender equality should no longer be treated as a specific issue, but rather as cross-cutting issue of all policies, strategies and action plans in order to develop genuine democracy. The consequences of maintaining prejudices and unequal treatment of women and men are also visible through devastating results of public opinion survey from 2019, which indicate that there are as many as 68% of those who think that the most important role of a woman in a society is to be good wife and mother.
There is still lack of adequate efforts within Montenegrin society to include women in decision-making processes at all levels, and there are significant discrepancies between legislative framework and practices regarding suppression of stereotypes and discrimination and provision of equal opportunities. Policy makers in Montenegro also contribute to this situation. For example, recently, within changes of officials in party bodies, the ruling Democratic Party of Socialists (DPS) has reduced the number of women, hence in the current presidency consisting of 15 members there is only 1 woman, or slightly more than 6% compared to the previous 20%. The situation is similar in other parliamentary parties. Although the Social Democratic Party (SDP) has female president, there are only 13.50% of women in its presidency (19 men and 3 women). In addition, Democratic Montenegro has 34 men in its Presidency and only 2 women, while the Presidency of the Civic Movement United Reform Action – URA has 16 men and 2 women. Members of the Democratic Front have between 15 and 22% of women in their Presidencies (Movement for Changes (PZP) has 11 men and 2 women in the Presidency; New Serbian Democracy (NOVA) has 11 men and 3 women in the Presidency; and the Democratic People's Party (DNP) has 19 men and 5 women in its Presidency).
An insight into available composition of the presidencies of parliamentary political parties indicates that their declarative commitment to affirmation of gender equality is not reflected in practice. This is also expressed in the institutions, thus, for example, in the Government of Montenegro, there are four female ministers (20%) amongst the 20 members of the Government, and there is no woman amongst the three Deputy Prime Ministers, nor Montenegro ever had woman at the position of the Prime Minister.
Therefore, the CCE strongly urges decision makers and policy makers to implement in Montenegro the best international standards and practices in the field of gender equality and to contribute to genuine affirmation of gender equality through proactive use of these mechanisms. This would also have positive effect on other pressing issues, such as suppression of discrimination in the labour market and enabling conditions for economic empowerment of women and combating violence against women.
Tamara Milas, Human Rights Programme Coordinator at the CCE