On the occasion of the Europe Day, the Centre for Civic Education (CCE) is using the opportunity to raise concerns about slow progress of Montenegro towards united Europe. This is supported by more strict and negative assessments in relevant international reports, but also by actual dynamics of the Montenegrin accession negotiations with EU.
The accession negotiations started on 29 June 2012, in accordance with the so-called new approach which focuses on the rule of law. Within the course of the first seven years, i.e. concluding with  2019, Montenegro has completed 32 out of 33 negotiation chapters, whereas only three have been temporarily closed – 25 (Science and Research), 26 (Education and Culture), and 30 (External relations). It should be noted that for two out of those three chapters there is no acquis communautaire, and that for one of these chapters only one action plan should have been adopted. Even though Montenegrin officials have repeatedly announced, Brussels has still not sent closing benchmarks for chapters 23 (Judiciary and fundamental rights) and 24 (Justice, freedom and security) which indicates that Montenegrin authorities have not done their undertaken homework. Within 28 negotiation chapters,  limited progress has been noted, and during one year number of chapters with good progress have decreased.
In the CCE's study  First seven years of Montenegrin negotiations with the EU, we provided an overview of political and economic aspects of negotiations which are influencing the fact that Montenegro is already negotiating longer from average of all countries that joined the EU in last enlargement rounds.
The Europe Day should be celebrated also with noting genuine and visible successes on our path towards the EU. Unfortunately, there are very few of those successes. Hence, instead of celebrating, this must be an opportunity to finally start with strategic and serious consideration of how to live every day those values, standards and best practices.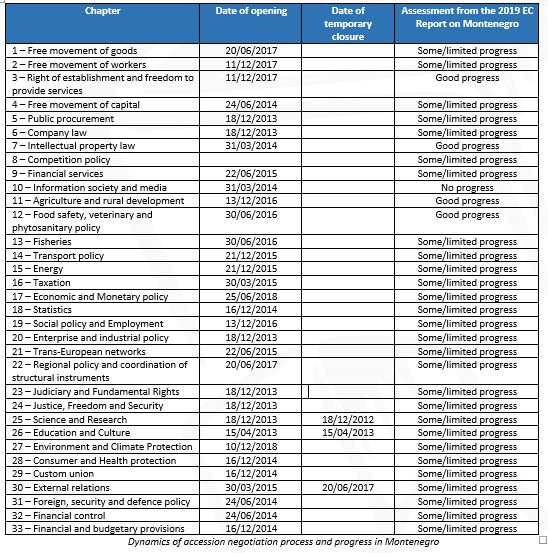 Diana RAJKOVIĆ, Programme Assistant