Centre for Civic Education (CCE)
within the project SUPPORT TO LOCAL MEDIA – FIRST HAND STORIES! opens
 CALL FOR PROPOSALS
for the support to the projects of local media in Montenegro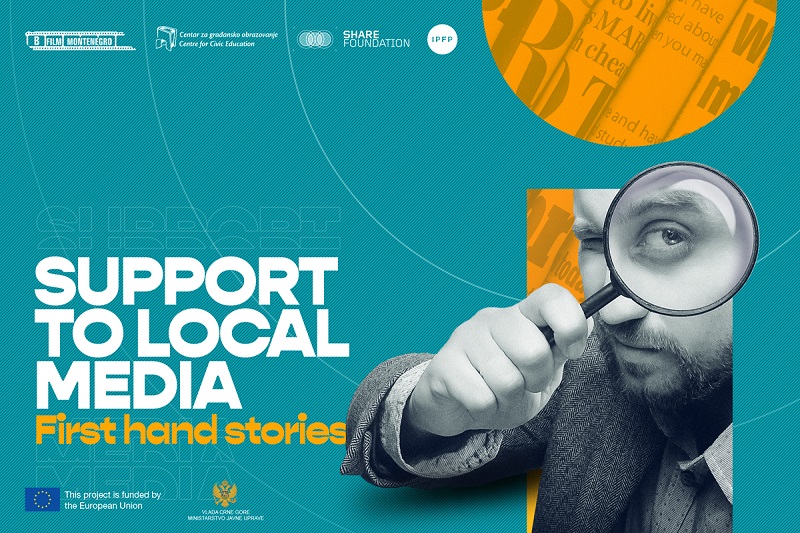 Your project proposals, which should aim to contribute improving media literacy and investigative journalism at the local level shall be submitted no later than 7 July 2020, until 16h00.
In order to be eligible, Montenegrin local media must fulfil criteria as follows:
     be a legal person (public local media or private local media);
     be registered in Montenegro at least 12 months prior to the deadline for submission of project proposals;

     have their headquarters in Montenegro and publicly available management and editorial structure;

       

     be directly responsible for the preparation and management of the project, with partner (if envisaged by the project);
Applications must be submitted with filled Application form and Budget proposal. Please read carefully Guidelines prior to filling these forms.
Capacity building programme is designed for local media whose projects will be supported, in order to enable successful implementation of these projects in accordance with European rules. Furthermore, continuous legal and ethical expertise and advices for compliance with the existing legislative framework and the Code of Ethics for Journalists of Montenegro is provided for subgrantees.
Complete applications along with the necessary accompanying technical documentation shall be sent in hard copy on address: Centre for Civic Education (CCE), Bulevar Svetog Petra Cetinjskog 96, III/6 81 000 Podgorica with note – For the Call "SUPPORT TO LOCAL MEDIA – FIRST HAND STORIES!". Electronic version should be sent to e-mail: info@cgo-cce.org. If needed, further information can be obtained by sending questions to info@cgo-cce.org, no later than 25 June 2020, until 16h00.
The deadline for submitting project proposals is 7 July 2020, until 16h00.
Thanks to the support of the EU Delegation to Montenegro, the CCE secured the funds to support projects in the total amount of 50,000 EUR, whereas minimum amount approved for the project will be 5,000 EUR and maximum 15,000 EUR.
Note: Local media that are direct beneficiaries within Media professionalism programme 2018 – Civil Society Facility Media EuropeAid/164631/DD/ACT/ME are not eligible to participate at this competition. This restriction applies to local media that are coordinators/lead applicants, as well as to local media that are partners on the project.
Project "Support to local media – first hand stories! Supporting investigative journalism and media literacy at the local level in Montenegro" is conducted by the B film Montenegro, Centre for Civic Education (CCE), SHARE Foundation and Institute for business and financial literacy. The project is funded by the EU through the Delegation of the European Union to Montenegro and co-financed by the Ministry of Public Administration of the Government of Montenegro.