On the occasion of 15 March – World Consumer Rights Day, the Centre for Civic Education (CCE) appeals to decision-makers to create necessary conditions which ensure safety and health rights, as well as consumer economic rights. CCE also calls for the proactive implementation of consumer protection policy in Montenegro through the adequate implementation of the National Consumer Protection Programme and the Action plan for its implementation (NCPP).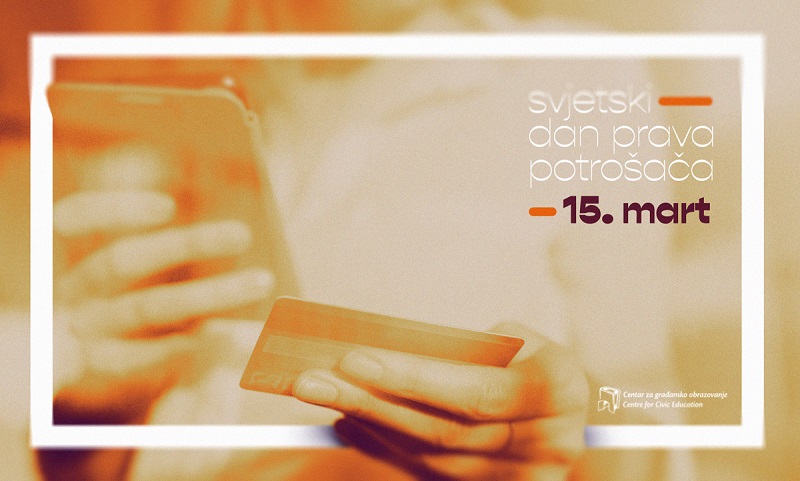 Montenegro adopted legislation to ensure alignment with the EU acquis on consumer protection, but the inadequate application of the norm remains a problem.
The unregulated online sale represents a subject of particular concern, which, at the time of coronavirus pandemic, records quantum leaps all over the world, even in our country. This way of trade contributes to suppressing virus transmission, but also carries numerous dangers that consumers are not aware of because market operators do not apply the law, ethical principles and best practices. This requires urgent harmonization of the new Personal Data Protection Law with the General Data Protection Regulation (EU 2016/679), but also the innovation of strategic documents in the field of suppressing the shadow economy to protect consumers' rights more efficiently.
In Montenegro, this day is marked in a state of insufficient awareness of consumers about their rights, distrust in competent institutions and increasing violation of their rights in practice. Most consumers in Montenegro do not know their rights, nor the fact that they are guaranteed by the Constitution, while protection mechanisms are reduced to court procedures that are long and uncertain.
CCE considers that it is necessary to work on establishing consistent court practice, raising the awareness of consumer public, but also traders, who increasingly prevent consumers from filing complaints about defective goods, informing them that they can submit a complaint within deadlines that are not in accordance with the law and in a manner that is a more difficult way to exercise consumer rights, effectively denying their rights.
World Consumer Rights Day was established by the decision of the United Nations and it is marked since 1983. Its origins lie in the Consumer Bill of Rights which was presented by former American president John F. Kennedy in 1962. This day represents an opportunity for advocacy of the basic rights of all consumers and to put forth a demand that those rights are to be more effectively respected.
Tamara Milaš, Human Rights Programme Coordinator