The Centre for Civic Education (CCE) has published a guide "Comments on portals – where are the limits?" which is intended for moderators of internet portals, but also serves to all those who want to be better informed about this increasingly important issue within media sphere.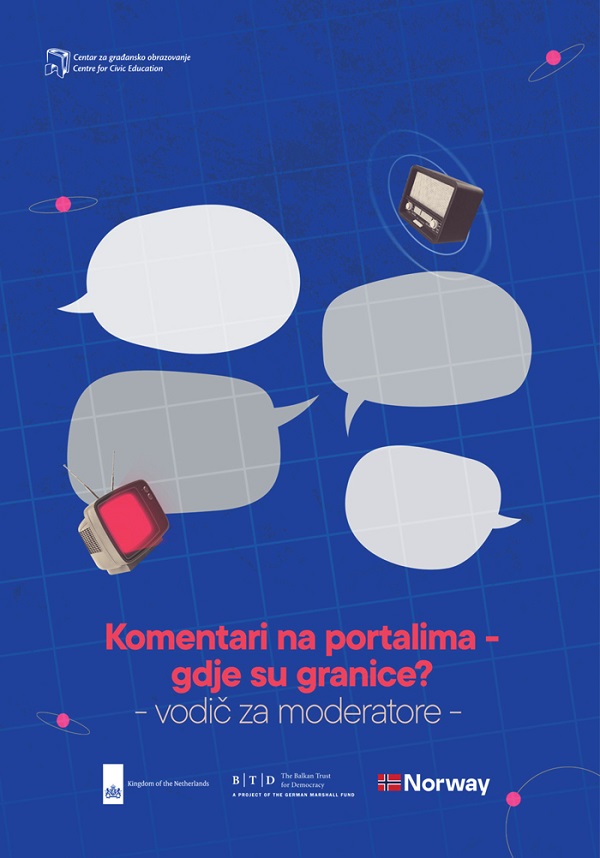 Comments on internet portals is still insufficiently regulated issue in national and international frameworks, but the need is intensified due to the growing mass production of harmful and illegal content. Media pluralism, of which internet portals are a significant component, has contributed not only to the free and greater flow of information, but also to the misuse of the internet. The option to share content with other users and post comments has changed the nature of media consumption and given passive users space to create visible content, and thus to have an impact. The appearance of comments on internet portals has brought numerous challenges regarding the possibility of facilitated distribution of disinformation, spreading of hate speech, violation of the right to the presumption of innocence, etc.
The guide, authored by Siniša Gazivoda, a lawyer and legal expert on freedom of expression, and Nikola Mugoša, doctor of the European law, provides an overview of historical developments, a cross-section of relevant international sources – focusing on the ECHR case law, and a detailed insight into the national legislative framework, various forms of comment moderation, as well as a kind of scoreboard for comment assessment and accompanying specific examples.
The publication of the guide was preceded by recently held CCE's training for administrators and moderators of Internet portals, which was attended by media representatives of 11 internet portals in Montenegro.
Also, CCE conducted, from 15 February to 15 March, monitoring of comments on portals in Montenegro, with the aim of a qualitative and quantitative assessment of compliance with the new Media Law concerning comments on portals. Detailed findings indicate that this legal solution, unfortunately, does not yet have the expected effects.
The regulation of posting comments on the Internet will certainly be the issue of numerous discussions, but also a new test of freedom of expression in a modified media environment. CCE has initiated a clear legal regulation of this issue, with accompanying effective sanctions for untimely removal of illegal content, and we hereby continue to support the adequate implementation of the Media Law regarding this segment.
The CCE will continue to point out the importance of this issue, and we urge again news portals to make efforts to improve internal procedures and capacities that would contribute to more successful moderation of comments in the interest of argument-based public debate.
The guide is part of the project "Media for Me!", implemented by the CCE with the support of the Embassy of the Kingdom of the Netherlands, the Embassy of the Kingdom of Norway and the Balkan Trust for Democracy funded by German Marshall Fund of the United States (BTD).
Damir NIKOČEVIĆ, Development Coordinator