Centre for Civic Education (CCE) points out the continuation of the bad practice of awarding the so-called honorary citizenships whose number in the mandate of this Government breaks all previous records. Namely, the Ministry of the Interior brought 273 decisions in 2021 and one in 2020. Hence, for 13 months of its work, the Government doubled more what was the record of the previous Government, as in 11 months of 2020 granted 115 citizenships.
Earlier this year, the CCE addressed the Ministry of the Interior requesting access to information related to the number of granted honorary citizenships for the period from 7 December 2020 to 1 January 2022. In less than 13 months, a total of 274 citizenships was granted. Except for 10 for which there are no data on the proposal, all proposals for granting citizenship to the Ministry of the Interior were submitted by the Prime Minister of Montenegro, Zdravko Krivokapić.
The dominant number of granted citizenships are according to the Economic Citizenship Programme, and then as the reasons are listed sports, science, or some other interest of the state, with a note that there are those decisions that do not contain the basis for granting citizenships.
CCE reminds that from the beginning of the application of the Law on Citizenship, i.e. from 2008 to the end of 2020, a total of 390 was awarded. With the new data, by 1 January 2022, that number reached the figure of 664 honorary citizenships.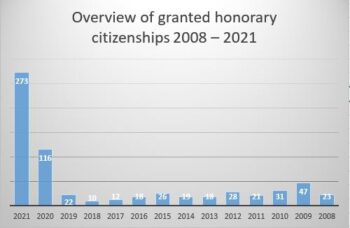 Out of 274 citizenships, the largest number was granted to persons from Russia, 170, or 62.05%, followed by China 19 (6.81%), Lebanon 14 (5.11%), Ukraine 12 (4.38%) and Kazakhstan 9 (3.28%). From the countries of the region, citizenships were granted to persons from Serbia (6) and Bosnia and Herzegovina (2).
As a reminder, the Law on Citizenship provides the possibility that a person whose admission is of special importance for state, scientific, economic, cultural, economic, sports or other interests of Montenegro, may exceptionally acquire citizenship by admission if does not fulfills regular requirements of the Law and on the basis of the proposal of the President of the State, the Parliament or the Government and the decision of the body responsible for internal affairs, in this case, the Ministry of the Interior.
Damir Suljević, Programme Associate