Centre for Civic Education (CCE) opens the
call for participants
IV MEDIA LITERACY FORUM
FOR HIGH SCHOOL STUDENTS
If you are a high school student and want to learn about media literacy and media, meet and socialize with peers, expand and exchange experiences with other young people, and if you think you do not have enough information and you want to acquire knowledge and build skills in the field media literacy –  the Media Literacy Forum is the right place and opportunity for you!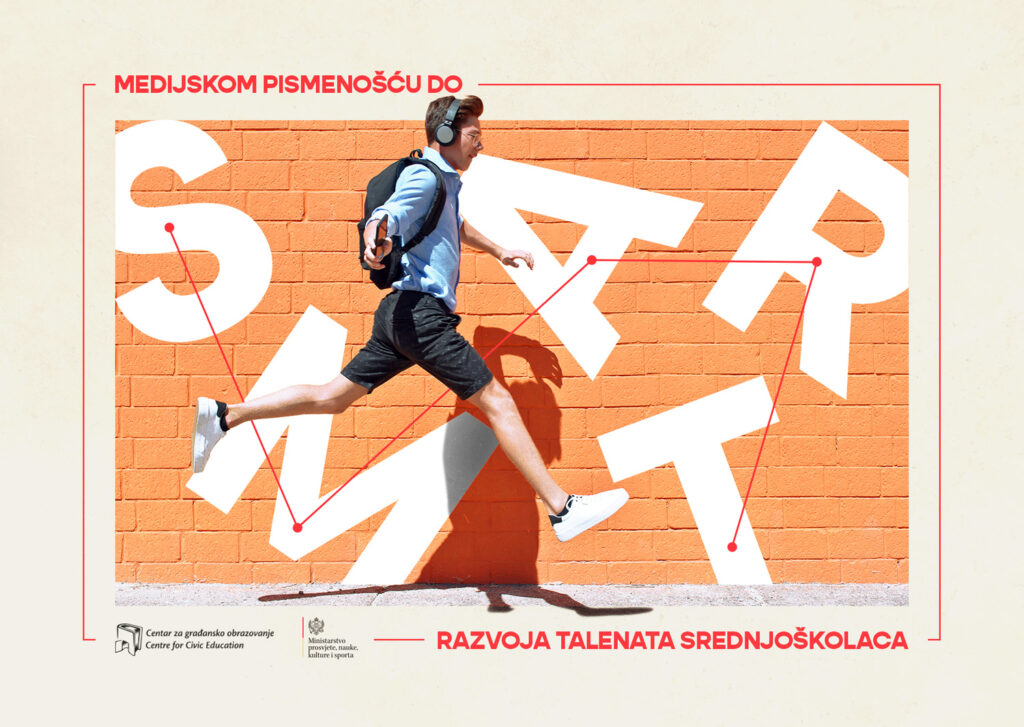 The goal of the Forum is to provide, through the intense multi-day course – lectures, workshops, screenings of movies – participants knowledge of the concept of media literacy, the role of media, their value framework, a phenomenon of social media, as well as the use of these channels in suppression of fake news. The Forum will provide basic knowledge on media texts analysis, the process of their development, their purpose, the language of media, how the average citizens absorb media, which are key values promoted by media, what is the relationship between media, ethics and politics, as well as which are key elements in fact -checking.  Participants will also have the opportunity to analyze examples of manipulations in the media and culture, but also assess the link between media and human rights.
For successful attendance, participants of the Forum will receive diplomas.
Who can apply for the Media Literacy Forum?
Regular high school students from the territorry of the entire Montenegro.
How to apply for the Media Literacy Forum?
By filling out the application and sending it to e-mail at info@cgo-cce.org , with the subject "For the Media Literacy Forum".
Application deadline: 8 March 2022, by midnight.
The Forum is free of charge for selected participants, i.e. the costs of travel, food, accommodation, organization of lectures and other activities related to the programme are covered by the CCE, with the support of the Ministry of Education, Science, Culture and Sports. Detail information on programme of the Forum will get candidates who are invited to the Forum upon selection process based on evaluations of applications.
The selected participants will automatically become members of the informal students' association SMART (Network of High School Students for Affirmation and Development of Talents) whose goal is to put into focus media literacy amongst the high school population, as well as the popularization of that subject in educational institutions where the subject is studied.
If you have any questions please feel free to contact us at info@cgo-cce.org or via phone 020 228 479.
The Media Literacy Forum for High School Students is being organized within the project "Media Literacy for the Development of High School Students' Talents – SMART! (High School Network for Affirmation and Development of Talents) ", with the support of the Ministry of Education, Science, Culture and Sports.