It is necessary for young people to more participate in decision-making processes, as societies that give a strong voice to young people will survive and be sustainable in long term, and quality education in line with modern needs is a precondition for young people to be prepared for the labour market as well.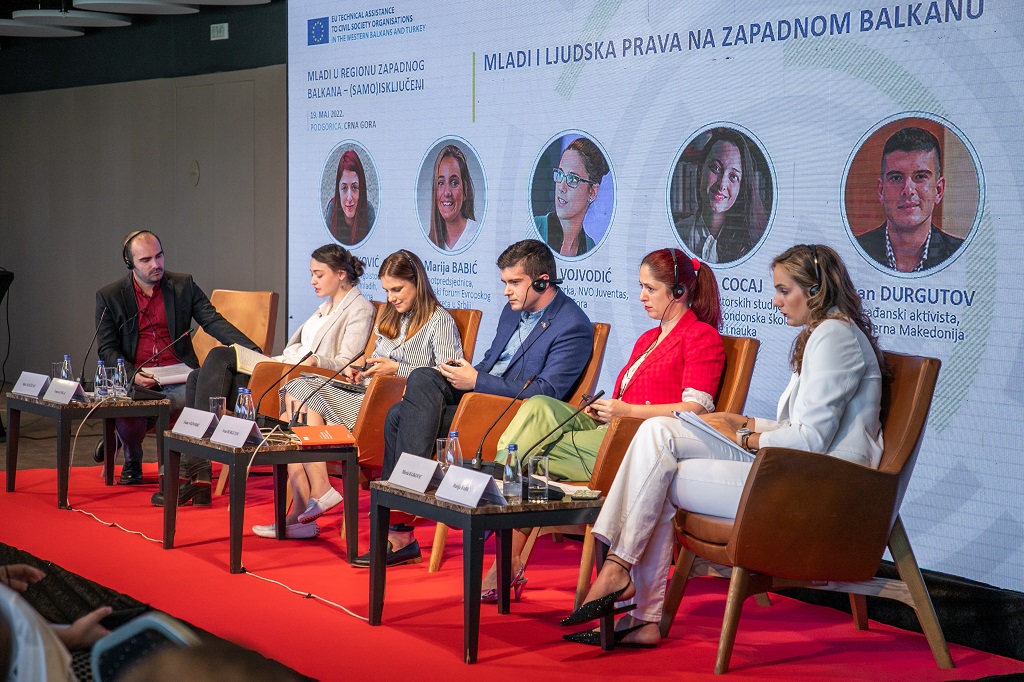 This was emphasized in the panels "Youth and Human Rights in the Western Balkans" and "Challenges in Education and Youth Employment in the Region", within the regional conference "Youth in the Western Balkans – (self)excluded", organised by the Centre for Civic Education (CCE) in cooperation with the TACSO Office for the Western Balkans and Turkey with the support of the European Union, as part of the contribution of marking the European Year of Youth.
Mirela Rajković, Executive Director of the Southeast European Youth Network in Bosnia and Herzegovina, said that it is often heard that young people should seek their place under the sun, to fight more to have their voices heard, but it is important, she added, to have in mind, that there is a part of their as well as the responsibility of adults.
"The best model of participation is the partnership of adults and youth. We need to give young people all the necessary information, to understand together the context in which a particular policy is created and to hear their voices. It is not only our goodwill, it is our obligation. Hence, it is theirs, but it is also our responsibility because we make decisions on their behalf", said Rajković.
Vice President of the Youth Forum of the European Movement in Serbia, Marija Babić, said that discrimination is most noticeable in the right to work, and education, but also in participation in some other spheres, noting that from the perspective of young people with disabilities the right to work is very difficult to reach.
"Higher education institutions do not recognize what types of support young people need. The laws stipulate how young people from certain marginalized groups enroll in higher education institutions, but higher education institutions refuse to provide those support systems, and it is necessary for the Government and the Commissioner for Citizen Protection to react", Babić explained.
The executive director of the NGO Juventas, Ivana Vojvodić, pointed out that poverty greatly worsens the risk of social exclusion. "We have data that one-third of children in Montenegro are at risk of poverty. The state invests, but reactively and insufficiently, and in rare situations we are talking about services that are sustainable and inclusive for young people at risk in terms of creating those services and assessing their quality", said Vojvodić.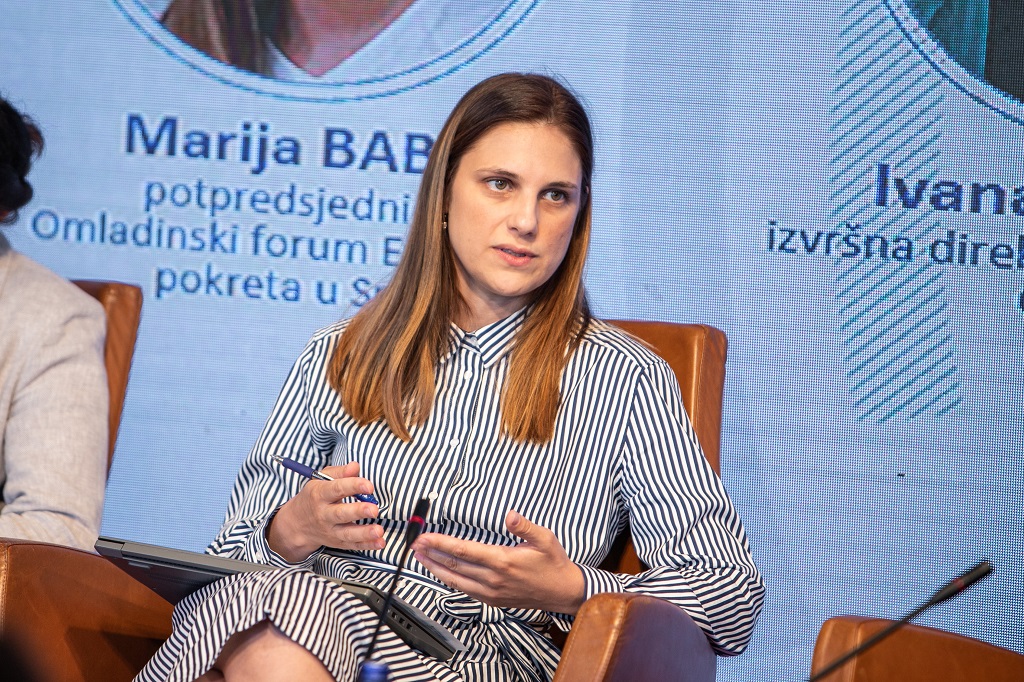 Researches, as she elaborated, indicate that verbal and sometimes physical violence is mostly directed at Roma, the LGBT population, but also at children and young people who look different physically. "A quarter of high school students were victims of physical violence at some point, and an even more significant number were victims of verbal violence in the school environment. Institutions are not yet working strategically enough, although we have good strategic documents for many areas. It is time to take responsibility and take the right action in this sense", Vojvodić said.
Venera Cocaj, a doctoral researcher at the European Institute of the London School of Economics and Science, said that youth is constantly expected to take society forward, but that this is not happening.
"Young people see the Balkans as a place where they cannot realize their dreams. Balkans are seen as a corrupt society, not only in politics, but there is also cultural nepotism, and young people appreciate that it is difficult to realize themselves there", said Cocaj.
Ivan Durgutov, a civic activist from Northern Macedonia, believes that everyone can be a creator and bearer of change.
"Some 150 thousand young people left Northern Macedonia in 19 years. It is one thing to have something on paper, and another thing to put it into practice. We do not just need to talk about things, we need to improve them, and there are many ways to move forward. As long as you have the will to change something in your environment, as long as you have the will to improve the living conditions in your country, you can consider yourself a young person. Let us not lose that spirit", Durgutov said.
During the discussion, the Deputy Protector of Human Rights and Freedoms, Snežana Mijušković, assessed that the state is left without children, without young people, and if 50 percent of young people want to leave Montenegro "then it is a great alarm for society to change something urgently." The President of the Youth Council of the Democratic Party of Socialists, Sonja Milatović, believes that young people should be sent a clear message that they have the right to an opinion, which includes an opinion on various social and political topics. Brajan Martić, from the URA Youth Forum, pointed out that the COVID19 left considerable consequences on mental health, especially of young people, without society being aware of it and not talking about it.
During the panel "Challenges in education and employment of young people in the region", professor at the Faculty of Political Science of the University of Sarajevo, Amer Osmić, pointed out that young people in Bosnia and Herzegovina are not looking for new cars, spaceships, the opportunity to study with the latest devices, but only life worthy of man.
"We have no perception that we can do something called a dual education system, something that will introduce a young person in the education process to a job that s/he will work tomorrow. We have lost 270 thousand young people in 10 years. There is no greater punishment for the state than for its citizen to turn her/his back on it and say – I do not want to live here. In B&H, over 67 percent of young people have a great desire to leave the country, and over 60 percent of them have already taken concrete steps to leave", Osmić pointed out.
He underlined that the population in B&H, and especially young people, are media illiterate, and that over 80 percent of them draw conclusions based on the read headline.
The coordinator of research activities at the Belgrade Open School, Aleksandra Đurović, indicated that there are differences in the activity rate and the employment rate between young women and men in the labour market.
"There are much bigger challenges that young people in rural areas sometimes face in this regard. Also, young people with disabilities and young people from certain national minorities have specific challenges they face. Not only are young people in problems related to accessing the labour market, but they remain in that situation for a very long time", said Đurović.
She pointed out that many young people work in precarious conditions, are involved in informal employment, with precarious contracts, have many overtime hours and experience discrimination.
Đurović noted that many institutions are doing something in terms of measures related to youth employment, but are not cooperating enough, which leads to some measures being duplicated, and a certain group of young people does not receive the need for support at all.
Era Sherifaj, project manager at Albania's Partners for Change and Development, assessed that youth participation in political processes is very low.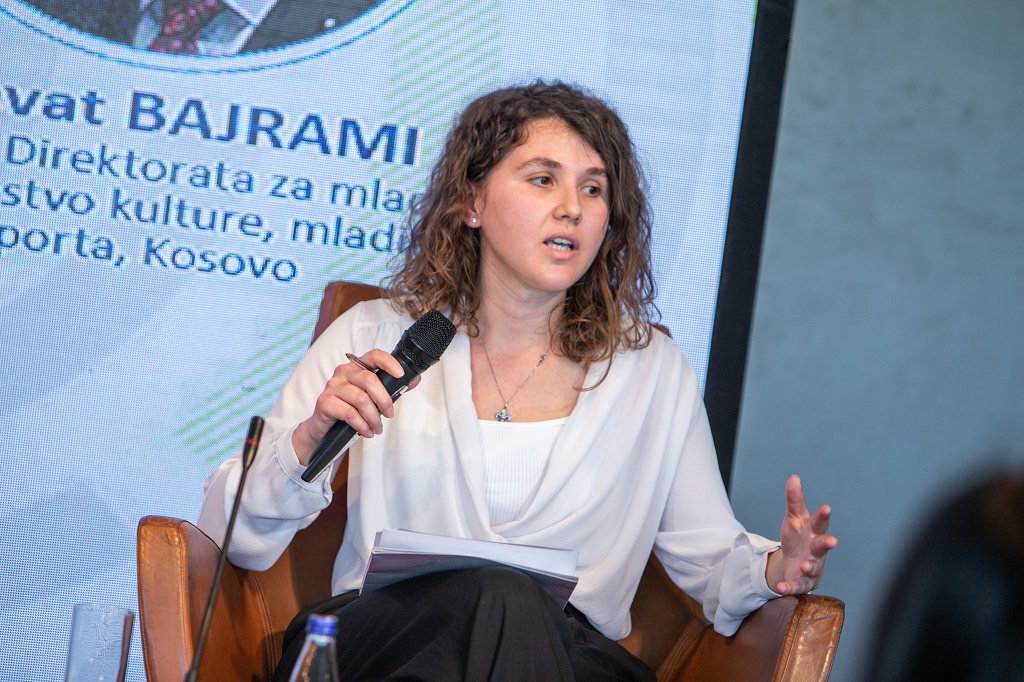 "The Government needs to understand the needs of young people and how it can engage them in political processes. Reports on the Western Balkans constantly highlight the issue of the quality of education. Brain drain is emerging across the Balkans. I also want to emphasize the absence of infrastructure, technology in education, as well as digitalization", said Sherifaj.
When it comes to youth employment, as she said, there are several challenges, and one of them is related to the poor education system and non-alignment of the teaching to the requirement of the labor market. "In the Western Balkans, 30 percent of young people are unemployed, and nine percent of them are in unemployment records for a longer time", Sherifaj stated.
Kristijan Orešković, project manager and programme associate of the Croatian Youth Network, said that although it is part of the EU, Croatia has no fewer challenges and problems than the countries in the region.
"We still do not have systemic Civic education. In Croatia, this issue is still politicized and classified into an ideological category. It is an ideological issue, but it is an issue of that ideology that we want to teach young people to think critically. If we have politically literate citizens, then we will have much more competent political leaders, because they will know that the citizens will call them accountable," Orešković said.
He believes that it is crucial to involve young people in all processes and ask them what they really need and what their priority is.
The director of the Youth Directorate at the Kosovo Ministry of Culture, Youth and Sports, Xhevat Bajrami, said that reports indicated that there is a large available workforce, which can meet market demands.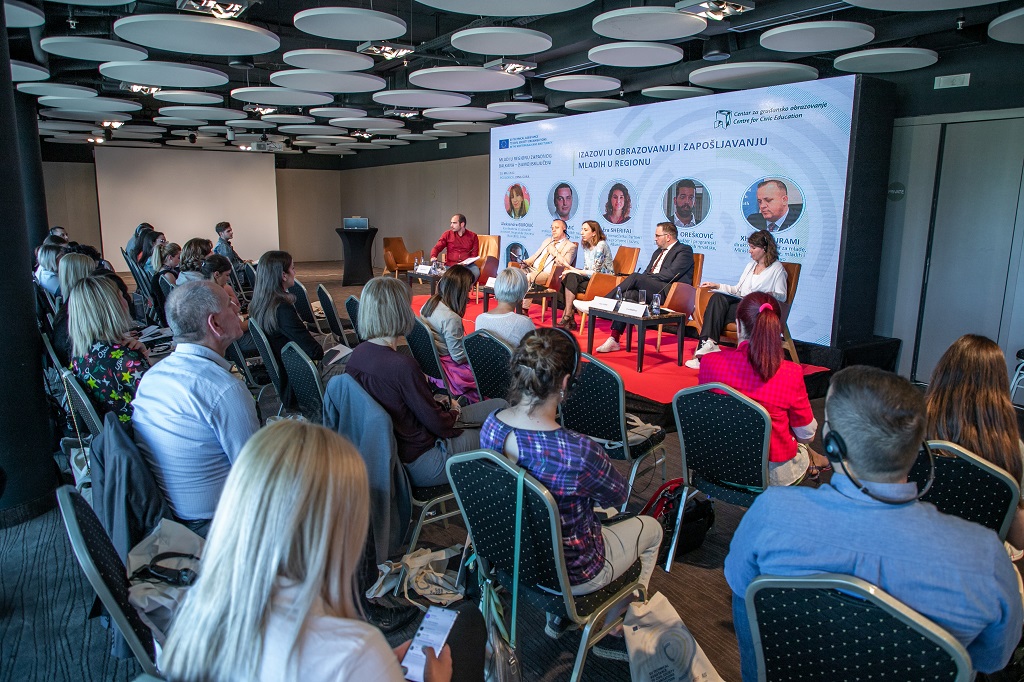 "We, in our Ministry, have been continuously engaged in supporting the youth, in order to implement specific projects. We have offered a programme of employment and non-formal education through various trainings for entrepreneurs to provide young people with the opportunity to turn innovative business ideas into reality. Every year, we finance about 200 business plans of young people, the value of which is about one million euros", said Bajrami.
PR press service