Similar or even the same key problems in the exercise of human rights in all three countries united activists, lawyers, researchers because all of them are led by the same motive and goal – to achieve full equality, tolerance, understanding and cooperation. The existing intolerance, inequality and still very distant justice in many cases are caused by undetermined or insufficiently empowered mechanisms for human rights protection, non-implementation of positive legal regulations and overall non-adequate response from the governments concerning violations of human rights.
Thus, the overall objective of this project is providing support to civil society organizations in three bordering Western Balkans countries in addressing common challenges in human rights abuse and networking in consolidation of political and legal solutions to these issues. More specifically, the project is focused on conducting activities in Serbia, Montenegro and Kosovo on topics of (1) improvement of LGBT community position and rights; (2) trial monitoring on discrimination cases, (3) empowerment of women in political and social life.
Within the project, at the meeting held in Belgrade in December 2012, the coalition of non-governmental organizations KORAK-HAPI-STEP was formed, as a mechanism for regional actions. At that meeting, the following representatives of 8 NGOs from Serbia, Montenegro and Kosovo, implementing this project with the support of European Commission, participated: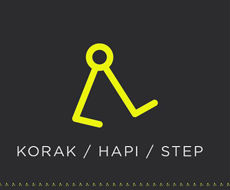 YUCOM – Lawyers Committee for Human Rights
Centre for Civic Education
Humanitarian Law Center Kosovo
Network of the Committees for Human Rights CHRIS
Gay Straight Alliance
LGBT Forum Progres
Belgrade Center for Human Rights
Youth Initiative for Human Rights Kosovo
Key activities of STEP:
Improving capacities of CSO through presentations and trainings – seminars on state of human rights of LGBT persons, participation of women in political and public life and trials for discrimination, as well as about the possibilities of founding civil society organization, together with project proposal drafting and project implementation;

Production of brochure in three languages on three key topics in the area of human rights which are the focus of the project;

Monitoring of the processing and court trials for determining discrimination on the basis of pre-designed methodology;

Forming three regional networks that will work on improvement of legislation and practice in key areas;

Cooperation with authorities in all three countries, meetings, panel-discussions, working together on developing three strategic documents for improvement of legal framework and practice;

Development of strategic documents for improvement of the position of LGBT people, equal participation of women in political and public life, and for an adequate response of the judiciary on frequent cases of discrimination;

Raising awareness on key endangered human rights in three countries through presentations in media, reports and web site (http://korak-hapi-step.eu), establishing three call-centres that will serve for citizens to report discrimination and other forms of human rights violations;

 Announcing the call and allocation of financial support to newly founded/small NGOs to carry out projects in three key areas;

Organizing three final regional conferences in Serbia, Montenegro and Kosovo;

 Conducting different studies in the field of protection against discrimination and protection of human rights, non-formal networking, media monitoring, monitoring of the state of affairs and response to human rights violations in the three countries;

 Expending the network that will fight against discrimination in the region.
Materials for the call for the support to CSO in Montenegro:
Call
Guidelines for Project Application
Application form
Budget template
If you want to see the supported proposal, please have a look into the summary.