XXVI generation of Democracy School, organized by the CCE with the support of Friedrich Ebert Stiftung, was solemnly awarded with diplomas. Participants who successfully completed the programme were awarded by Daliborka Uljarević, CCE Executive Director and Radovan Radonjić, PhD, School leader.
By awarding the diplomas, Daliborka Uljarević emphasised that "education is paramount for the development of democratic society of active citizens", but also that "a significant number of existing crisis in Montenegro are the result of lack of educated staff with integrity, as well as of knowledge and practice of advanced system of values". She expressed her belief that "precisely those citizens who work on self-improvement represent the potential and the opportunity for reforms and establishment of open society which would be based on rule of law, strong institutions and informed citizens willing and able to hold the decision-makers accountable for their decisions and actions".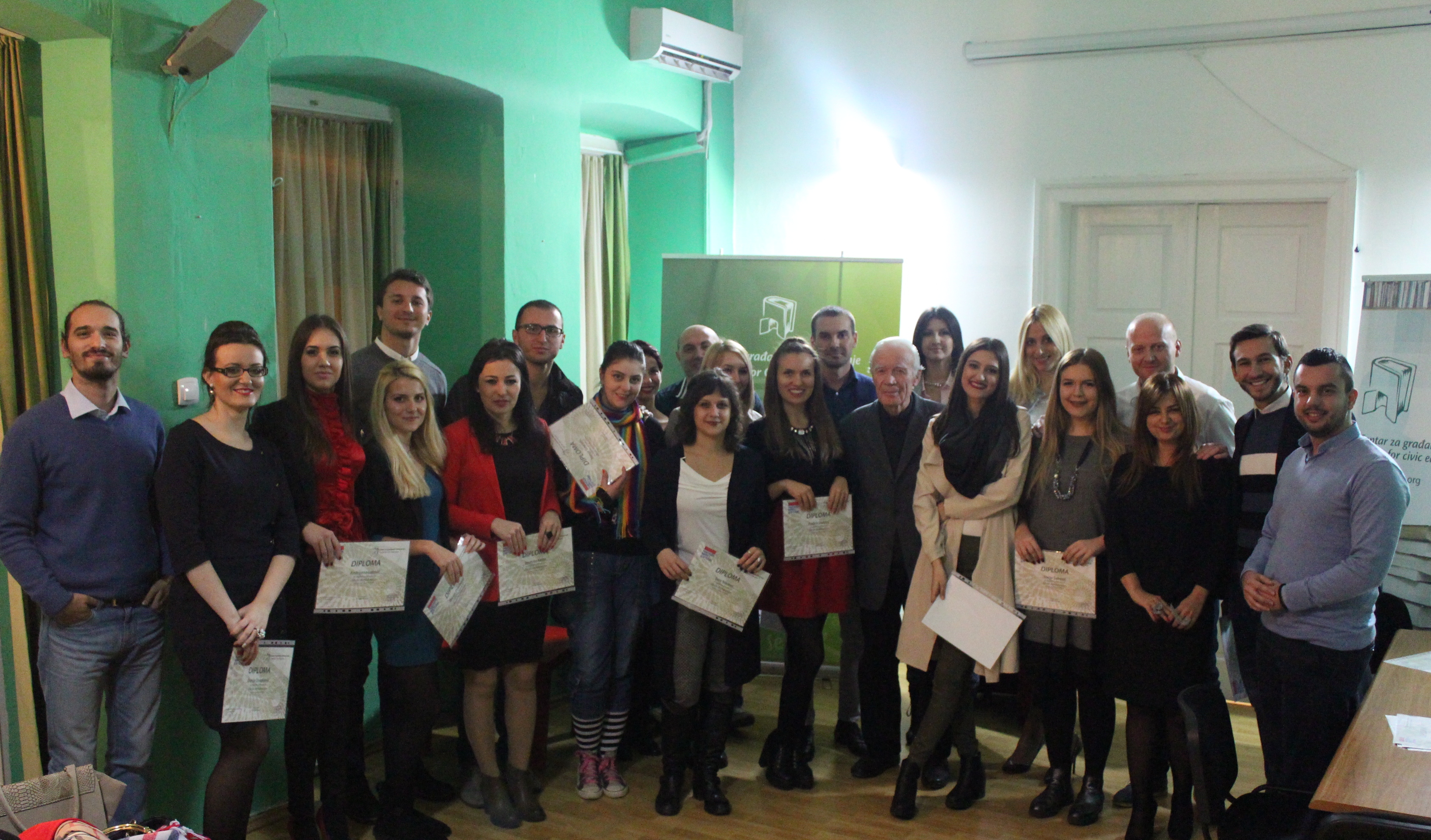 Radovan Radonjić, PhD, pointed out that the validity of Democracy School "has been confirmed by generations of its participants and with their contribution during the process of democratisation of Montenegro", and that if there were more schools like this, Montenegro would be "in somewhat better situation compared to current one".
Democracy School is dedicated to understanding of the idea of democracy and manner in which this idea is being applied. It teaches about theoretical knowledge, comparative practice, skills and abilities of implementation of democratic principles in everyday life, especially in political sphere. Programme of Democracy School is organised through five-month long series of sessions, in form of lectures, workshops, panel discussions, simulations, conferences, film screenings followed with discussions and etc.
XXVI generation of Democracy School was successfully completed by 24 participants from all over Montenegro, mostly representatives of political parties, government's institutions, media, NGO, students and other. Within this programme, they had the opportunity to attend the lectures of renowned domestic and foreign professors, representatives of legislative and executive power, NGO sector, journalists, independent institutions, diplomatic corps, etc. Diplomas were awarded to: Andrijana Lalović, Anđela Dulović, Bojana Popović, Bojana Zlatičanin, Darija Dragićević, Darja Šuković, Dragan Vukić, Goran Lalević, Ivan Glomazić, Jasmina Kačar, Ljiljana Lutovac, Marija Drašković, Marinko Barjaktarović, Milena Perošević, Mirjana Dašić, Nataša Pajović, Nemanja Vukićević, Nina Vukićević, Ognjen Marković, Radmila Krgović, Sara Nikčević, Vanja Gagović, Vuk Mašanović and Željko Mijović.
Continued interest for this programme, as well as the fact that this is the XXVI generation, encourage and prove that there are citizens in Montenegro willing to engage and to be active participants of ongoing processes, but also to work on their own capacity building. This programme was founded in 2003, and it has been successfully completed by 711 citizens from Montenegro so far. New generation is planned as of January 2016.

Svetlana Pešić, programme associate