Tonight, Centre for Civic Education (CCE) closed at 20h00 the sixth edition of FAST FORWARD Human Rights Film Festival 2015 with Montenegrin premiere of triple award winner of Cannes Film Festival – film "Son of Saul" and award ceremony for the affirmation of human rights and civic activism.
Daliborka Uljarević, CCE Executive Director, on the occasion of the Festival closing ceremony reminded that "we have had the opportunity during last five days to travel through the FAST FORWARD Human Rights Film Festival and witness and experience some of the stressful, yet motivating fortunes of heroes and heroines, by socializing and believing that human rights are the foundation of each open and democratic society". She underlined that "fight for human rights is universal, it has no boundaries, nor should it be prone to compromises. FAST FORWARD Human Rights Film Festival, magnified with its base of fans, supporters, activists, fighters for human rights, is not such a large space, but it has an important mission in Montenegrin society. We succeeded in making it present and visible, as well as to shook the xenophobic stereotypes by using film as a mean of influence and education, constantly aware of the fact that without the continuous education and various forms of exchange of experience there can be no progress, education, maturity of individuals and society, nor human values and open heart", Uljarević added.
Prior to the final screening, Uljarević awarded this year's awards for the affirmation of human rights and civic activism.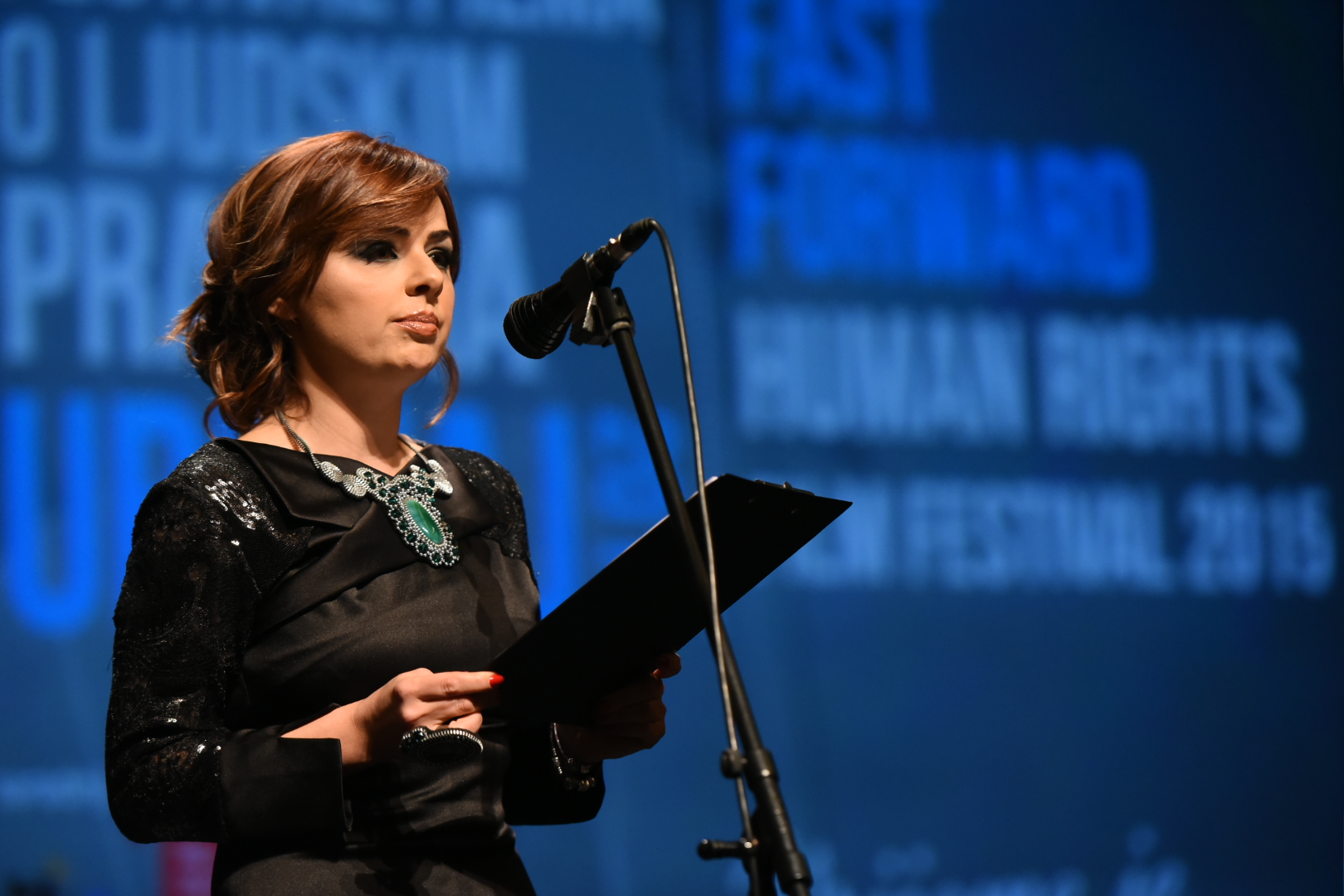 In the category of organisations, the award went to weekly "Monitor". In the explantion, Uljarević stated that: «Monitor is a word which personifies the resistance to war, suffering and abuse of arrogant and irresponsible government of dynamic Montenegrin history in previous quarter of century. Monitor is a powerful Montenegrin story which led Montenegrin society to concept of freedom of speech, by fighting for civic and democratic values, against xenophobia and nationalism, against the corruption and organised crime, by raising important, hurtful and often "forbidden" questions, by reprimanding and unpleasantly witnessing. This year, Monitor humbly marked its 25 years of existence, by continuing to provoke and alert the public by reporting on not so pink topics thst colour our lives, by fearlessly questioning dominant project of powers. Weekly, it continues to remind us on that we must endure and persevere in the fight for the establishment of modern and democratic society». Milka Tadić Mijović, executive director, and Esad Kočan, editor in chief, received the award on the behalf of the Monitor.
While elaborating on the award in the category of individuals, Uljarević stated: "Three of them are so different that you could hardly find them in one story under the expected circumstances of society. However, our reality is all but not expected, and our society has yet to prosper in order to regulate itself. They were brought together by a horrible tragedy which scarred them for life. They have been further strengthened by the courage to endure in the situation where many before them backed down, by the boldness to tackle this rotten system which endangered their closest, by the resistance not to give up in the fight for justice in spite of the countless pressures they were suffering, as well as by the strength to remain by each other's side. I know that they do not feel like winners. They even told me that they find it uncomfortable that people see their deed as something worth to be rewarded, because, in their own words "they did only what they felt was right to do in order to be able to look into their children's eyes." The case of babies from Bijelo Polje is a reflection of harsh reality, which depicts better than anything the extent of unconcern and irresponsibility of decision-makers for citizens. The case of fathers of babies, who were prepared to sacrifice themselves in order to finagle much needed accountability, should serve as a role model for each citizen of Montenegro in their own fight for human rights", Uljarević concluded and awarded Slaviša Knežević, Eldin Salemović and Predrag Karišik from Bijelo Polje, with an appeal to all to monitor their fight until justice is served.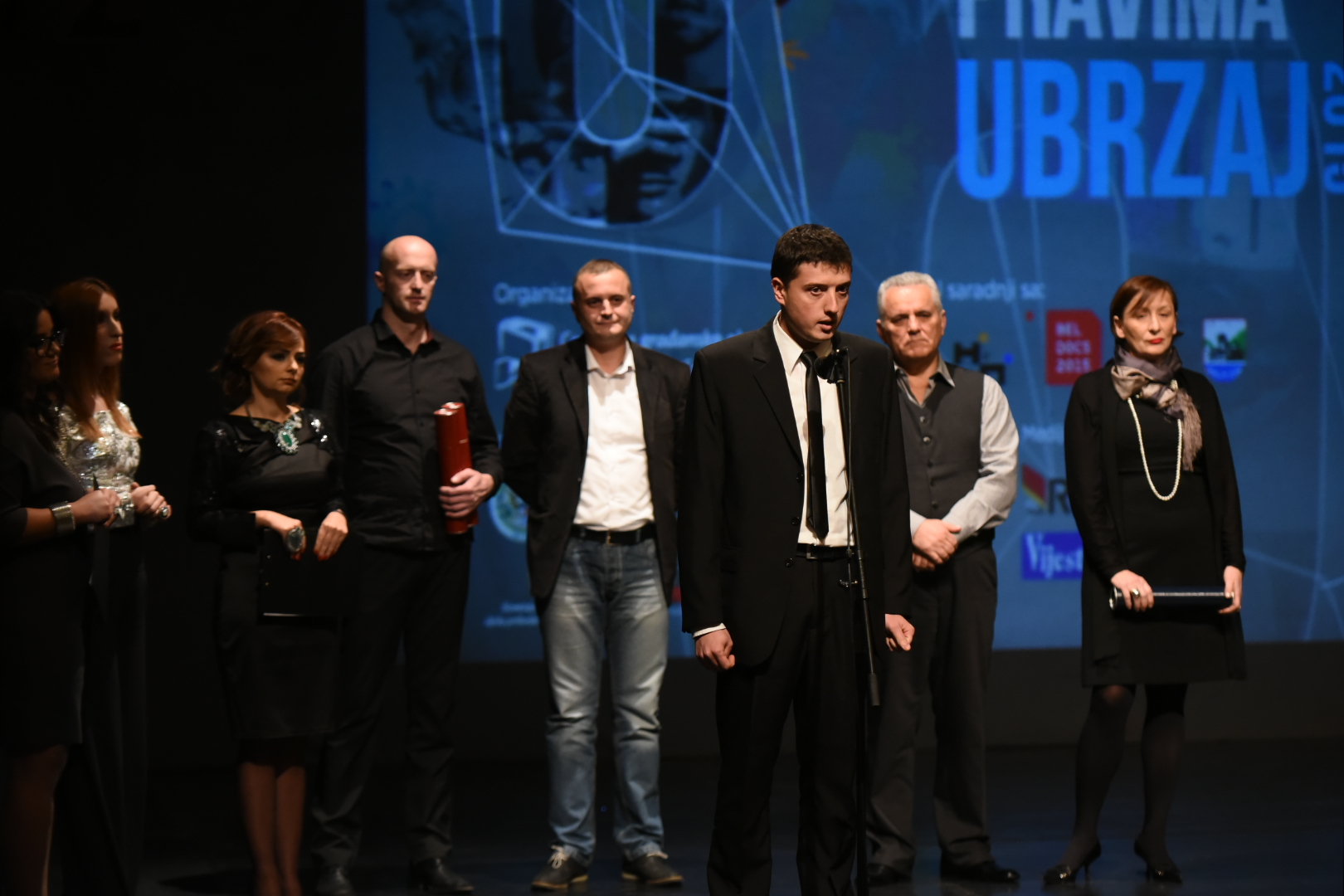 Annual awards are one of the characteristics of Festival which aim to identify and bolster those who provide selfless efforts to better the Montenegrin society and avoid questioning the integrality of human rights.
The award ceremony was e followed with the premiere of eleventh and last film of this year's Festival, Son of Saul by Hungarian director László Nemes. The film tells the story of Saul Ausländer, Hungarian-Jewish, who works as a member of Sonderkommando group in concentration camp Auschwitz. Task of this group is to burn the bodies. One day, he comes across a body of a boy he takes for his son and tries to carry out the impossible – to salvage his body and to find a rabbi to bury him. In the meantime, other members of the group learn about the imminent plan of their extermination, rise up and destroy the crematorium. On the other side, Saul stays focused on his plan to pay the last honours to a son he never could take care of before.
Even though this is a movie of latest production (from 2015), Son of Saul was screened on more than 30 festivals and already won numerous prestigious awards in different categories. Hence, it won the FIPRESCI award at Cannes Film Festival, Great jury award and Volcano award for technical accomplishments. This film triumphed in our region as well, and won the Golden Pram award at the Zagreb Film Festival for the best movie in 2015, and Sarajevo Film Festival awarded the same award. More about the film is available at http://www.ubrzaj.me/index.php/sr/program-cnp/saulov-sin, and trailer is available at https://www.youtube.com/watch?v=sWQTfbXLTHQ .
Sixth edition of FAST FORWARD Human Rights Film Festival was also marked by guest appearance of Zvonimir Jurić, Croatian director, and Damir Nikšić, conceptual artist from Sarajevo, as well as by the short editions of Festival in Kotor, in Kino Boka, and in Berane, in the Hall of Municipal Assembly.
FAST FORWARD 2015 was held from 11 to 15 December 2015 in Podgorica in Montenegrin National Theatre (CNP), while the short editions were held in Kotor in PI "Nikola Đurković" on 12 and 13 December, and in Berane in the hall of Municipal Assembly on 13 and 14 December.
Festival was implemented with the support of US Embassy, Embassy of Canada, Commission for the allocation of part of the revenue from games of chance of Government of Montenegro, as well as the prestigious Movie that matters (this is the first time it has supported this type of project in Montenegro). Partners of the Festival are Montenegrin National Theatre (CNP), Beldocs, public broadcaster RTCG (TV and Portal), Vijesti (newspapers and portal), Cultural centre «Nikola Đurković» from Kotor, municipality of Berane, as well as the companies Montepano, Studio Mouse and Compania de Vinos Montenegro.
Svetlana Pešić, programme associate