Centre for Civic Education (CCE), through the assessment of the public funds allocated to finance the work of non-governmental organisations and political parties, discovered staggering disproportions in the approach to these key subjects of participative democracy in Montenegro.
Montenegro has 3,808 non-governmental organisations and foundations, which received 9.214.330.68 € during the period 2013 – 2015 for various project activities, which is significantly lower compared to funds that are allocated for NGOs in the region and EU member states.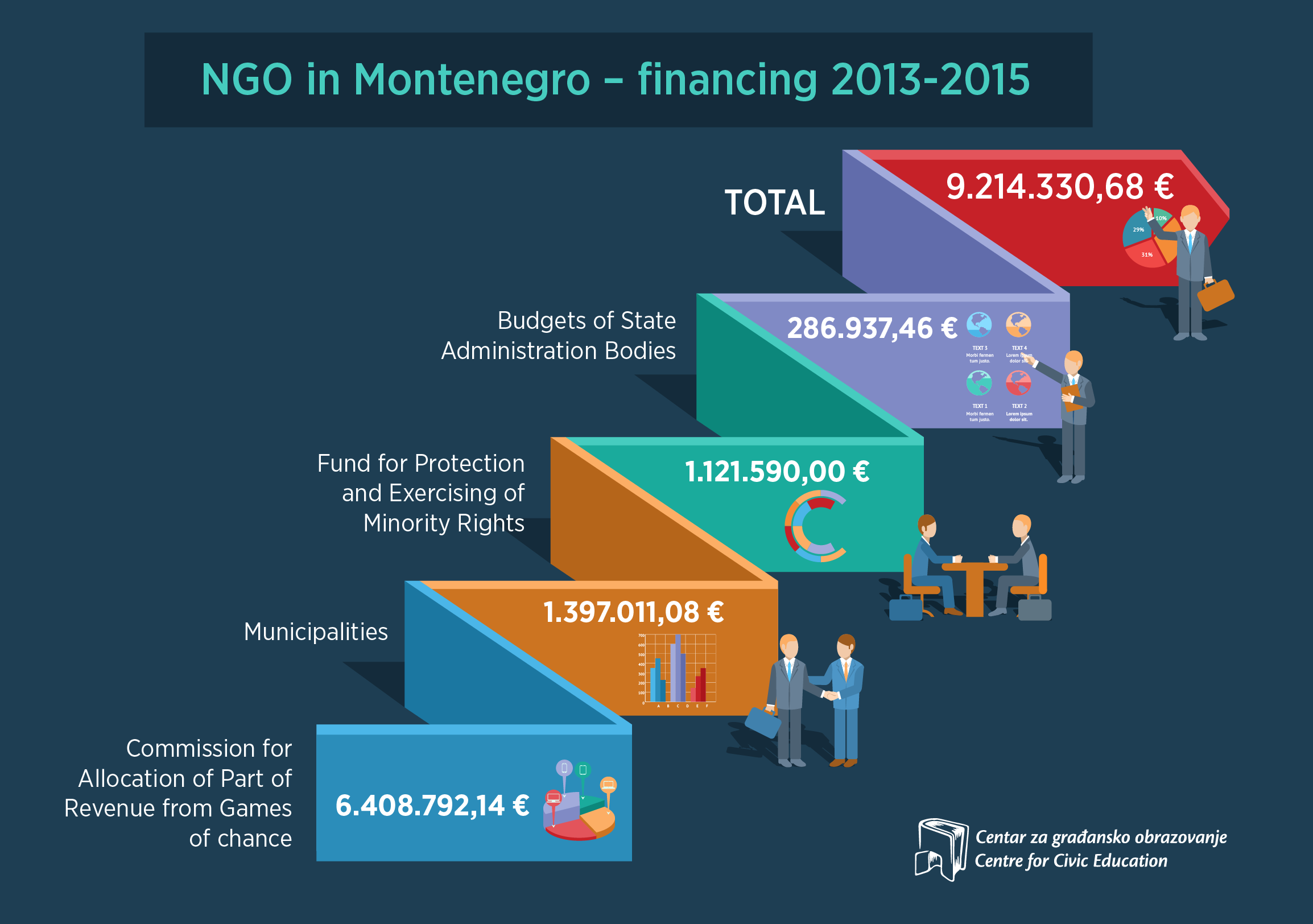 In general, NGOs received their funds mainly through the competitions of Commission for Allocation of Part of Revenue from Games of Chance, namely 6.408.792.14 € for 1,354 projects (4 733.22 € in average per supported project). Additionally, Fund for the Protection and Exercising of Minority Rights supported the NGOs through its competitions in the amount of 1.121.590.00 €.
Local self-governments (excluding Andrijevica, Gusinje, Herceg Novi, Plav and Ulcinj for which there are no information available) allocated 1.397.011,08 € during those three years, whereby one can notice a drastic decrease in the amount of those funds on annual level. Thirteen ministries (Ministry of Labour and Social Welfare, Ministry of Education and Ministry of Finances did not respond based on the free access to information request) allocated 286.937,46 € for NGOs during those three years. Finally, Commission for Allocation of Funds to Non-governmental Organisations of Government of Montenegro has not been formed even four years after the Law on Non-Governmental Organisations came into force, which left the NGOs deprived of their funds on that basis.
Montenegro has 60 political parties, out of which 47 are active, while ten has the status of parliamentary political party, and during those three years, they received 23.942.836.65€.
Regular work of parliamentary parties is financed from the Budget of Montenegro in the amount of 0.6% of current budget, or 1.1% of current budget on local level, which is also the highest percentage of allocation for political parties in region, as well as in many EU member states. More precisely, 11.798.621,20 € were allocated from the Budget of Montenegro in previous three years to political parties on national level, while 4.208.365.08 € were allocated from the budget of local self-governments, 878, 050 € for the lease of business premises, and 7.057.800 € for the work of parliamentary clubs and MPs. This figure does not include the cost of election campaigns. Moreover, 1.929.731,85 € will be allocated to political parties to finance election campaigns during the regular parliamentary elections scheduled for 2016.

When further analysed, we come to the data that the cost of a single MP for Montenegrin citizens during previous three years amounted 64.556,04 € annually.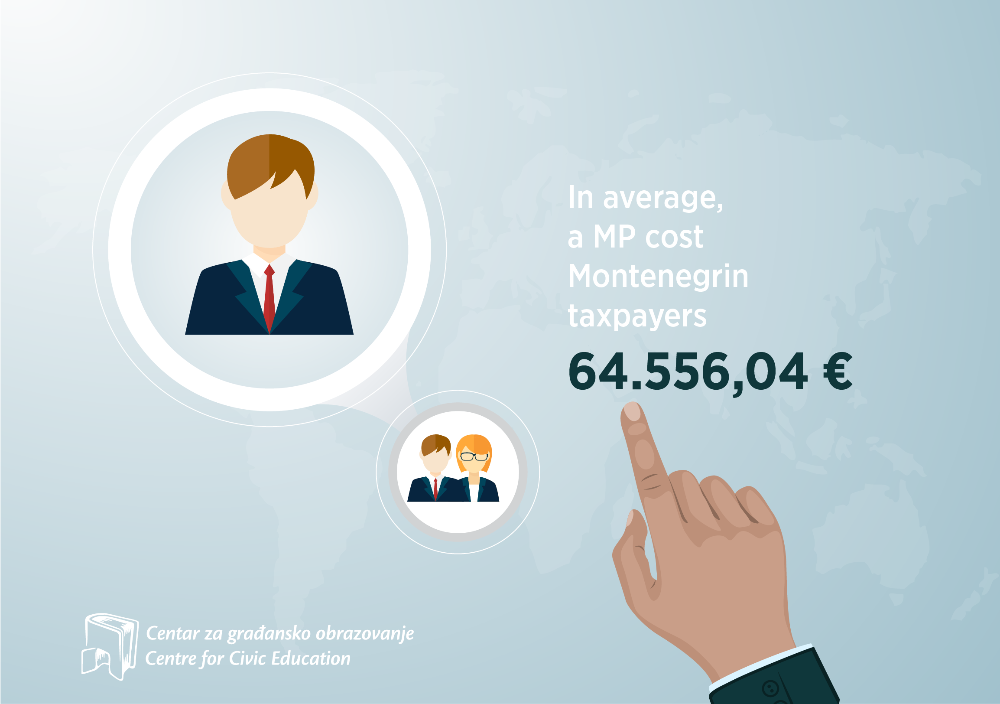 It is also evident the increase in the amount of funds allocated annually for the work of political parties, and a decrease in the amount of funds for NGOs, which was not accompanied with adequate explanation. Hence, it is necessary to determine a precise annual percentage of allocation from the Budget of Montenegro (at least 1% of current budget, proposal of NGO Coalition Through Cooperation to Aim) for non-governmental organisations, like it was done in the case of political parties, which would improve the autonomy of sector and its financial sustainability.