Centre for Civic Education (CCE) today presented the results of monitoring report Pre-election prism of TVCG – monitoring of the news programme of public broadcaster TVCG during the pre-election campaign for parliamentary elections and local elections in Andrijevica, Budva, Gusinje and Kotor 2016.
During the introduction, Svetlana Pešić, programme associate at the CCE, pointed out that "main objective of report was to inform the public on the RTCG reporting during the pre-election campaign and to boost the discussion on the objectivity and quality of reporting on TVCG as the service of all citizens of Montenegro. Furthermore, the aim was to underline the need to innovate the current elections coverage." Pešić clarified: "Monitoring report provides an overview of representation of political actors in analysed period on public broadcaster, namely on TVCG, as well as the manner of presentation of actors within key news programmes during the pre-election period and election silence, through the amount of time, context, tone, topics in focus and respect of Code of journalists, as well as of legislation related to elections and media".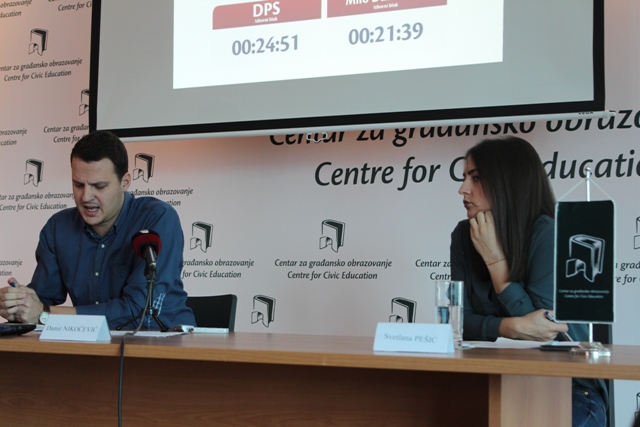 "Subject of analysis was central news programme DNEVNIK 2, as well as the special programmes – Interview, Debate with representatives of lists for 2016 parliamentary elections, Debate with representatives of lists for 2016 local elections in Andrijevica, Budva, Gusinje and Kotor. In addition, CCE's team monitored the programmes Accents and SOS Line, but they were not included in final analysis because they did not involve electoral actors in this period. Additionally, analysis does not include the show Presentation of programme, parties and coalitions, because that one was deprived of any sort of editorial intervention", added Pešić.
Pešić reflected on legislative framework by noting that this area is thoroughly regulated by law.
Damir Nikočević, CCE Development coordinator, thoroughly elaborated findings in the part related to Dnevnik 2, by assessing that "DPS had conceivably greatest amount of space on RTCG out of the total of time allocated for election lists and candidates for MPs (01:58:39), mostly thanks to representatives of executive authorities, who were also the candidates for MPs. Next is Grand Coalition Key (01:14:09), with more than a half hour more compared to the strongest oppositional parliamentary subject DF, primarily because of the minister Goran Danilović who often appeared as actor on Dnevnik 2, then Social Democrats (00:45:29), also thanks to their representatives in the Government, Democratic Front (00:39:49) and Positive Montenegro (00:38:48), followed by SDP (00:32:02) and Democrats (00:31:20). Least represented parties on Dnevnik 2, out of the election lists which gained their parliamentary status, were the minority parties and coalitions – Croatian Civic Initiative (00:11:40), Bosniak Party (00:10:26) and coalition "Albanians decisively" (00:08:41)". Nikočević noted that "there was some progress in terms of the pre-election reporting, but that the findings still indicate on indirect preferential treatment of ruling option which cannot be in the interest of RTCG as public broadcaster which should act as the source of information for all citizens regardless of their political affiliation".
Nikočević emphasised: "The disproportion in the representation of electoral actors on Dnevnik 2 is enormous, primarily because of the fact that the candidates for MPs of ruling parties are also the officials of executive authorities. We in CCE believe that the editorial board should carefully consider the approach in those situations during the pre-election period because apparently great number of events has been set and timed for the promotion during the pre-election period, while the critical review on the same has lacked. For instance, Prime Minister Đukanović's visit to miners, which did not take place in previous two – non-election-years, whereby he only addressed congratulations to management and employees. This is clearly an indirect political marketing for the ruling party. One second of broadcasted political and economic marketing is not identical, and considering that Dnevnik is 2 broadcasted in prime time when the majority of viewers are watching TV, this does not come as a small favour of public broadcaster to the authorities", estimated Nikočević.
"Oppositional representatives in the Government of Election Trust did not receive an equal treatment, like their colleagues from DPS, Social Democrats and Positive Montenegro. More specifically, on Dnevnik 2, we didn't have a single appearance by the Minister of Finances and SDP's candidate for MP, except in election block. Simultaneously, we noted three instances of journalists' imbalance with regard to Minister of the Interior and candidate for MP of coalition Key, Goran Danilović, which can indicate on editorial policy of Dnevnik 2. It is encouraging that this is, after all, smaller percentage compared to neutral reporting on the same minister", Nikočević stated.
He added that CCE's team noticed some cases of partial refusal to broadcast the video footage from DF's rallies, with an explanation that they were not able to broadcast the coverage overwhelmed with language of insults. At the same time, originally it was stopped, then after the decision of RTCG Council and Agency for electronic media, they approved the broadcast of promotional video of Democrats. "Such examples indicate on the need of adopting clear and uniformed rules in order to prevent similar cases from happening in the future", Nikočević pointed out.
As he pointed out, "current forms of debates are deprived of any editorial intervention, and from the aspect of viewers, they are often tiresome and monotone considering the strict keeping within the timeframes prescribed by previously adopted rules of RTCG, without the possibility for the hosts to tie in through additional questions opened by the debate, thereby reminding that this would imply the strengthening of capacities of informative redaction of RTCG in order to ensure professional and balanced approach to key actors".

Nonetheless, some positive examples are also noted: "Decision of RTCG Council to issue an apology to candidate for MP Marta Šćepanović, after representative of oppositional DF, Marko Milačić, directly handed her the handcuffs for the lead candidate of party of her affiliation, during the show Debate represents a positive example. Also, most positive and most balanced example of an approach, was noted during the debates for local elections where journalist Saša Klikovac correctly, and in line with rules, hosted all four shows", Nikočević clarified.

"Finally, despite the said deficiencies, the progress was noted in the manner of pre-election reporting of public broadcaster, which can come as a result of fact that the editorial board was changed just before the elections, as well as that there was expert assistance through the engagement of Tomislav Špoljar from HRT", Nikočević concluded.
Report Pre-election prism of RTCG is part of the activities of Centre for Civic Education (CCE) within the programme Media and democracy. Duško Vuković, journalist, provided the important advisory support to CCE's team during the design of methodology and quality assurance, to whom CCE owes special gratitude for that.
Mina Kalezić, programme assistant