Centre for Civic Education (CCE), in partnership with agency Represent Communications and Human Resources Management Authority, has launched the project "Knowledge and skills for jobs", in order to contribute to solving the problem of unemployment of graduates. Project is comprised of two segments: non-formal capacity building programme, during which the candidates will obtain specific knowledge and skills and three-month long programme of paid practice.
This programme is opened for young unemployed graduated from Montenegro. Deadline for application is 15 March 2017. Candidates can apply by completing the application form which can be found on the site of CCE: https://cgo-cce.org/.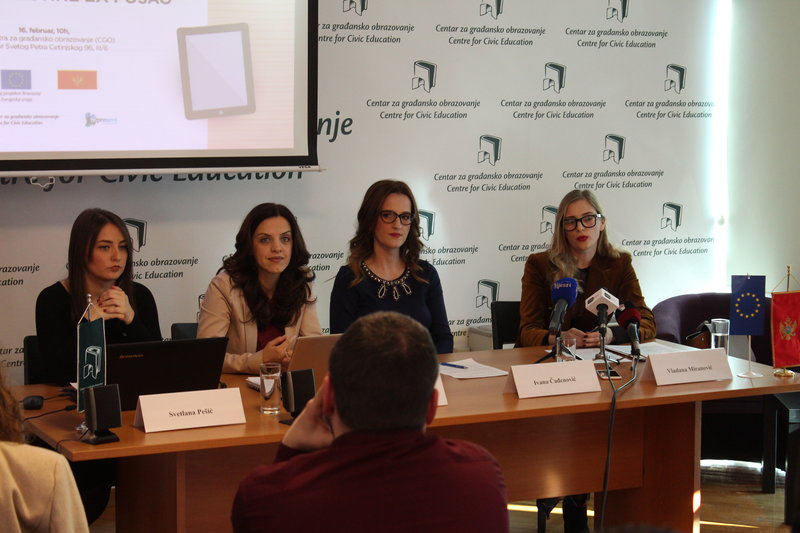 "Main advantage of this programme is the acquisition of missing knowledge and skills, through training of candidates in three areas: communication, writing and management of projects financed through EU funds and policy proposals development. Upon the completed training, selected candidates will be able to apply the lessons learned by working with the employers who match their profile, in four sectors – public administration, media, companies and NGO sector. We will dedicate special attention to matching the right candidates and employers", told Snežana Kaluđerović, programme coordinator at CCE, during the press conference. She invited interested graduates to apply statting that through this project they may be able to make first step towards future successful professional career.
University degree opens the door for an interview with the employer, but the skills are most often deciding factor when it comes to employment. Representatives of agency Represent Communications, largest agency for integrated communications in Montenegro, will educate the participants on the communication skills, problem solving and teamwork. "Our task in this project will be to help graduates master the communication skills through series of trainings, which will give them the opportunity to best display their identity and potential and thus impose themselves as first choice to future employers", told Ivana Čađenović, executive director at Represent Communications.
Human Resources Management Authority will mediate in the provision of practice to 20 graduates in state administration bodies. "Human Resources Management Authority will participate in monitoring, and we will also work on the mentorship of state servants who will teach young people and monitor their work during the three-month long practice. We believe that the results will be positive, and I hereby call every graduate to apply because this project provides an excellent opportunity for them to obtain knowledge and skills", stated Vladana Miranović, Head of the Sector for Advertising in the Human Resources Management Authority.

Nowadays, according to official data, there are over 10.9 thousand unemployed graduates on labour market. Out of that number, 340 hold Master's degree and 11 have Doctoral degree, and they still struggle to find a job. Within the project "Knowledge and skills for jobs", 60 candidates from the entire country – (40) candidates from Central and Southern region and 20 candidates from Northern – will have the opportunity to acquire the necessary skills and apply them in practice, and thus become considerably more competitive candidates for future job opportunities.
Project is financed by European Union through the Directorate for Finance and Contracting of the EU Assistance Funds (CFCU) of Ministry of Finances. Project was supported within the donor programme "Young people, women and long-term unemployed in the labour market", through broader framework of Active measure of work for employability (Operational Programme Human Resources Development 2012-2013), with Ministry of Labour and Social Welfare as its main beneficiary.
Svetlana Pešić, Programme Associate