Centre for Civic Education (CCE) expressed satisfaction, on the occasion of announcement of Government of Montenegro, signed by the Public Relations Service, due to the fact that Government decided to open a dialogue about an important segment of European integration – legitimacy of this process reflected through the public support.
Also, CCE would like to thank the Government on this rather unplanned but unambiguous acknowledgement of CCE's influence, through the exercised effort to try to deny part of the allegations which Daliborka Uljarević, CCE Executive director, made during the show «Direktno» on TV Vijesti. It should be noted that these allegations were made in the presence of high state official who did not try to denounce them during the entire show.
Simultaneously, it is hard to neglect the impression that cause and manner of this reaction are not a good indicator of and Government's capacity for dialogue and openness in relation to NGOs as partners in this process, when those NGOs have a critical approach.
CCE Executive director did not polemicize with the EU Delegation, but with Government of Montenegro which had its representative, so there is no need for Government to involve other actors in its reaction.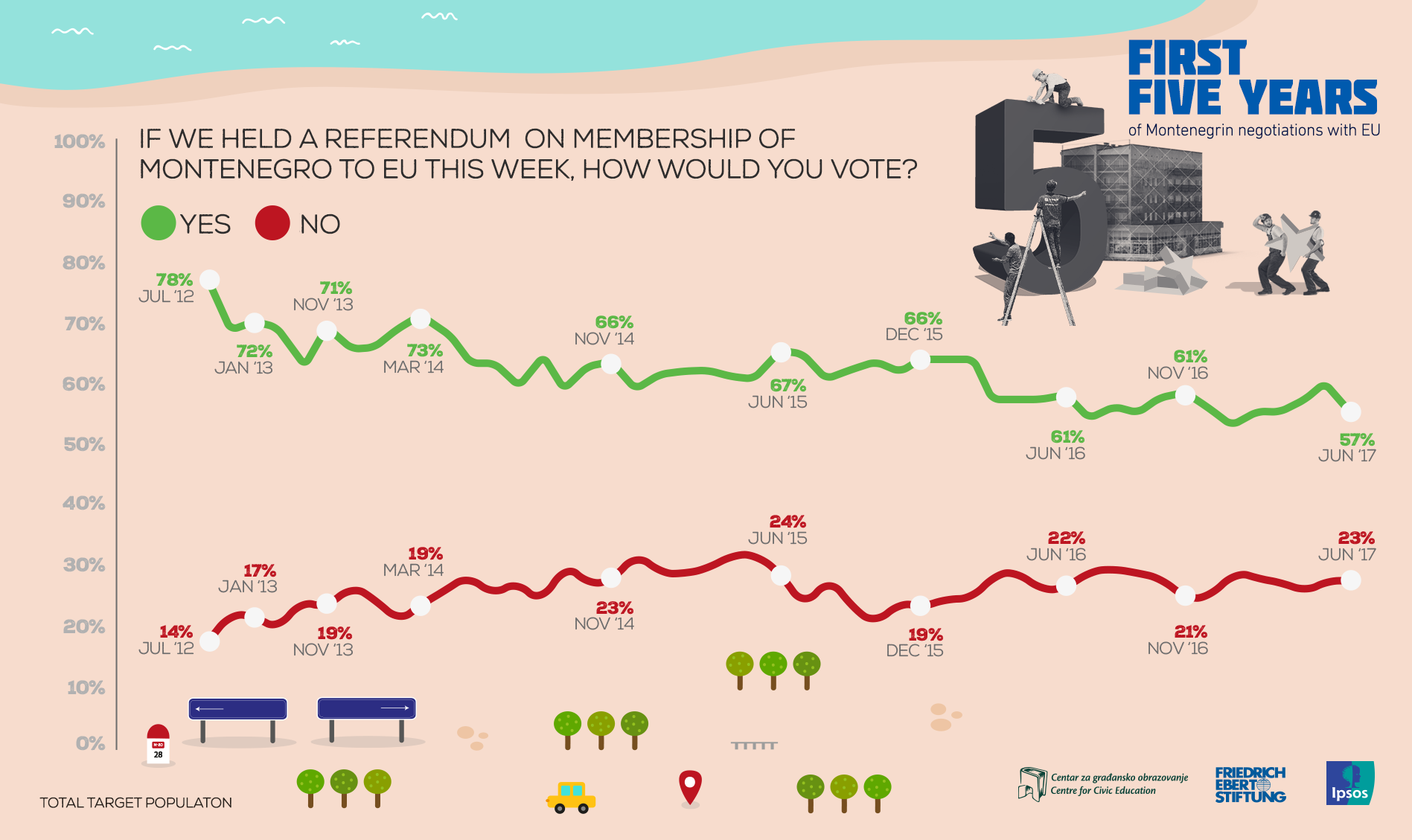 CCE documented the trend of public's support, during the period 2012 to June 2017 (courtesy of internationally renowned Ipsos Public Opinion Research Agency) for the purposes of drafting the study related to first five years of Montenegrin negotiations with the EU. This trend relates to question "If we held a referendum on membership of Montenegro to EU this week, how would you vote?", and answer in total population varied throughout these years, starting from 78% in July 2012 to 57% in June 2017. These data were presented during a recently held conference of CCE and FES.
In addition, these data do not vary much from CEDEM's research publicised today, which also monitored this trend, and according to which the support to EU amounts 56.1% . (1)
In its reaction, the Government also did not denounce that total support dropped below 60% even six months ago. Namely, that support amounted 59.9%, based on the research of local agency hired to do the research and media reported on this fact during the presentation of that report, which is presented in Government's graph.
For the purposes of accuracy, the percentage of opinionated people relates to those who had clearly formed opinion in given moment, while at least a third of interviewed citizens was excluded. Those "non-opinionated citizens" should be in the focus of everyone whose task is to ensure objective and clear informing for the citizens of Montenegro on the accession process and try to strengthen their support, which has not been the case when it comes to authorities' communication approach. This cannot be masked by different approaches in the interpretation of data, or most importantly, make things really change for the better.
It remains unclear why Government lately decided to refer to percentages compared to the number of opinionated instead of the entire population, as it was done previously. CCE estimates that the view through complete population is a more useful presentation which enables us to improve the communication of European integration with the broadest part of the population.
Those factors that limit the success of negotiations and to which CCE indicated – lack of political will, lack of capacities and the unwillingness to make the process more inclusive, as well as the lack of transparency and effective process of communication with citizens – reflect in this reaction and all that which initially preceded it.
(1) CEDEM, public research opinion June 2017, slides 16 and 17
http://cedem.me/images/jDownloads_new/CEDEM%20Jun%202017%20-%20istrazivanje.pdf
Svetlana Pešić, programme associate/PR