Centre for Civic Education (CCE)
is announcing an ADVERTISEMENT for participants of
YOUTH ACTIVISM SCHOOL
– the school for learning about activism from theory to practice –
If you are a high school student and you want to become an active citizen, to promote democratic values, to expand your knowledge and to exchange your experiences with peers in Montenegro, which are as you ready to express their standpoint and to take part in problem-solving – the Youth Activism School is the programme for you!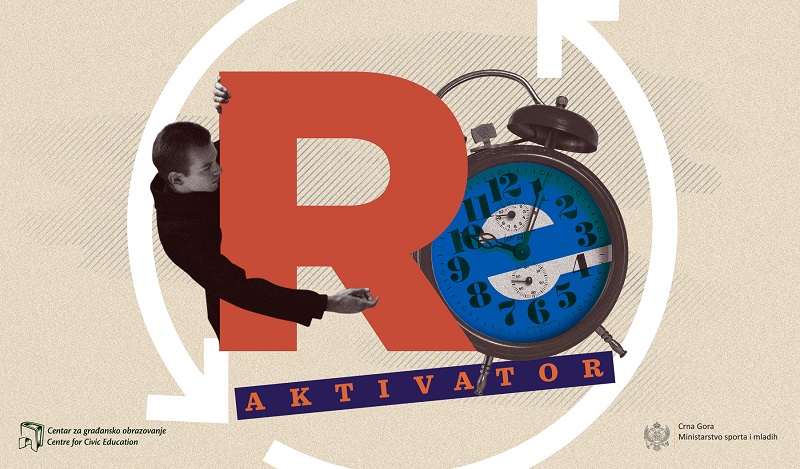 The goal of the Youth Activism School is to advance the understanding of the principles of citizenship and civic activism within high school pupils from the territory of entire Montenegro, as well as to strengthen their motivation and skills for further participation in the policy shaping and decision making processes that have direct influence on them.
The Youth Activism School offers to young people a dynamic and intense four-day programme which includes lectures, workshops, simulations, film screenings and visits to institutions in order to teach them about open society and societal change. We will present the concepts of citizen, democracy, tolerance, activism and public policies; we will be learning how to position the questions of importance to youth and how young people can fight for their spot within society; we will practice the communication and public relations mechanisms, as well as advocacy for human rights.
After completing the School, the participants will get a diploma and will be eligible further specialization. Additionally, the participants of the School will be empowered to convert their own ideas into specific actions directed at promotion of youth activism and volunteerism as models of participation in the decision-making processes.
Who can apply for the Youth Activism School?
Regular high school students from the area of Montenegro.
How to apply for the Youth Activism School?
By filling in the application and then sending the application to e-mail address info@cgo-cce.org with the subject "For the Youth Activism School".
The deadline for the application is 21 February 2020 at midnight!
If you have any questions please feel free to contact us at  info@cgo-cce.orgor via telephone 020 228 479.
The Youth Activism School is free of charge for the selected participants, i.e. the costs of travel, food, accommodation, organisation of lectures and other activities related to the programme are covered by the CCE, within the framework of the project (RE)activator supported by the Ministry of Sports and Youth.