Today, five students completed their four-month paid internship in media and media organizations, within the framework of the project "Facts matter – for the media we deserve", implemented by the Centre for Civic Education (CCE) with the support of the Embassy of the Kingdom of the Netherlands.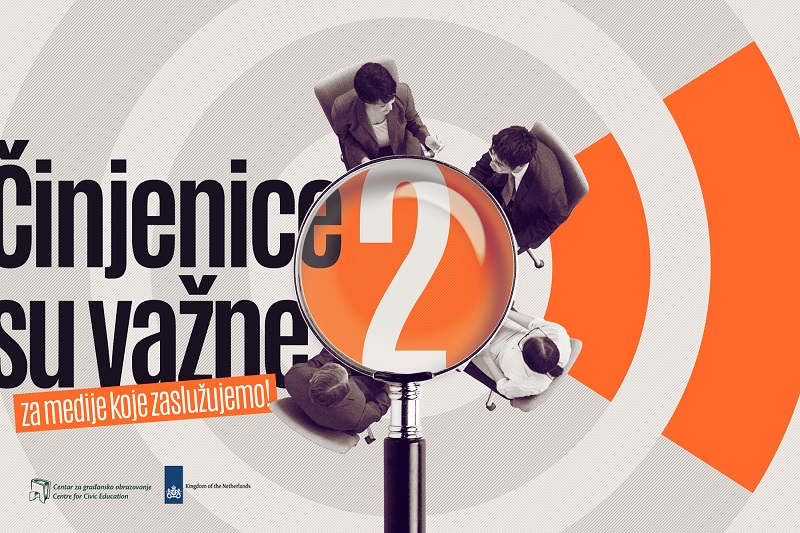 Hence, Marija Krivokapić, Nikolina Tomović, Ana Burić, Željka Zvicer and Damir Suljević had the opportunity to gain valuable experience from 15 March to 15 July 2020, while providing a personal contribution to the work of TV Vijesti, portal Vijesti, Center for Investigative Journalism of Montenegro (CIN CG), radio and portal Antena M and CCE.
Internship preceded the Media Literacy Forum, during February this year, which was attended by 20 young people. Based on the commitment and interest during this three-day intensive programme, five participants were selected and offered a three-month internship, which was later, to mutual satisfaction, extended for one more month.
The period of four months, even under the conditions of dynamic and extraordinary circumstances of the coronavirus pandemic, was marked by noticeable productivity of interns. During their internship, they authored or processed 850 news articles and 168 pages of various documents, including brief analyzes and initiatives. In this manner, they improved skills and practical knowledge that will be useful to them in further professional engagements, but they also helped the work of media and NGOs in which they performed internship.
"The internship helped me to notice and to understand series of challenges and responsibilities that journalists face in their work every day, but also the importance of the need for teamwork, accuracy and sticking to deadlines, as well as media literacy," assessed Nikolina Tomović, who did the internship on the Vijesti portal during past months.
The CCE will continue to work on media literacy and media capacity building programmes, through similar initiatives and especially bearing in mind the importance of providing adequate practice for young people before they enter the labor market.
Damir Nikočević, Development Coordinator